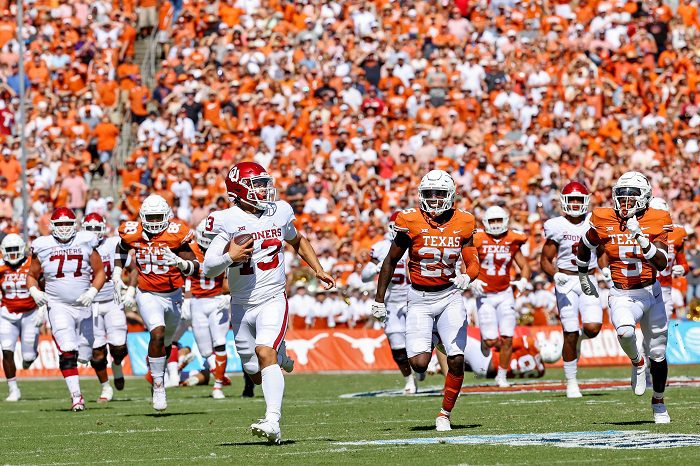 Week 6 of the Big 12 Football season is in the books, highlighted by what could arguably be the college football game of the year, when Oklahoma came from 21 points down to beat Texas 55-48. Otherwise, the Baylor Bears dominated the West Virginia Mountaineers, while TCU steamrolled Texas Tech in Lubbock. The rest of the Big 12 was off on Saturday, but there is still a lot to dissect.
So while there's plenty to recap after Saturday's action, here are my top five takeaways from Week 6 in the Big 12 Conference.
1. Caleb Williams Must Start at QB for OU Next Week
The true freshman quarterback replaced Spencer Rattler late in the first half against Texas and never looked back, despite not even playing high school football last season due to COVID. Williams impressed beyond even the biggest OU homer's wildest dreams, finishing 16 of 25 for 212 yards with two touchdowns and zero interceptions. He also ran for 88 yards on four carries, with one score. OU came back from 21 points down, the biggest comeback in Red River Rivalry history, and beat Texas 55-48.
While Spencer Rattler certainly may still get playing time moving forward, how can Lincoln Riley not start Williams next week against TCU? The dude just led the biggest comeback in Red River Rivalry history. There will be some growing pains with any true freshman, but I don't see how, or why, Lincoln Riley would want to go in any other direction than playing the hot hand. Also, we have a large body of work with Rattler this season, five games, in which he hasn't played up to expectations.
It's Caleb Williams job now. Lincoln Riley should not look back and move ahead with Williams.
2. Texas Can Win the Big 12
I know this isn't what Texas fans want to hear right now. They're coming off the biggest blown lead in Red River history. But seriously, look around the Big 12 right now. It is WIDE open.
And Texas does have the best player in the league, or possibly, according to Kirk Herbstreit, the best player in the nation.
The Longhorns may very well have the best player in the country in Robinson, along with quarterback Casey Thompson, who also keeps improving, while wide receiver Xavier Worthy is blossoming into a star. That's a nice position to be in, especially with Steve Sarkisian operating the offense.
The defense is admittedly concerning, but every team in the Big 12 Conference has flaws right now. And if Texas keeps improving, they can absolutely snag one of the two spots in the conference title game this season, and then win the whole darn thing.
3. Zach Evans is a Man
Due to all the attention on Bijan Robinson, Evans is not getting the credit he deserves so far this season. He just had his fourth-straight 100-yard rushing game, ripping off 17 carries for 143 yards and two touchdowns in TCU's 52-31 win over Texas Tech. Evans has a unique combination of shiftiness and power, which is powering the TCU offense to averaging over 38 points per game this season.
And yes, Evans is the leader of the running game, but as Matthew Postins noted in his three thoughts from TCU's win over Tech, Kendre Miller is helping Evans become a great 1-2 punch, as he led the team with 185 rushing yards. The two players have both gone over 100 yards in the same game for the second time in the last six contests.
TCU's getting it figured out on offense, and interestingly enough, it's the defense that needs to be corrected.
4. Neal Brown, Matt Wells Could Be in Trouble
Both West Virginia and Texas Tech still get to play Kansas this season. That's the good news. The bad news? They will likely both be under dogs in every one of the rest of their games this season. Since Texas Tech went 3-0 in conference play and beat West Virginia in their head-to-head match up last week in Morgantown, the record for the Red Raiders doesn't look so bad at 4-2 overall.
But for West Virginia, it's a different story. The Mountaineers are 2-4 on the season, and while I don't think they finish 3-9, as noted earlier, they will likely only be favored against Kansas later this season. So while it's not probable, it's also not impossible.
For those of us who defended Neal Brown up until this loss to Baylor, we could hang on hats on this team losing two Big 12 games by a total of six points. But losing by 25 points against the Bears is unacceptable. Not because Baylor isn't good, they are, but because WVU is better than what they put on the field on Saturday. That directly falls on the head coach.
5. QB Gerry Bohanon is Playing the Best in the Big 12
Bohanon needed a bounce-back week after a tough game against Oklahoma State last week. For a guy in his first season as a starter, he needed to get his confidence back, and he did that against West Virginia on Saturday. Bohanon completed 18 of 29 passes for 336 yards with four touchdowns and zero interceptions. He also had one touchdown run. First-year OC Jeff Grimes is pushing all the right buttons with Bohanon this season.
Bohanon is second in the Big 12 with 11 touchdown passes, while not yet throwing an interception. He's also second in efficiency and third in passing yards. Given the unusual nature of the Big 12 quarterback scene right now, why not Bohanon? Spencer Rattler got benched, Brock Purdy had a slow start, Skylar Thompson keeps battling injuries, while Max Duggan, Spencer Sanders and Jarret Doege are still trying to become more consistent and rise thanks.
Bohanon has had a great start to the season and is worthy of the top spot so far this season.