Baylor Bears
Three Thoughts on Baylor's 45-20 Win Over West Virginia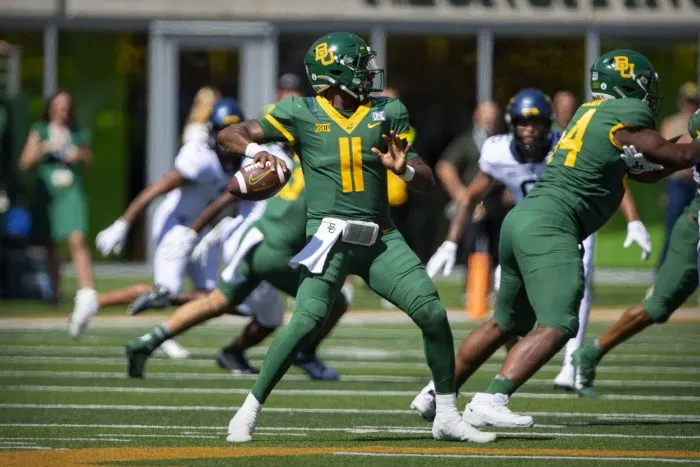 Despite the big game in the state of Texas being at the Texas State Fair, there was an important game just two hours south at McLane Stadium in Waco.
West Virginia entered Saturday 2-3 record fresh off a disappointing loss to a banged-up Texas Tech team at home. The Mountaineers were desperate for a big bounce back game against Baylor.
Meanwhile, the story was kind of the same for Baylor. The Bears were undefeated up until their recent visit to Stillwater last weekend where they did not have their best day and lost 24-14.
Fortunately for Baylor, they had quite the day as they stream rolled West Virginia to a 45-20 victory. Despite the lopsided score, there is still plenty to takeaway as I share my three thoughts on the game.
1. Baylor Let It Fly
Entering Saturday, Baylor was not really known as a pass first football team. They were second in the Big 12 in rushing offense yet on Saturday, Gerry Bohanon aired it out. Bohanon finished the game with 336 passing yards and four passing touchdowns. He also added another score on the ground and most importantly, he did not turn the football over. Gerry was fantastic against West Virginia, and it was not only important for the outcome of this game, but it was crucial for his confidence moving forward. I can assure you that when my Big 12 quarterback rankings come out, Gerry will be either at the top or high on that list. He needed a rebound type of game and he certainly got one on Saturday.
2. Baylor's Defense is Elite
I know Baylor didn't have their best performance on the road against a top 15 Oklahoma State team, but that game was more on the offense. On Saturday, they absolutely beat up on the Mountaineers. Today, they held the Mountaineers to twenty points and held West Virginia to go 3 of 15 on third down. Also, they had six sacks on the day as West Virginia had no answer for the Baylor front. When the offense is flowing, this is a dangerous team because even if the offense does not have their best day, this team will always have a chance because of their great defense.
3. West Virginia is in Trouble
After their shocking loss to Texas Tech at home, I thought West Virginia would show up today in Waco and that was not the case. Instead, they pulled a no show and got absolutely embarrassed by Baylor. The defense struggled to slow down the Bears passing attack and allowed over 500 yards of offense. When it came to Baylor wide receiver Tyquan Thornton, the Mountaineers had no answer and Neal Brown said after the game, "We didn't cover him. He may be out there still running."
Neal Brown was not a happy man after the game, and I completely understand. The defense was bad, and the offense did little to make anyone happy. Many people thought this team could finish in the top half of the Big 12 before the season started but now with a 2-4 record, where will this team finish? They have a brutal schedule still left with games against TCU, Iowa State, Oklahoma State, Texas, Kansas State and Kansas. Outside of that Kansas game, where else do you see a win? I do not think that a 3-9 or a 4-8 finish to the season is out of the question for this team.