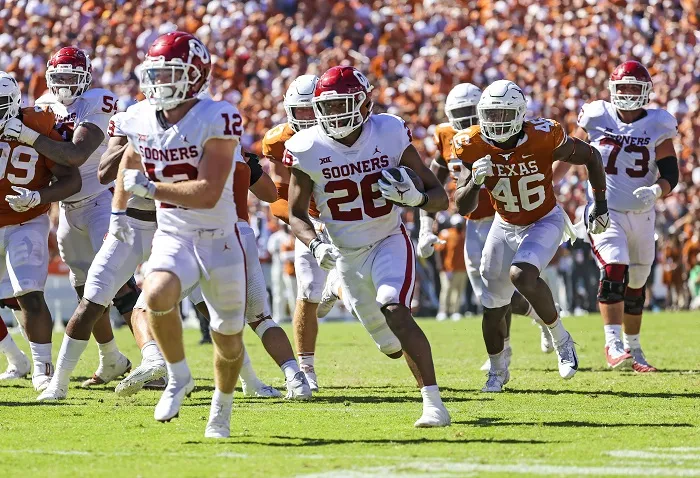 It was an all-time game for an all-time rivalry. The Oklahoma Sooners came from 21 points down to beat the Texas Longhorns 55-48 in the Red River Rivalry for the biggest comeback in series history. The game included big turnovers, big plays and big changes at key positions.
So with all that being said, let's get to three thoughts from Oklahoma's win over Texas in the Cotton Bowl.
1. The comeback of all comebacks
The Sooners were trailing 14-0 with less than two minutes gone by in this game. It was then 28-7 after the first quarter, with the Longhorns in complete control of this game in Steve Sarkisian's Red River debut. Texas had all the momentum and mojo, while OU looked all out of sorts. Then after Spencer Rattler lost a fumble in the second quarter, which led to a Texas touchdown and the Longhorns taking a 35-17 lead, Caleb Williams came in at quarterback for OU and the comeback was on. OU put a field goal on the board before halftime and then won the 3rd quarter 10-3 before taking off in the fourth quarter where they outscored Texas 24-7 to win 55-48.
Oh, and for those of you into the spread, Oklahoma covered the 3.5 points in epic fashion. After having the chance for one more play with 10 seconds left to set up a Gabe Brkic field goal attempt with the game tied at 48. But then Kennedy Brooks ripped off a 33-yard touchdown run to seal the win and give the Sooners their first cover against an FBS team this season.
2. Caleb Williams Steps In
The true freshman quarter replaced Spencer Rattler late in the first half and never looked back, despite not even playing high school football last season due to COVID. Williams impressed beyond even the biggest OU homer's wildest dreams, finishing 16 of 25 for 212 yards with two touchdowns and zero interceptions. He also ran for 88 yards on four carries, with one score.
While Spencer Rattler certainly may still get playing time moving forward, how can Lincoln Riley not start Williams next week agianst TCU? The dude just led the biggest comeback in Red River Rivalry history. There will be some growing pains with any true freshman, but I don't see how, or why, Lincoln Riley would want to go in any other direction than playing the hot hand. Also, we have a large body of work with Rattler this season, five games, in which he hasn't played up to expectations.
It's Caleb Williams job now.
3. Xavier Worthy is the Real Deal
The Longhorns lost, but between Bijan Robinson at running back (20 carries for 137 yards and a touchdown) and true freshman Xavier Worthy at wide receiver, plus QB Casey Thompson, the future is bright on the offensive side of the ball for Texas.
Worthy had an incredible game with nine catches for 261 yards and two touchdowns in his first ever Red River Rivalry. That included the first play from scrimmage in the game when he took it 75 yards to the house on a short throw to the flat.
Texas fans are obviously crushed by how this game played out, but in a wide-open Big 12, they can very much play for a Big 12 title this season, and on offense, Xavier Worthy will be a game-changer for UT in this season and (at least) the next two seasons in Austin.