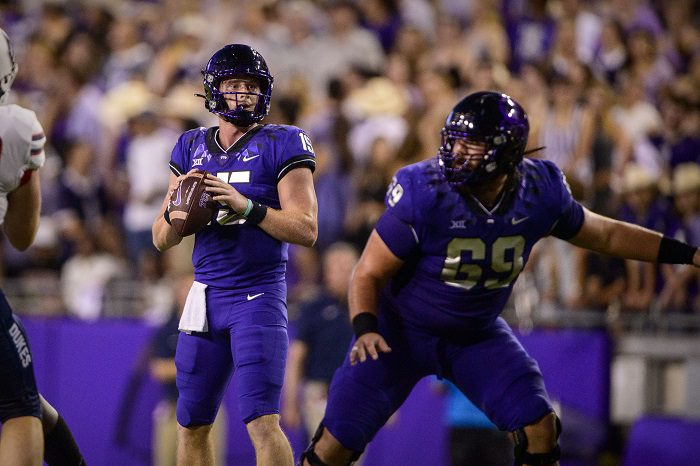 The TCU Horned Frogs won their first Big 12 game of the season, flattening Texas Tech, 52-31, in Lubbock, Texas. Here are our three thoughts from the game.
1. TCU's run game is MORE than just Zach Evans
From the start, TCU's priority was to punch Texas Tech in the mouth with the run game, even with a pair of starting guards out of the game. Well, that's exactly what the Horned Frogs did. By game's end they had 394 yards rushing, but Evans set the tone with 25-yard and 35-yard runs on the opening drive. And after all that rushing set up a touchdown pass from quarterback Max Duggan to freshman wide receiver Quentin Brown, the Horned Frogs didn't let up. Evans was beat up in the first half and, with a big lead, he didn't play in the second half. But by then Evans had 143 yards and two touchdowns, and that just gave Kendre Miller more room to shine. The Red Raiders couldn't stop him either. He ended up with 185 yards rushing and three touchdowns, including a 75-yard score that made it a 45-17 game in the third quarter and effectively put the game away. At halftime, Texas Tech head coach Matt Wells told ESPN that he was playing his best defensive linemen, but that they were "getting their butts whipped." When you can run the ball like TCU did on Saturday, control time of possession and take the pressure off your passing game, it's hard to lose. And the Horned Frogs needed to take the pressure off the passing game because receivers Quentin Johnson and JD Spielman were unable to play.
2. Is Texas Tech Inconsistent or Banged Up?
After three weeks of Big 12 play, I'm still trying to figure out Texas Tech's identity. And chances are the Red Raiders are, too. Texas flat owned them in the opener. Then, on the road at West Virginia, the Red Raiders were missing nearly 10 major contributors and won on a field goal. Some of those big names were back on Saturday, including wide receiver Erik Ezukanma. But that hardly mattered. Through three quarters, Ezukanma didn't catch a pass, and he finally had three catches for 23 yards. The Red Raiders also got offensive lineman Dawson Deaton back, but lost tackle T.J. Storment during the game. The Red Raiders weren't completely healthy. But they were healthier, and yet they played, at times, awful. The limitations of quarterback Henry Colombi are clear, and the Red Raiders know that (and TCU certainly figured it out, too). Texas Tech's chances of reaching a bowl game rest on the back of running back SaRodorick Thompson, who had a great game, rushing for 119 yards and three touchdowns and catching two passes for 79 yards. But Tech's defense allowed the game to get out of hand and neutralized the influence Thompson, or anyone else, could have exerted. Given the blowout, this would have been a perfect game for Ezukanma to put up big numbers. But he and Colombi never clicked, and TCU's defense had something to do with that. The Red Raiders can't keep swinging from being dominated to eking out a win and back to being dominated if they expect to make progress.
3. What's Next?
For Texas Tech, it's the best possible opponent after a tough loss like this one — Kansas. Now, I saw Kansas in September and they have talent and head coach Lance Leipold has a plan to make them competitive. Plus, Kansas will be coming off a bye week and hosting the game. Now, even banged up, Tech should be talented enough to win that game. And, if the Red Raiders want to reach a bowl game, this is a game they need to win. For TCU, it's a trip to Oklahoma, which is coming off that huge win over Texas in the Red River Showdown. That sounds daunting for TCU, and it probably is. But, we have a week of potential quarterback uncertainty ahead of us in Norman. OU head coach Lincoln Riley wouldn't commit to a starting quarterback after beating Texas. Plus, Texas showed everyone that the Sooners' run defense can be exploited (at least for a half). The Horned Frogs will be playing their second straight road game and, as Patterson clearly showed on Saturday, he knows how to prepare his team for a road trip. Norman will be hostile. But it's a chance for TCU to assert itself in the race for the Big 12 Championship game — and seriously ding Oklahoma's College Football Playoff chances.
READ MORE: Three Thoughts on Oklahoma's 55-48 Win over Texas
READ MORE: Three Thoughts on Baylor's 45-20 Win Over West Virginia
You can find Matthew Postins on Twitter @PostinsPostcard.
**Want to win a $20 gift card? Go sign up here and join our conversation! The best poster each week wins a gift card to your favorite establishment!**