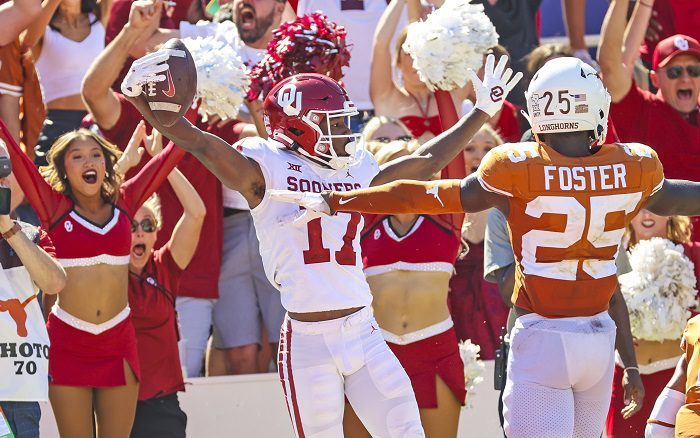 It was another wild weekend in the Big 12 from the off-field news to the on-field play. There was plenty of excitement on Saturday and I will break it all down here for you as I share the good, bad, and ugly from week six in the Big 12. 
The Good
Oklahoma (Beat Texas 55-48)
What a game and what a comeback. At one point the Sooners were down 28-7 to their arch-rivals and yet they kept chipping away all game long. It wasn't a pretty day for the Sooners defense as they had they worst game of the season defensively. However, they were able to put pressure on Casey Thompson at times.
The story for Oklahoma on Saturday was Spencer Rattler. He was replaced by true freshman quarterback Caleb Williams in the second quarter and Williams never let go of the reins from there. The Sooners were able to score on six of their eight second half drives under Williams. Whether it was his arm or his legs, Caleb was able to make clutch plays to keep the Sooners alive and, in the end, he did enough for his team to win. Also, Kennedy Brooks had himself one heck of a ballgame with over 200 yards and two scores including the go-ahead touchdown late to win the game. It was a memorable game and fortunately for the Sooners, they came out on top.
Watch: Spencer Rattler Walks Off the Field After Texas Game
Baylor (Beat West Virginia 45-20)
This game was never close as the Bears absolutely crushed the Mountaineers at home. Baylor loves to run the football, yet they went full air raid mode on Saturday as Gerry Bohanon threw for 336 yards and 4 touchdowns. He also added a rushing score to bring his touchdown total to five on the day. His favorite target? It was the speedy wide receiver Tyquan Thornton who had 187 yards and 2 touchdowns.
Defensively, Baylor made things look easy out there. They sacked the West Virginia quarterbacks six times and held them to go 3 for 15 on third down. It felt like from start to finish, Baylor was the better football team and once they got ahead, they never looked back.
TCU (Beat Texas Tech 52-31)
The Horned Frogs came into the game with a good rushing attack, and they used that in Lubbock on Saturday to cruise to a big win. Max Duggan only attempted 10 passes, yet this offense managed to score 52 points thanks to the 394 rushing yards they racked up. Zach Evans and Kendre Miller combined for a whopping 328 yards and five touchdowns.
The defense needs some work though. They gave up over 550 yards and 214 of those were on the ground. I am sure Gary Patterson is not sleeping well at night with the way this defense has been playing lately but when you win by 21 on the road, it would be hard to complain about much.
The Bad
Texas (Lost to Oklahoma 55-48)
Let me start by saying that this game was not on the offense. Bijan Robinson had a big game with 137 yards rushing and quarterback Casey Thompson threw for nearly 400 yards and five touchdowns. Even wide receiver Xavier Worthy had a monster day with 261 receiving yards and two scores. When your offense puts up 48 points and falls short, then something is wrong on the other side of the ball even if the offensive line struggled at times.
Now how about that defense? You can't give up over 300 yards on the ground and expect to win. The tackling was poor, and Texas looked as if they were trying to hold on to their lead for dear life and in the end, it didn't work. I'll admit, I didn't think Texas would win but the way they lost did surprise me. The Longhorns had a lead and just collapsed in the end.
The Ugly
West Virginia (Lost to Baylor 45-20)
I am really not even sure where to start with for the Mountaineers. The defense gave up 45 points and had no answer for the Baylor passing attack. Even head coach Neal Brown said after the game they couldn't cover Baylor wide receiver Tyquan Thornton and that "He may be still out there running." I was extremely disappointed with their defensive effort because I thought at least the defense could keep them in games and that was not the case in this one.
I am going to sound like a broken record here, but Jarret Doege is just not the guy for West Virginia if they want to take that next step offensively. However, I will say that the offensive line did not play well at all so maybe it didn't matter who was back there playing quarterback. I thought this team would come out swinging after their loss to Texas Tech and instead they pulled a near no show on Saturday. When I look at what is left on their schedule, I don't think it is crazy to say that this is a 3-9 or a 4-8 team at this point.
Texas Tech (Lost to TCU 52-31)
You can say what you want about the offense but this game falls directly on the defense. Texas Tech did not have their best offensive showing in the first half, but it didn't really matter because by halftime, TCU already had 35 points on the board. The Red Raiders gave up nearly 400 rushing yards and simply had no answer for the Frogs ground attack. That is where the game was lost, plain and simple. Some things never change and that appears to be the case with this defense. They simply don't play much of it in Lubbock.