Big 12 News
Lincoln Riley Says 'Turnovers' Had a Lot to do with Benching Spencer Rattler for Caleb Williams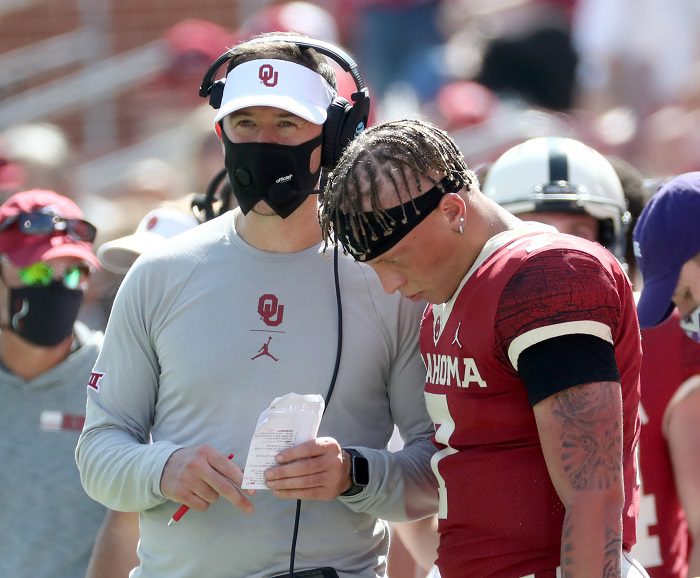 It was a Red River Rivalry for the ages on Saturday, with the Oklahoma Sooners coming from 21 points down to beat the Texas Longhorns 55-48.
The Sooners were trailing 14-0 with less than two minutes gone by in this game. It was then 28-7 after the first quarter, with the Longhorns in complete control of this game. Then after Spencer Rattler lost a fumble in the second quarter, which led to a Texas touchdown and the Longhorns taking a 35-17 lead, Caleb Williams came in at quarterback for OU and the comeback was on. OU put a field goal on the board before halftime and then won the 3rd quarter 10-3 before taking off in the fourth quarter where they outscored Texas 25-7 to win 55-48.
It was the second straight year Rattler was benched in the Red River Showdown. But unlike last season, however, Rattler did not come back into the game, except for helping convert a late two-point conversion.
The quarterback controversy created awkwardness after the game, as ABC sideline reporter Holly Rowe reportedly asked to interview Williams and was refused. Riley did speak briefly on his decision in the postgame interview, saying the decision had a lot to do with turnovers.
He confirmed that point on Zoom after the game as well.
Rattler also threw an interception in the first quarter after what looked like a miscommunication with tight end Austin Stogner. According to the body language and replay, Rattler expected Stogner to cut inside, though the tight end instead cut toward the sideline, and B.J. Foster picked off Rattler.
Lincoln Riley went on to add after the game he's not ready to name a starting quarterback for next week's match up against TCU. However, as far as we are concerned, it should be Caleb Williams' job next week when the Sooners face the Horned Frogs.