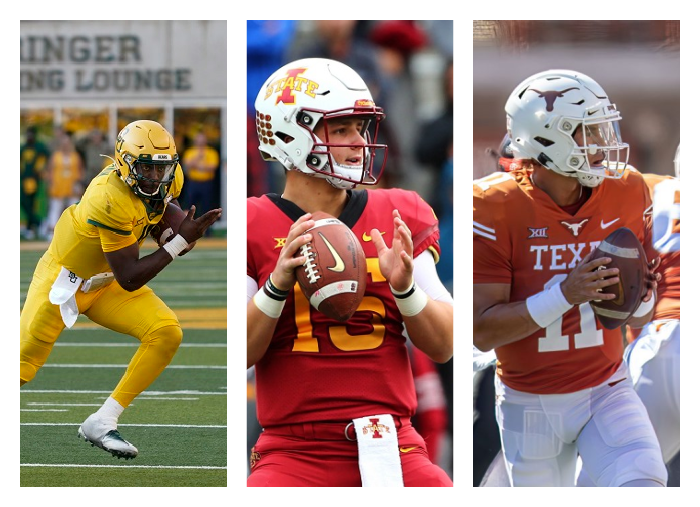 There is no position in all of sports that is more important than the quarterback. A good quarterback can help hide other areas of weakness on a team while bad ones can bring down even the best of teams. Either way, having good quarterback play is crucial for any team that hopes to make it all the way. Just like with team power rankings, I wanted to do a weekly quarterback power ranking after every weekend. Here you will find out who is trending up or down depending on their play on the field.
1. Baylor QB Gerry Bohanon (Last Week: #9)
Gerry had quite the day against a good West Virginia defense. He finished the game with 336 passing yards and four passing touchdowns. Bohanon also added another score on the ground to bring his touchdown total to five on Saturday. Out of all these quarterbacks, Gerry needed a bounce back performance the most and he delivered.
2. Iowa State QB Brock Purdy (Last Week: #2)
Iowa State had a bye week this past weekend and with Brock finishing at number two last week, I didn't think he deserved to be bumped down this list.
3. Texas QB Casey Thompson (Last Week: #4)
I moved Casey up a spot from last week because I thought he played very well against a good Oklahoma defense. Thompson lit up the first half and while he did not have the best second half, he ended up with 388 passing yards and five touchdown passes. Over the last few games, Casey is showing me that he belongs in the top five on this list week in and week out.
4. Kansas State QB Skylar Thompson (Last Week: #3)
The last time we saw Skylar he was carving up that Oklahoma defense as well. Kansas State had a bye week like a few other Big 12 teams, but I still feel like Skylar is a top five quarterback in the conference right now.
5. Oklahoma QB Caleb Williams (Last Week: Unranked)
We have a new quarterback making his debut on this list and his name is Caleb Williams. Don't forget that name anytime soon because he may end up being the starting quarterback moving forward for Oklahoma. Williams came into the game and led the Sooners to a comeback for the ages as he threw for over 200 yards and two scores against Texas. He also had a big 66-yard touchdown run on a crucial fourth down.
6. TCU QB Max Duggan (Last Week: #6)
He only attempted ten passes on Saturday due to the fact that his team rushed for nearly 400 yards against Texas Tech. While he didn't have to do much on Saturday passing wise, he made the most of his opportunities completing eight out of his ten pass attempts.
7. Henry Colombi (Last Week: #5)
Texas Tech was doomed from the start of the game, and it is not Henry's fault this his defense can't stop the run. Colombi had to try and throw his team back into the game and even though he didn't get that far, he did throw for over 300 yards.
8. Oklahoma State QB Spencer Sanders (Last Week: #8)
Oklahoma State had the week off and with the way Spencer played against Baylor I figured I would leave him here where he was a week ago.
9. West Virginia QB Jarret Doege (Last Week: #7)
West Virginia never had a chance in the Baylor game and while the defense deserves some blame, so does Jarret Doege. I understand his offensive line had a dreadful day, but Doege continues to make me wonder why he is the guy for the Mountaineers. West Virginia is not going to go anywhere with him at the helm and week in and week out we see why.
10. Oklahoma QB Spencer Rattler (Last Week: #1)
It's been a roller coaster type of season so far for Spencer and Saturday may have been the final ride down for him as the starting quarterback. He played poorly as he struggled to complete passes and move the offense. Also, he had two bad turnovers in the game and ended up being pulled in favor of Caleb Williams.
11. Kansas QB Jason Bean (Last Week: #10)
You didn't think someone could be lower than ten on this list? Well, think again. I hate to do it but until proven otherwise, Jason is going to be last on the list.