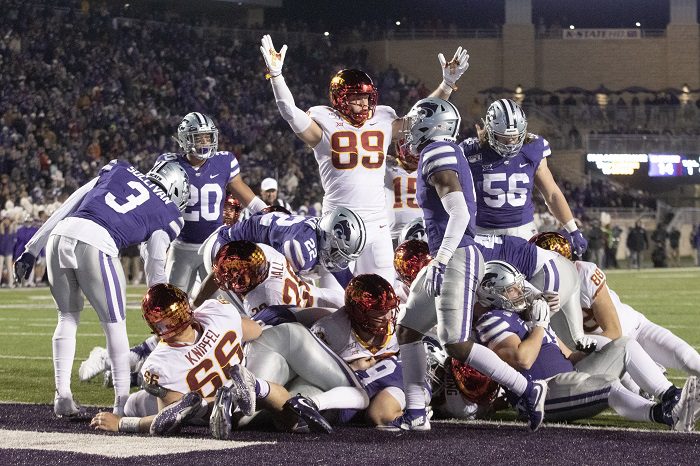 Here's everything you need to know about one of the nation's most underrated rivalry games, Farmageddon, in our Kansas State vs. Iowa State preview and prediction.
GAME INFO
6:30 p.m. CST, Saturday, Oct. 16, 2021, Bill Snyder Family Stadium, Manhattan, Kansas
TV: ESPN2
Radio: Wildcat Sports Network; Cyclone Sports Network
Records: Kansas State 3-2 (0-2 Big 12); Iowa State 3-2 (1-1 Big 12)
Rankings: Kansas State received 3 points in the latest AP Poll (31st); Iowa State received 18 points in the latest Coaches Poll (tied for 31st)
Last week: Both teams had byes
Line: Iowa State -6.5
Fun facts: Iowa State's last win in Manhattan was on November 20, 2004. K-State has won 26 of the last 31, dating back to 1990, but just 2 of the last 4. Both teams rank Top 10 nationally in rushing defense: K-State is 7th, allowing 87.5 yards per game; Iowa State is 10th, allowing 90 yards per game.
Key Players
Iowa Sate
QB Brock Purdy
Many fans have Purdy's struggles against Iowa, when he was benched after throwing 3 interceptions, etched in their minds, but that is far from the book on the senior signal-caller this season. Purdy has completed 71.2% of his passes while throwing for 1,133 yards, 8 touchdowns, and 4 interceptions. Adjusted for receiver drops, Purdy is completing 79.5% of his passes.
He's also rushed for 140 yards on 33 carries (4.24 yards per carry) and only taken 6 sacks on the season.
Throw out the game against Iowa, which was a clear statistical aberration, and Purdy is completing 77.1% of his passes with 8 TDs, 1 INT, and 4 sacks. If Purdy can be as good as that per game average – 77% accurate, 2 TD passes, one sack – Iowa State will win in Manhattan for the first time since 2004.
K-State can defend the run, but the Cats are vulnerable through the air. Iowa State RB Breece Hall, who is averaging 5.3 yards per carry, will get his licks in, but it will be up to Purdy and the passing game to get enough points on the board to get the win. It doesn't have to be a lot of points, however. Two TDs threw the air will probably do it as Hall is probably good for one.
WR Xavier Hutchinson
Given how well both defenses play against the run, I'm not picking running backs for either side as key players. The running backs will certainly be keyed on by the defenses, but the passing game is going to have to work for either offense to click.
Purdy can't very well pass the ball to himself, can he? Hutchinson leads Iowa State with 31 receptions for 381 yards and 3 touchdowns on the season. Iowa State has plenty of pass-catching options, including TE Charlie Kolar (17 receptions for 238 yards and 2 TDs), but if Hutchinson can get loose and have an impact on the game, he will change the shape of K-State's defense, freeing up more room for everybody else on ISU's offense, including Kolar and Hall.
Hutchinson has caught 77.5% of his targets this season and has only dropped two passes this season, both against Iowa. He's coming off a game against Kansas in which he caught 100% of his targets (7/7) while posting 96 yards and a TD.
If Hutchinson can simply be average against K-State, the Cyclones' chances of winning go up tremendously. It is worth noting, however, that ISU lost both games in which Hutchinson caught less than 87.5% of his targets, made fewer than 7 catches, and gained less than 88 yards.
LB's Jake Hummel and Mike Rose
Hummel and Rose are the Cyclones' leading tacklers with 35 and 34 tackles respectively, accounting for an astonishing 21.2% of ISU's 325 tackles on the season. Even with KSU's QB1 Skylar Thompson back from an early-season knee injury, K-State's top priority in this game will be to establish the running game.
Hummel and Rose will need to be in on as many tackles in the running game as possible because K-State's rushers – be it RB Deuce Vaughn, RB Joe Ervin, or WR Malik Knowles on a jet sweep – will absolutely punish ISU if they can get through the first wave of tacklers.
DE Will McDonald IV
McDonald leads ISU with 3.5 sacks for a whopping -25 yards. Those negative yards show that McDonald is not just getting the QB down behind the line of scrimmage, he's dropping QBs when they're dropped back deep to chuck the ball down the field.
While K-State is 100% going to live and die by the run in this game, don't think for a minute that K-State isn't aware of how dominant Iowa State's rushing defense is – far more dominant than the stats reveal. Thus, K-State is going to try to connect on some big pass plays to loosen the Cyclone D up, and that's when McDonald must make his presence known by getting into Thompson's face and not allowing him to get comfortable.
If Thompson can't make some connections downfield because he's under constant duress, Iowa State will win comfortably.
Kansas State
QB Skylar Thompson
If you ever had any doubts whatsoever about the value of Thompson to the Wildcats, simply seeing the dramatic difference in KSU's offensive play from the Oklahoma State game, without Thompson, to the Oklahoma game, with Thompson, should have put those doubts to bed for good. Simply put, Thompson is critical to K-State's chances at success in this game and for the rest of the season.
Thompson has only played two full games this season, and it's something of a miracle that K-State managed to win two games without him. In what time he has played, however, he's completed 69.5 % of his passes for 560 yards, 3 TDs, and 2 INTs. Adjusted for receiver drops, Thompson is connecting on 80.7% of his passes.
All three of Thompson's TD passes came in Week 5 during K-State's 37-31 loss to Oklahoma. Thompson hit the Sooners for 320 yards through the air, including a field-flipping 54-yard strike to WR Keenan Garber.
K-State likes to use a lot of high-percentage throws that often pick up between 4 – 8 yards at a time just to get the ball in the hands of playmakers on the outside, but ISU will live with those. What Thompson needs to do for K-State to win the game is connect downfield for explosive plays.
Iowa State's rushing defense eats nails for breakfast and hammers running backs for lunch. The only way K-State gets some wiggle room for Vaugh and company and wins this game is if Thompson can use the deep ball to make ISU pay dearly.
Here's the good news for K-State: Thompson can do it. He's completed 60% (6/10) of his throws targeted 20+ yards downfield this season, and adjusted for receiver drops, he's completed 70% of such passes. That's a percentage K-State can live and win with.
WR/KR/PR Phillip Brooks and Malik Knowles
As I said above regarding ISU's WR Hutchinson, given how well both defenses play against the run, I'm not picking running backs for either side as key players: the running backs will certainly be keyed on by the defenses, but the passing game is going to have to work for either offense to click.
Brooks and Knowles are the two most experienced receivers currently active on K-State's roster, and both have game-changing speed that K-State utilizes in the passing, rushing, and kick/punt return games.
While both are homerun threats off the jet sweep in the running game, it's the passing game where they must excel to help Thompson make the offense go.
As discussed above, K-State is going to have to hit some big passes, and Thompson has the ability to do it. However, Thompson would be far more effective without his receivers dropping passes.
Knowles and Brooks each have only caught 40% of their targets 20+ yards down the field this season. That must improve to give K-State a chance to win.
Finally, in Iowa State's loss at Baylor earlier this season, Bears RB Trestan Ebner returned a kickoff 98 yards for a touchdown – and that non-offensive Baylor TD was ultimately the difference in the game. Reviewing that film must have Knowles and Brooks salivating.
Over the last two games, Knowles has returned two kickoffs for touchdowns – one for 93 yards and one for 99 yards. Brooks has only returned one kickoff this season for 31 yards, but he's a threat to go to the house every time he touches the ball. If Knowles and/or Brooks can have a big day in the return game, it very well could be the difference that wins the game for K-State.
LBs Cody Fletcher and Daniel Green
Fletcher and Green lead K-State in tackles with 30 and 28 respectively. Green is also the team's leader in solo tackles with 21. The fact that Fletcher and Green account for 20.7% of the Cats' 279 tackles on the season is a big reason why K-State's rushing defense leads the Big 12 with 86.4 rushing yards allowed per game.
K-State fans know all too well who's coming to town with the Cyclone's offense: Breece Hall, the running back from Wichita who led the NCAA is rushing yards last season, including 135 yards on 15 carries in Iowa State's 45-0 evisceration of K-State.
Fletcher and Green need to make sure that Hall's visit to Manhattan this season resembles the one he made in 2019 when he had just 59 yards on 18 carries (3.27 yards per carry). If K-State's front six can contain Hall, the back five can focus on stopping Purdy in the passing attack.
KEY STORYLINES
IOWA STATE CYCLONES
The Cyclones entered the season with realistic expectations of a second consecutive Big 12 championship game appearance and possibly a spot in the playoffs. Most of the air went out of those playoff hopes when the Cyclones fell at home to Iowa, and those same hopes were pronounced dead when ISU lost at Baylor.
However, despite that loss at Baylor, ISU is still very much in the hunt for a Big 12 title game appearance. However, with games remaining at Oklahoma (6-0, 3-0) and vs. Oklahoma State (5-0, 2-0), a loss at Kansas State would likely all but sink ISU's hopes for a return to the Big 12 championship game.
ISU's back isn't exactly against the wall, but the Cyclones probably feel that it is. Add in the opportunity to end a losing streak in Manhattan that stretches back to the George W. Bush administration, and there is plenty to motivate ISU.
KANSAS STATE WILDCATS
K-State has lost seven Big 12 conference games in a row stretching back through last season's 45-0 humiliation at the hands of Iowa State, the worst defeat K-State has suffered to the Cyclones since falling 48-0 in 1943.
The Cats are aching for a win. Aside from the conference losing streak dating back to last season, they've lost two straight this season and desperately need a win to bolster their confidence and their chances of reaching a bowl.
Kansas State has played one of the toughest schedules in the country thus far: KSU's strength of schedule is currently ranked 5th in the Sagarin rankings, and there's a good chance that the Cats are better than their 3-2, 0-2 record indicates, but a third loss in a row might be psychologically crippling. This feels like a must-win for K-State.
Prediction: Iowa State 24, Kansas State 17
Iowa State leads the Big 12 in scoring defense and is 11th nationally, allowing just 15.6 points per game, while K-State is 54th nationally, allowing 23 points per game. K-State has faced stronger offenses on average than Iowa State, but the seven-point differential in scoring defense is likely to show up in this game as the Cyclones' offense is more dynamic and versatile than K-State's.
Iowa State ranks 39th nationally in scoring offense with 33.8 points per game. K-State should hold the Cyclones well below that average, but even with Thompson behind center, the Cats won't come near their average of 28.8 points per game (good for 67th nationally) as ISU's defense is possibly the toughest they'll face all season.
However, there is a case to be made that K-State has already faced a defense as good or nearly as good as Iowa State's when the Cats traveled to Stillwater to play Oklahoma State, which is allowing 18.6 points per game (24th nationally). With a strong home-field advantage, if K-State can get a non-offensive touchdown, from a Malik Knowles kick return, for example, the Cats could edge past the Cyclones in a nail-biter worthy of Farmageddon's grand history of down to the wire games.