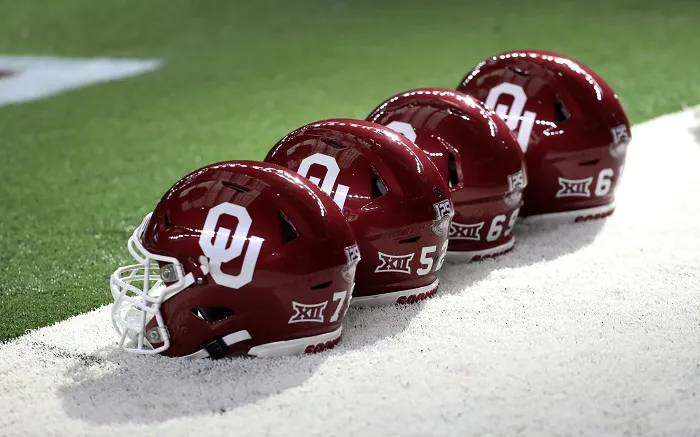 Oklahoma added a high profile player to their 2022 recruiting class when five-star defensive lineman Gabriel Brownlow-Dindy committed to the Sooners on Tuesday. Brownlow-Dindy, ranked as the No. 10 overall recruit in the nation per 247Sports Composite, announced his commitment to Oklahoma live on CBS Sports HQ. With him as he made his announcement were his parents, who both attended Oklahoma as well.
According to 247 Sports Composite, Brownlow-Dindy is the No. 4 defensive lineman in the country. The 6-foot-3, 280 pound defender is one of the most noteworthy recruits that Lincoln Riley has brought in to Oklahoma. He is the top ranked defensive recruit to join the program since R.J. Washington back in 2008 and brings Oklahoma's recruiting class up to No. 8 as they now have four top 100 recruits.
Brownlow-Dindy is unlikely to play again this season for Lakeland after having hand surgery on September 24th so the next time he suits up could be with the Sooners. Here is what 247Sports Southeast Recruiting Analyst Andrew Ivins had to say in his scouting report on Brownlow-Dindy:
Encouraging, well-proportioned build. Up and over 6-foot-2, 270 pounds. Spent part of youth doing Mixed Martial Arts. Posted elite testing numbers for an interior defensive lineman the summer before his junior season. Explodes off the ball with the first-step quickness to invade gaps. Coordinated athlete that doesn't lose his balance or bearing easily. Understands how to bend and use leverage. Keeps feet moving and plays with steady energy. Mauling tackler with the grip strength to corral ball carriers…can win with a simple bull rush at the point of attack, but will also swim his way past blockers. Ability to just fire out of his stance and uncoil, however, might be his best pass-rushing attribute.