Baylor Bears
The Texas Two-Step: Two Texas Brands Move Forward, Two Move Back in Week 6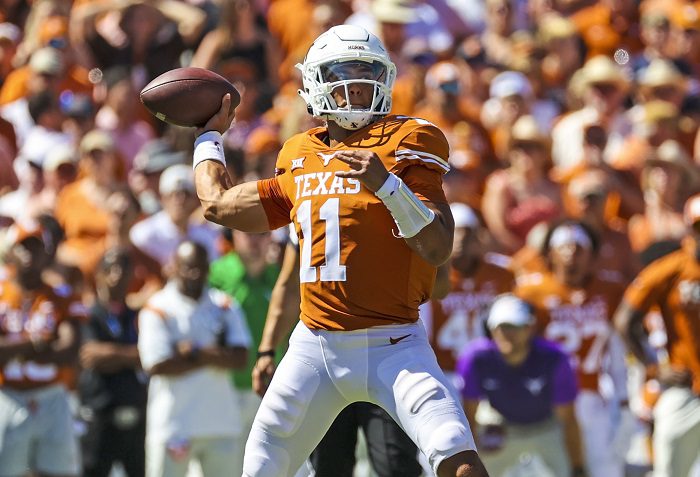 Week 6 of college football was a wild ride. Only six Big 12 teams, but all four from the Lone Star State, were in action in three games, all in Texas, and the results [cue skeptical scientific voice] were rather mixed.
Among the Texas brands, two stepped forward, and two stepped back.
Among the games, two were blowouts, and one was an instant classic.
IT WAS A CLASSIC!
Mercy, what a game! The Red River Shootout Showdown did not disappoint, and the SEC must be drooling to finally get that kind of action in its typically chalky, drama-bereft league. The SEC has had its share of great games over the years (kick-six anyone?), and sure Bama fell to A&M on Saturday in a nail-biter, but such games are few and far between in the Death Star Conference.
Red River looks to add a great game per season to the SEC slate – it's not always a great game, but more often than not it is. While the Big 12 has plenty to look forward to in its new incarnation, Oklahoma (6-0, 3-0) and Texas (4-2, 2-1) put on a show that reminded everyone in the league that their programs will be missed if for nothing else than this one game a year.
This season's game had a little bit of everything.
Texas' Bijan Robinson provided Heisman-esque highlights at running back while rushing for 137 yards and a TD on 20 carries, but his counterpart from Oklahoma, Kennedy Brooks, had a monster breakout game: 217 yards and two TDs on 25 carries.
Depending on how you look at it, the game included either a record-setting comeback or a worst-in-history meltdown, as Oklahoma erased a 21-point deficit to notch the largest come-from-behind win in Red River history.
On the comeback side of the equation, Oklahoma played tremendous defense in the second half, holding Texas to just 10 points. From the meltdown point of view, Texas' defense collapsed in the second half, allowing 35 points to the Sooners and their true freshman backup quarterback Caleb Williams.
But Williams and starting Oklahoma quarterback Spencer Rattler are perhaps the biggest storylines coming out of the game.
A FALL WORTHY OF THE GREEK TRAGEDY
In Aristotle's Poetics, the ancient Greek philosopher laid out the formula for tragedy as consisting of a character who falls from on high in a moment of personal recognition and reversal. For example, a mighty king becomes a powerless beggar in a reversal of fortune that is realized by the king only after it is far too late.
For Spencer Rattler, who entered the 2021 season favored to win the Heisman and become an NFL first-round draft pick, that moment of recognition seemed to occur as he watched from the sidelines while Williams ran for a 66-yard touchdown on fourth-and-1. Rattlers' reaction to the play seemed to say it all.
Instead of celebrating the score with his teammates, Rattler's countenance revealed a man realizing that his story just took a decisive 180-degree turn. Worse for Rattler, his heart seemed to be with his own fortunes and not with those of his team.
The story is not over for Rattler, of course. He is not doomed to wander the forests outside Thebes with his eyes gouged out by his own hand like a fallen king created in the mind of Sophocles. But Rattler's fall, and its circumstances, this season is certainly stunning.
It will be interesting to see how Rattler and Oklahoma head coach Lincoln Riley deal with the situation in the coming days and weeks.
BLOWOUTS
While the Longhorns took a step back in a game that for Texas was also a reversal worthy of Greek tragedy, two other Texas teams took a step forward.
Baylor bounced back from Week 5's loss in Stillwater by dominating West Virginia, 45-20, in a game that wasn't close for long. The Bears struck early and often, leaning heavily on their passing attack and WR Tyquan Thornton, who had 187 yards and two TDs on eight receptions, including a 75-yard TD catch on the second play of the game.
West Virginia came into the game reeling from back-to-back losses, and the Mountaineers had every reason to put up their best fight of the season in Waco. That fight didn't materialize, however, as WVU dropped its third in a row to fall to 2-4, 0-3.
Baylor improved to 5-1, 3-1, and is already on the verge of bowl eligibility after just six weeks of play a season after winning just two games.
Out on the Texas Caprock in Lubbock, TCU rocked Texas Tech, 52-31, with a dynamic rushing attack to bounce back from two consecutive home losses. The Horned Frogs (3-2) only threw 10 passes on the night while rushing for 394 yards.
TCU running back Zach Evans continued to show why he is a nightmare for opposing defenses by rushing for 143 yards and two TDs on 17 carries, but it was running mate, Kendre Miller, who did the most damage as he gouged the Tech defense for 185 yards and three TDs on just 12 carries – an astonishing 15.4 yards per carry.
For Texas Tech (4-2, 1-2) the game was a major step back as a win would have all but guaranteed the Red Raiders their first bowl berth since 2017. Texas Tech still has the lay-up against Kansas coming up in Lawrence this week, but after that, it's five straight games in which the Red Raiders will likely be underdogs.
FUTURE WATCH
Elsewhere, in the future Big 12, Cincinnati (5-0) took care of business by blasting Temple, 52-3; Houston (5-1) humbled Tulane, 40-22; and UCF (3-2) came back from a six-point 4th quarter deficit to squeeze past ECU, 20-16. BYU (5-1), however, dropped its first game of the season, falling at home to Boise State 26-17.
Cincinnati and Houston remain on a collision course for an all-Big-12 AAC championship game, and the Bearcats rose to #3 in the AP Top 25 and #4 in the Coaches Poll, and remain thick in the hunt for a playoff appearance.
CONCLUSION
It was a crazy week in the Big 12 with some true surprises. While I expected Baylor to come out on top against WVU, I also expected WVU to fight like the devil and keep the game extremely close. I expected a lot of points to be scored in Lubbock, but I did not expect to see the Red Raiders get beat so soundly by TCU's ground game. And while I was not surprised to see Texas' defense wilt down the stretch, I was surprised to see Oklahoma find itself in such a large hole and doubly surprised to see Williams, not Rattler, dig the Sooners out of that hole.
What will the Big 12 do for an encore in Week 7 with four games on major networks, three featuring at least one ranked team, and two in primetime? Stay tuned to Heartland College Sports for all the picks, previews, and speculations.