Big 12 News
Caleb Williams Takes Majority of First-Team Snaps at OU Practice: Report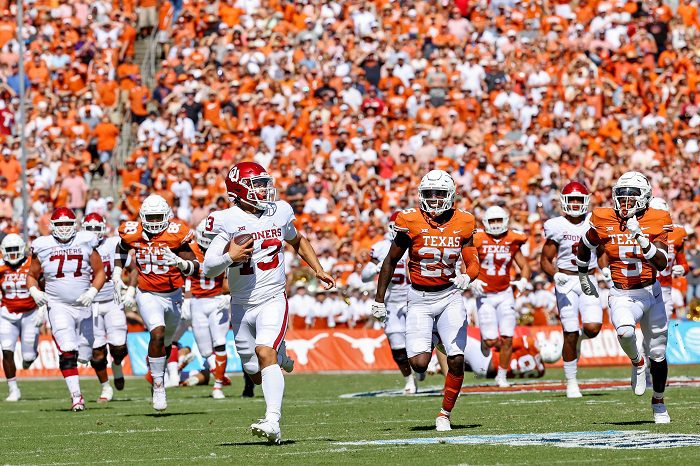 After the Oklahoma Sooners came back against Texas on the back of true freshman QB Caleb Williams, there's been a ton of speculation as to whether or not Williams will start this weekend against TCU.
We may have some idea as to the answer, as OU Daily was able to get a glimpse into what was happening behind closed doors.
The outlet reported:
"The Daily watched the offensive practice regimen from a public building near the OU football practice field, with no athletics employees discouraging observation. The Daily does not observe practice regularly, but did so Tuesday under heightened interest given the situation.
Williams outsnapped Rattler 15-7 in the pre-stretching portion of practice. He was later seen primarily scrimmaging with starting receivers Jadon Haselwood, Marvin Mims and Mike Woods, while Rattler threw to backups Trevon West, Brian Darby and Jalil Farooq, among others."
Interestingly, this report is believed to have been the trigger to Lincoln Riley cancelling media for the rest of the week.
Earlier this week, Riley addressed his quarterback controversy, saying in part, "I'll continue to evaluate these guys as they practice and go with who helps us the most … Certainly had contributions from both of them last week to help us win … We have 2 guys in that room, they're really good players, we can win with."
While Spencer Rattler certainly may still get playing time moving forward, how can Lincoln Riley not start Williams next week against TCU? The dude just led the biggest comeback in Red River Rivalry history. There will be some growing pains with any true freshman, but I don't see how, or why, Lincoln Riley would want to go in any other direction than playing the hot hand. Also, we have a large body of work with Rattler this season, five games, in which he hasn't played up to expectations.
Oklahoma vs. TCU kicks off at 6:30 CST on ABC.