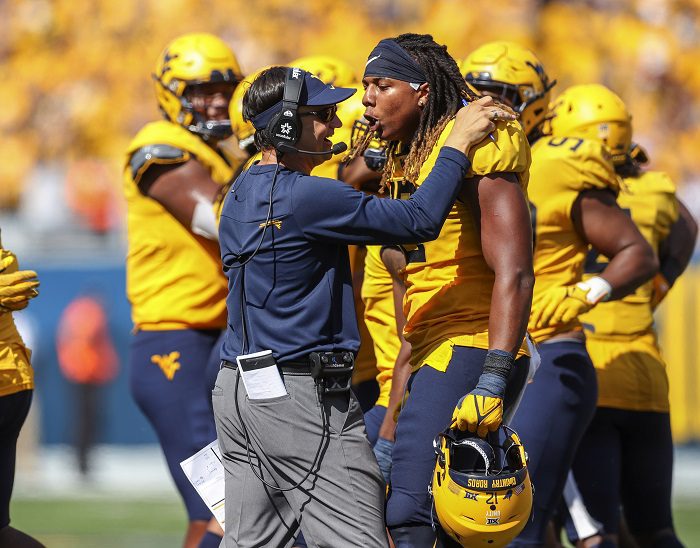 Back at Big 12 Media Days, there was plenty of focus on the obvious suspects. Oklahoma, of course, as well as the new man in charge at Texas and what is going to come out of Mike Gundy's mouth next?
While all those things are attention worthy, very few people were talking about the West Virginia Mountaineers. Entering Year Three of the Neal Brown era, the Mountaineers were picked to finish sixth in the conference and looking back, Neal Brown had a certain level of confidence in his football team.
He was excited and said, "Culturally, I think our buy-in is extremely high right now and we made tremendous progress over the last two years with the culture within our football program. Then on the field, I really like our team. I'll say that at the front. I think our leadership is better than at any point since I was named head coach in January of 2019."
The Mountaineers had a lot to like about them. They returned a great defense and had some key pieces at skill positions on offense including all-conference running back Leddie Brown. Also, they had plenty of talent at receiver coming back as well with Winston Wright Jr., Sam James, and Bryce Ford-Wheaton.
Quarterback Woes
While it is great to have a solid supporting cast on offense, a great offense can not be possible without a good quarterback. Unfortunately for Neal Brown, he has yet to have good quarterback play since he arrived in Morgantown.
Austin Kendall arrived from Oklahoma in 2019 and when that didn't pan out, he turned to Jarret Doege late in the 2019 season. While Doege only had a handful of opportunities that season, he got the keys to the offense in 2020 and had a decent year as West Virginia finished with a 6-4 record in a shortened season.
While 2020 showed some positive signs, 2021 was supposed to be the year where we started seeing better results. Year three is a crucial year for any head coach trying to turn around a program as more of your guys come into the program. But right now, the results aren't there. West Virginia is halfway through their 2021 football season, and they are sitting with a 2-4 record and are currently on a three-game losing streak.
Other Issues
If you look at the current Big 12 football standings, you will see that the Mountaineers are dead last with an 0-3 record. That is not the only thing they are last in either. Despite having an all-conference caliber running back in Leddie Brown, West Virginia is tenth in the conference in rushing offense averaging just 111.8 yards per game. Even Kansas who sits at ninth is averaging 149.4 yards per game.
The offensive line has been an issue this season and that has played a key factor in the lack of production on the ground but there is one more area that the Mountaineers need help in. That position just so happens to be the most critical position on the team, quarterback. While Jarret Doege may lead the conference in passing yards, most of that has came from being down in games where the offense is having to try and throw their way back in.
Good News on Recruiting
One could blame Neal Brown for all of these problems because he is the man in charge, but the question after that should be what is he doing to fix it? Look no further than the 2022 recruiting rankings.
West Virginia currently has the third ranked class in the Big 12 according to 247Sports and have a top 25 class overall. Of course, the crown jewel of any recruiting class is the quarterback and right now they have four-star guy in Nicco Marchiol out of Chandler, Arizona. Nicco is a top 300 player nationally and has been committed to the Mountaineers since late June.
While having a great recruiting class if helpful, these guys won't get here until next year. So, what are the Mountaineers going to do for the rest of 2021?
There are two options.
You can continue on with Jarret Doege and hope to go 4-2 in your final six games to make a bowl game or start looking ahead to 2022. That means getting freshman quarterback Garrett Greene some more reps.
Neal Brown doesn't appear to be ready to do that just yet, but if the season continues to go the way it has been then what does he have to lose? Look at the rest of the West Virginia schedule. Outside of the Kansas game, which game will they be favored to win?
I understand the fan frustration and it is fair to criticize where this program is headed. Maybe 2021 will be a lost season, but what I would say is that patience is key. Neal Brown took over a team that lost a ton of bodies from that memorable 2018 team led by Will Grier. It was going to take some time to fix, and is West Virginia at a point where they can just reload with talent every year? No. But can they be a team who can compete every few years in the Big 12? Absolutely.
Will Neal Brown be given a few more years like this? I seriously doubt it. These final six games will be interesting for the Mountaineers and for Neal Brown's sake, he should hope that the team that showed up in Waco last Saturday doesn't show up again this season.