Big 12 News
Oklahoma State Football History Following Bye Week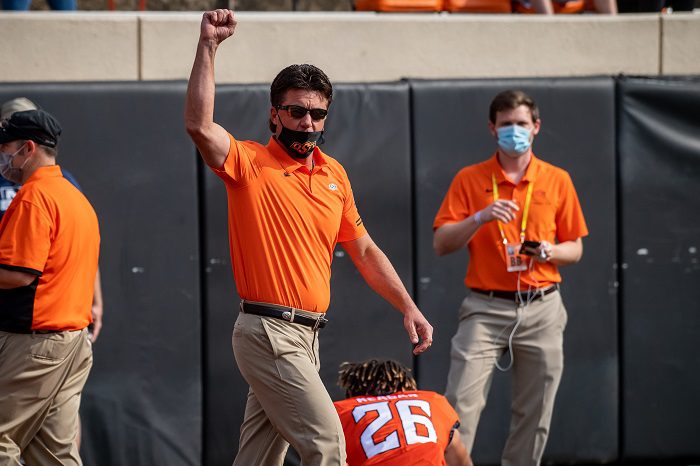 Mike Gundy and Oklahoma State are 5-0 after six weeks of college football action, currently ranked No. 12 in the AP polls and tied for first place in the Big 12 with Oklahoma.
The Cowboys come off a bye week that saw a lot go down. The Sooners overcame a 21-point deficit to beat OSU's upcoming opponent, Texas, in the Red River Showdown, No. 1 Alabama fell to an unranked Texas A&M team and Boise State took down tenth-ranked BYU in retaliation for not getting a Big 12 invite.
Cowboy fans enjoyed a stress-free weekend with no second-half offensive meltdowns to sit through for the first time in five weeks (unless you're also a Longhorns fan, yikes). Now, Gundy and his team look ahead to Austin, where they will be almost six-point underdogs in their second consecutive top-25 showdown.
The open week got me wondering about how Oklahoma State has historically fared in games following a bye week. Should Pokes' fans be worried about their matchup at Texas based on previous years' trends?
Historically, and by that I mean the last decade, signs point to no.
The Numbers
Oklahoma State is 11-7 in the last 10 seasons in games coming immediately after a bye week. This tells me that for the most part, Mike Gundy is good at resting and preparing his teams during off weeks.
OSU's most recent loss after a bye was last season against Oklahoma. Before that, the Cowboys lost to Baylor in 2019, OU in 2016, Texas in 2014, West Virginia and OU in 2013 and Texas in 2012.
That 11-7 record is too close for me to definitively say the Cowboys will beat Texas on Saturday. The Longhorns looked really strong in the first half of the Red River Showdown, mostly due to the firepower of running back Bijan Robinson and freshman wide receiver Xavier Worthy, who are both superstars in the making. Still, based on the last 10 years, history is on Oklahoma State's side.
The Cowboys have won seven of the last 11 matchups against the Longhorns and five of the last six in games played in Austin, although Texas leads the all-time series 26-9 dating back to 1916. We'll see if the Pokes can catch Texas with their chins down after a brutal loss to their fiercest rival, or if the bitter defeat will light a fire under Steve Sarkisian's team.