Baylor Bears
Scott Drew: Without Texas, OU, Big 12 is Still 'Best Basketball Conference'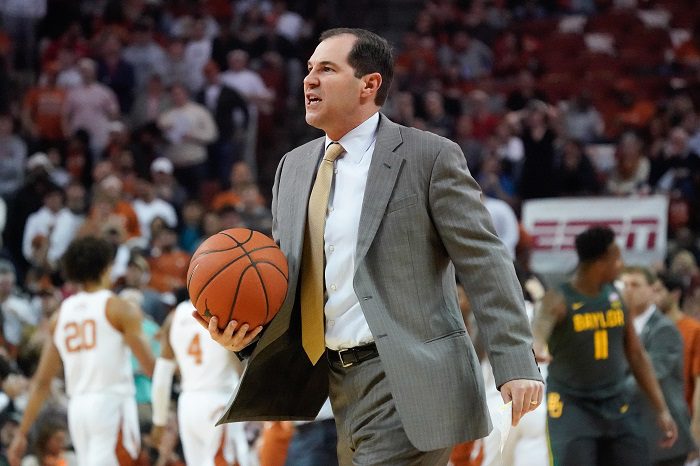 Baylor head coach Scott Drew, citing KenPom analytics, said the Big 12 would still be the country's best basketball conference, regardless of the current or future lineup.
Drew said this during his appearance on the 'College Hoops Today' podcast with Jon Rothstein.
The Bears are coming off their national championship in April, and Drew had a wide-ranging conversation with Rothstein. But, the topic of realignment came up, just as it did for Oklahoma State head coach Mike Boynton Jr. a few weeks ago when he talked with the Tulsa World.
The Big 12 is preparing for the loss of Oklahoma and Texas to the SEC, which is set to happen after the 2024-25 athletic year. In September, the league announced that it would invite BYU, Cincinnati, Houston and UCF to join the conference.
Rothstein asked Drew about the changes to the conference lineup. First, Drew talked about how the Big 12 has been the top-ranked conference, according to the KenPom rankings (which are calculated by Ken Pomeroy) since 2014. Drew chalked that up to the conference's round-robin schedule, which is unique to the major conferences in college basketball.
"It's because there are no off nights and every program has great players, great coaches and great fan support, which makes for extremely difficult games," Drew said. "But it does battle test you and get you ready for the postseason."
Then, Drew talked about the new conference lineup, and apparently the long-time Bears coach had done some math.
"When the new expansion was finalized, you look at the KenPom analytics and, with the four teams coming in, and you take out Oklahoma and Texas, and analytically since 2014 we'd still be the best college basketball conference in the country."
So, who did the math? Drew didn't say. But, it's possible he saw this Sports Illustrated article from September that DID do the math. And, per the article and KenPom rankings, the 'new' Big 12 has a rating that is about 2.5 points better than the 'current' Big 12 in the last five years.
Certainly, the focus of realignment has been on football. But the Big 12 has quite a bit at stake when it comes to men's basketball, and it looks like the new members have a lot to offer.
You can find Matthew Postins on Twitter @PostinsPostcard.
**Want to win a $20 gift card? Go sign up here and join our conversation! The best poster each week wins a gift card to your favorite establishment!**