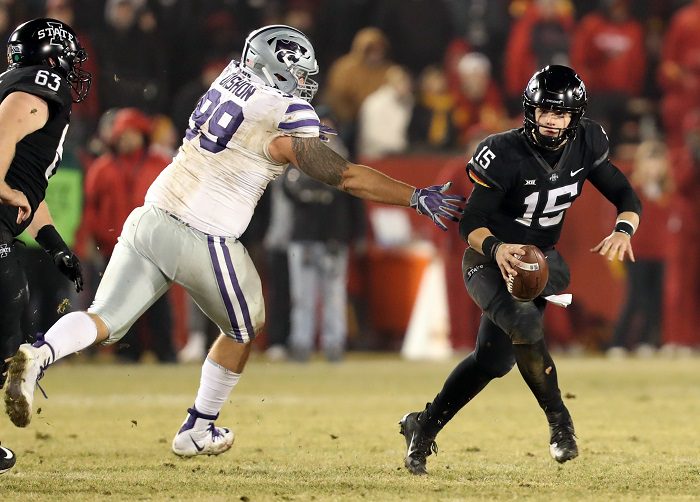 As the weeks fly by in college football, we learn more about each team. Each week is more important than the next as we continue our way through the season. A new Saturday means new storylines and here are my top storylines for every week seven matchup in the Big 12.
#12 Oklahoma State at #25 Texas
Who is the contender and who is the pretender?
This may be the best game on paper in the entire conference this weekend. Oklahoma State sits at 5-0 while the Longhorns are 4-2 fresh off their heart-breaking loss to Oklahoma. While the Cowboys are undefeated, they have yet to face an offense with this much explosiveness. The biggest thing for Oklahoma State will be how will the offense do? Texas isn't playing good defense right now, but the Cowboys are currently ninth in the conference in scoring offense averaging just 25.4 points per game.
As for Texas, they already have a loss in Big 12 play and if they drop another one then they can kiss their dreams of playing in a Big 12 title game goodbye. This is a crucial matchup and a must win game for Texas.
#19 BYU at Baylor
A Glimpse into the Future
I hope BYU gets accustomed to those Big 12 logos in McLane Stadium because they will be seeing that venue again in the next few years. In case you have been living under a rock, BYU is a future Big 12 member and Saturday, they will get to see firsthand what it is like playing in a Big 12 stadium. While BYU's playoff hopes are all but gone, a win would keep them in the top 25. As for Baylor, this game won't hurt their conference title hopes if they lose but a win here should launch the Bears back into the top 25.
Texas Tech at Kansas
Is Texas Tech Going Bowling?
This game is monumental for Tech's bowl hopes this season. The Jayhawks are the easiest conference opponent on the Red Raiders schedule or anyone's for that matter. Matt Wells is still on the hot seat, and he may be able to buy himself some time if he can get to six wins. Right now, Texas Tech sits at 4-2 and needs to win two out of their next six games to make it there. The last time Kansas won a Big 12 game? Two years ago, in Lawrence against Texas Tech.
TCU at Oklahoma
The Dawn of a new Era?
There has been plenty of attention in Norman and none of it has to do with their opponent this weekend. The talk has been non-stop about the whole Caleb Williams/Spencer Rattler drama, and I get it. We didn't need a student newspaper to spy on practice to tell us who the starting quarterback at Oklahoma was going to be. The team let us know last Saturday against Texas that Caleb Williams was going to be the guy moving forward. Whether Lincoln Riley wanted to say it or not, it was going to happen and on Saturday, Caleb will get his first start. Good luck stopping him, TCU.
Iowa State at Kansas State
Fire up the Tractor!
It's one of my favorite Big 12 games of the year, Farmageddon! It's not about corn versus wheat, it's about two football teams with a lot of pride who don't care for one another. There have been so many memorable games between these two the last few years that has provided some crazy moments. From the memorable fumble in 2015, to the no calls in 2017 or the 45-0 beatdown the Cyclones put on the Wildcats last year. I am hoping for more craziness this year and I can not wait for this hard-hitting matchup because it's going to be fun.