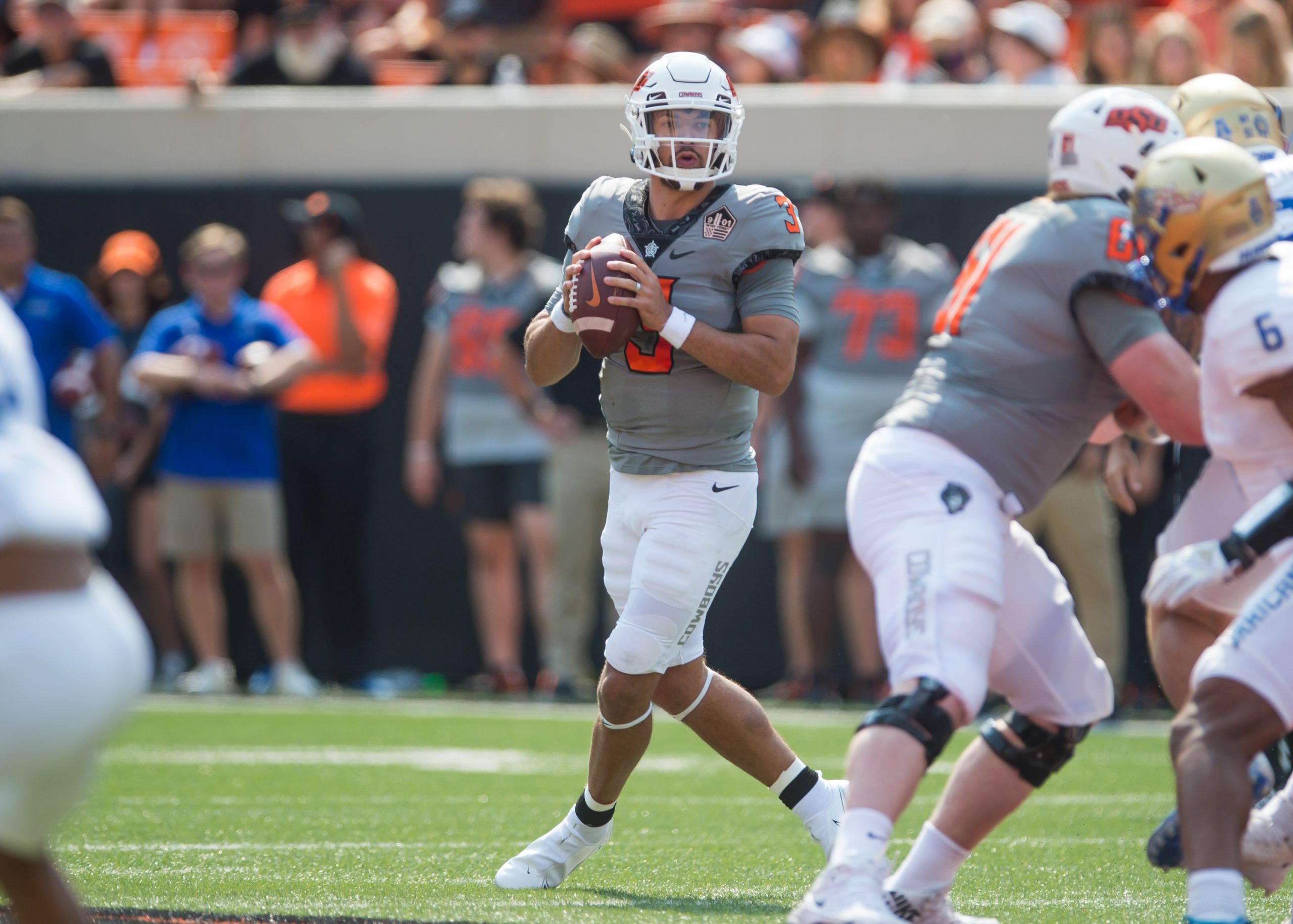 Oklahoma State enters this weekend's battle at Texas in an oddly familiar setting.
The Cowboys have a perfect record (5-0), a No. 12 ranking, and hopes for not only a Big 12 title game appearance, but maybe even an outside shot at the College Football Playoff.
Sounds a lot like last year's team which put a 4-0 record, a top 10 ranking, and hopes of making a Big 12 Conference Title game on the line against the Longhorns.
The 2020 test did not end well.
A 41-34 overtime loss snuffed out many of the hopes and dreams of the 2020 season and resulted in a 3-3 finish in conference play.
Quarterback Spencer Sanders posted career highs in passing yards (400) and touchdowns (4) but also turned the ball over three times. Texas turned those miscues into 17 points.
If the Cowboys want a different outcome versus the Longhorns this time, the limited-turnover, high-yardage version of Sanders must show up.
It's not guaranteed he will appear, though.
Sanders has passed for more than 200 yards in a game just one time in 2021. He accumulated 344 passing yards and two touchdowns in a 31-20 win over Kansas State.
Without that performance, Sanders' passing average hits 145 yards and less than one touchdown per game. He had limited turnovers until a three-interception outing against Baylor two weeks ago.
Some games, like Kansas State, start great and then end with zero second-half points. Others are ugly the whole way through. Sanders threw for seven yards during the first half at Boise State and finished with 82 passing yards.
He has yet to lead a third-quarter scoring drive.
Since earning Big 12 Freshman of the Year Honors in 2019, Sanders has struggled meeting expectations consistently.
He threw for 2,065 yards, 16 touchdowns, and 11 interceptions over 11 games and tacked on 628 rushing yards and two touchdowns on 139 carries in 2019.
Last season's numbers trended the right direction even after Sanders missed time with an ankle injury. In nine games, he had 2,007 passing yards, 14 touchdowns and eight interceptions plus 269 rushing yards and two touchdowns on 101 carries.
This year has proven much more challenging.
Inconsistency is the only certainty from Sanders and the offense.
Well-documented issues at the wide receiver position probably affected Sander's performance. However, new targets have emerged.
The excuses are gone.
Oklahoma State snagged an extra week of preparation for Texas. The bye week might prove helpful against a Longhorns team hoping to rebound from an emotional 55-48 loss to Oklahoma.
Texas also boasts the Big 12's top scoring offense at 48.1 points. Oklahoma State ranks above Kansas with 25.4 points.
The Cowboys' defense, which allows 18.6 points per game, should keep the Longhorns offense under control, but help must come in the form of touchdowns and second-half points.
A consistent offensive approach will move Oklahoma State from a dark horse Big 12 title candidate to a contender.
Sanders must lead that push right now.