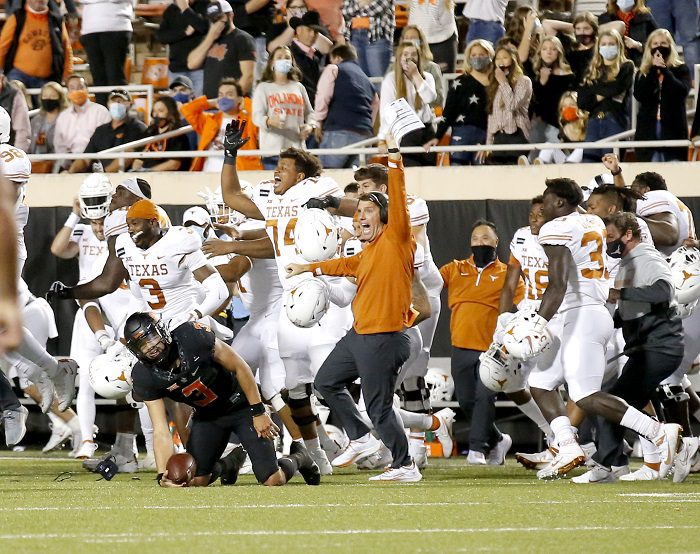 The early Big 12 game between Oklahoma State and Texas this Saturday should be a great one. A classic tale of strength on strength which will go a long way to determining who gets to play for a Big 12 championship in December.  
So far this season Oklahoma State's defense has been the best in the Big 12. Sure, a case could be made for Iowa State's being better and Kansas State's squad has played pretty well, but both those teams have lost games. OSU's defense has closed out games when it's offense has struggled, which has been basically every game. Mike Gundy built the Cowboys brand and his own reputation on high-flying offense, but this season has been different. His team has only scored more than 30 once in five games and that 30 included a defensive touchdown. They haven't scored in the 3rd quarter of any game so far and were held scoreless in the second half of two games.
Texas' Offensive Strengths
As good as the defense has been, I have my doubts they can completely control the Longhorns. Texas plays offense at a different level than any of their first five opponents. Running back Bijan Robinson is the best player in the Big 12 and maybe the country, wideout Xavier Worthy lit up the Sooners for 261 yards and two touchdowns in a losing effort at the Cotton Bowl, and quarterback Casey Thompson added another three scores on top of that for five total on top of 388 yards through the air. The Cowboys managed to shutdown Kansas State's Deuce Vaughn, but the passing game from the Wildcats was easily defended compared to what the Longhorns will do, especially since they were missing starting quarterback Skylar Thompson for the game against the Pokes.
I asked my buddy and fellow Heartland contributor Derek Duke if he thought if OSU scoring 28 points would be enough this weekend. He thinks no and I tend to agree. The Longhorns are going to score and OSU needs to score with them, or at least score more than they have lately. Good news for the fans in the brighter shade of orange though: Texas is pretty bad defensively and straight horrible against the run.
Reason for Optimism
When injury wrecked the receiver group before the Boise State game the Cowboys were forced to run and run they have. Jaylen Warren, a Utah State transfer running back, was used sparingly for the first two games but has started to make a case for Big 12 newcomer of the year. He runs hard and at 5'8" but 215lbsm he's hard to tackle, routinely making subtle cuts, hitting the spin button, or just running through contact to get extra yards.  The problem is he's already run the ball 115 times and he hasn't hit the midway point of the season yet. Most of those carries have come in the last three games where he went for 32, 27, and 36. If Dez Jackson, the starter at the beginning of the season, doesn't finally come back from injury this week expect Warren to approach 30 carries again. While it's worked so far that kind of a load isn't sustainable for the whole season. Eventually he'll wear down. I hope the young man spent the whole bye week in the ice bath because Texas is going to sell out to stop him. Spencer Sanders has been up and down all season and is still prone to turnovers so trying to force OSU to throw instead of running the ball and the clock and then leaning on that strong defense would be the smart plan for the Longhorns.  A fast-paced shootout would favor Texas. Gundy even mentioned in his weekly presser he wants to avoid that.
Spencer Sanders
Spencer Sanders is the key to this game and how he plays probably determines who wins. Bijan Robinson is going to break a few 20 and 30 yard runs. Jaylen Warren will churn out 100 yards again. The OSU defense will make some stops and the Texas offense will make some plays. If Sanders can not turn the ball over, pick up third and medium/longs through the air, and do enough with his legs to help out Oklahoma State can go down to Austin and win. 
No team has had more success against the Longhorns on their home turf than the Cowboys who had won five in a row in Darrell K. Royal Stadium until stumbling in 2019. Oklahoma State is also the only team since the Big 12 formed to beat Texas the week after the Red River Rivalry, having done it twice. In the last 11 meetings OSU is 7-4 against Texas although they've lost the last two and are 9-26 overall in the series.
The Cowboys can win, but Texas is still Texas. They are bigger and stronger and faster, but that gap has gotten closer over the last decade.  With both teams being opposites, good offense and bad defense versus good defense and bad offense, this will be the game of the weekend in the Big 12 Conference.