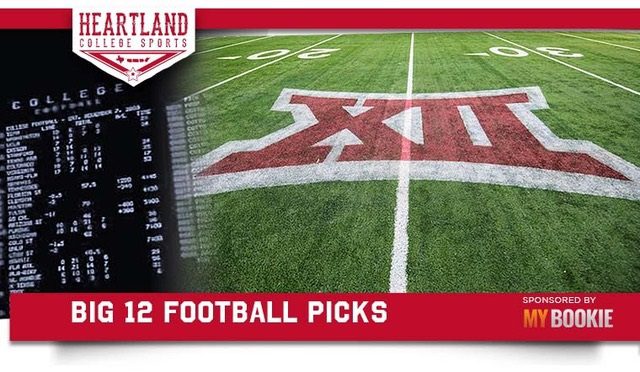 Well it's a new season of college football and that means a fresh slate for my Big 12 football picks against the spread. As they have been for several years running, our friends at MyBookie.com are the sponsors of the picks, and with our promo code "BIG12" you get to DOUBLE your first deposit, no questions asked! Support them to support us at Heartland College Sports and get your picks in.
Our Week 5 picks went 2-1, so we are 14-18-1 on the season, and now it's on to Week 7 with five games to pick.
Texas vs. Oklahoma State
This is going to be a game that will go a long way to determine who plays for a Big 12 Title this season. For Oklahoma State, the Pokes have some trends in their favor, going 4-2 straight up, and against the spread, against the Longhorns in their last six games. OSU is also 5-2 against the spread in their last seven games and 4-1 against the spread in their last five October games. OSU's defense won't stop Texas, but this will be the best unit UT has seen this season, while the offense can do enough against UT's mediocre defense to keep it close and maybe pull off the upset.
The Pick: Oklahoma State +5
Baylor vs. BYU
The Baylor Bears are playing some of the best football in the Big 12. They're No. 2 in the Big 12 in offensive efficiency and No. 1 in defensive efficiency. BYU has lots of wins over Pac-12 teams, but darn is that conference struggling. Their loss to Boise State took some of the shine off of where this season has gone for the Cougars. They will be a great Big 12 addition, but it's the Bears who give them an awakening as to what is coming. BU is 4-2 against the spread this season and 7-3 in their last ten games against the spread as a favorite. Buy the 1/2 a point if you have to.
The Pick: Baylor -6
Texas Tech at Kansas
As bad as Kansas has been, the Jayhawks are 1-8-1 against the spread in their last 10 games. They're also 0-7 against the spread at home in their last seven meetings. Tech certainly has its issues, but Matt Wells may have to walk home if he goes to Lawrence and losses for a second-straight time (which he did in 2019). Tech is coming off a bad loss to TCU and needs a bounce back, which makes Kansas the perfect opponent at the perfect time.
The Pick: Texas Tech -16
Iowa State at Kansas State
Ah yes, Farmageddon. This game has been a close one in recent years, decided by 10 points or less in six of the last seven games, minus last year's ISU blow out. Kansas State continues to try and recover from defensive injuries in the front seven, which will hurt them in this game. The Cyclones are 15-2 against the spread in their last 17 October games and 5-2 in their last seven against Kansas State. Iowa State is entering the time of the year when Matt Campbell has them playing their best football and that will show on Saturday in Manhattan as Iowa State wins its first game in Manhattan since 2004.
The Pick: Iowa State -6 (buy 1/2 point if needed)
Oklahoma vs. TCU
The Sooners have been dealing with QB drama all week which has caused a ton of conversation across Norman. Lincoln Riley has done his best to protect his guys, but it's hard to see how it hasn't been an unusual week in Norman. Meantime, TCU's offense is playing well and while Max Duggan and Zach Evans are being called "questionable", something tells me that might be gamesmanship from Gary Patterson. TCU is 5-1 in their last six road games and will cover this big spread.
The Pick: TCU +14 (buy 1/2 point)