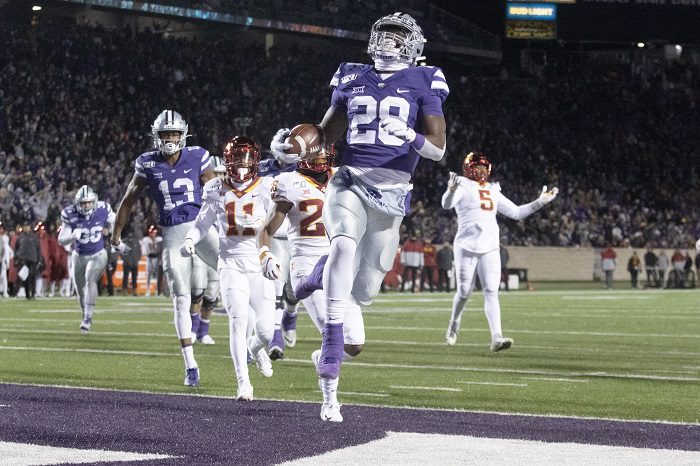 It's time for a little roundtable as the Heartland College Sports crew went around the horn and picked the best Big 12 game on the schedule in Week 7 of the 2021 college football season. There are four solid (OK, maybe three) conference games to pick from this week, along with a non-conference game that is actually a future Big 12 match up. So with that being said, let's dive into everyone's picks for the upcoming week.
Pete Mundo: Texas vs. Oklahoma State
Arguably the best match up in the country this weekend is the high-flying Texas offense against the stingy Oklahoma State defense. Who blinks first? That is what will determine this one. Give how Texas has the best offense in the league and the Pokes are playing some of the best defense in the conference, I can't wait to see how this plays out. OSU's run defense is only allowing 90 rushing yards per game. How can they stop the best running back in America in Bijan Robinson? Mike Gundy, one of the longest-tenured Big 12 coaches against the new hot shot in Steve Sarkisian? Gundy and Tom Herman didn't seem to care much for each other. Can we keep that going in some capacity? We will find out!
Derek Duke: Kansas State vs. Iowa State
There is only one top 25 matchup in the Big 12 which of course is the Oklahoma State/Texas game. While that game might mean the most as far as the Big 12 pecking order goes, I am going with a different game. Give me corn versus wheat and give me cardinal and gold against purple. Farmageddon is one of my favorite Big 12 rivalries and may become my new favorite once Texas and Oklahoma bolt to the SEC. These two teams hate each other, and this game has been wild over the last few years. From the classic 2015 fumble game, the 2017 no call game or even the 45-0 beatdown the Cyclones put on the Wildcats last year. The winner of this matchup will remain in the Big 12 title picture and the loser may have their conference title hopes end after this one. Also, the Cyclones have not won at Kansas State since 2004.  
Matthew Postins: Kansas vs. Texas Tech
I wrote the preview for the Texas Tech-Kansas game and, even though it shouldn't be a trap game for Texas Tech, I think it could be. Kansas is talented enough to win a Big 12 game this year, and Texas Tech is one of the few teams where I think there's a chance. Now, Tech has lost just one time in Lawrence, and it was the last time they were in Lawrence. The Red Raiders are beat up and the Jayhawks are coming off a bye. It's all a recipe for disaster, potentially, for Tech. Now, Tech could score a bunch of points in the first half and put this thing away. But, I'm betting that Kansas will look for some ball control offense after watching what TCU's run offense did to the Red Raiders. And even though KU doesn't have a back as dynamic as Zach Evans, the Jayhawks can cobble enough of a run game together to make things difficult. I think it's intriguing because the Red Raiders are fighting for bowl eligibility, which would be a big deal for head coach Matt Wells in his third year. He needs this win as much as Kansas does. Sometimes desperation can make for a great game. 
Robert Graves: Kansas State vs. Iowa State
FARMAGEDDON.
The atmosphere in Bill Snyder Family Stadium in going to be electric for this prime time edition of Farmageddon. K-State and Iowa State are built on similar philosophies and play similar styles, but no love is lost when these two hard-nosed teams face off. K-State has pretty much owned this rivalry since 1990 and has a far more decorated tradition over that period, but Iowa State is the team that has had the most success of late and finds itself favored to win in Manhattan for the first time since 2004. Despite Vegas liking the Cyclones by a TD, I think these teams are pretty evenly matched and expect a great game that could be an instant classic.