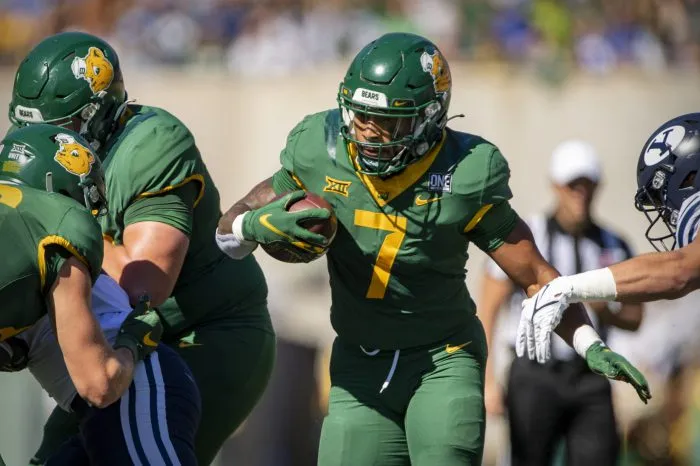 There were a few games this weekend that were going to help determine the outcome of this Big 12 this season. But there was only one game that gave us a sneak peek at the future of the Big 12 and that was in Waco on Saturday afternoon.
For the first time since the conference announced the addition of the four new schools, a current Big 12 member was taking on a future member. It was a battle between BYU and Baylor and while this may be the first time these schools are playing each other since 1984, they are going to have plenty more opportunities in the near future.
BYU had their hopes of a playoff spot wiped away last weekend after a loss to Boise State while Baylor is still fighting to keep their Big 12 title hopes alive. It was a great game with plenty of Big 12 love going around but here are my three thoughts on Baylor's big win.
1. BYU Couldn't Stop Baylor's Rushing Attack
Baylor offensive coordinator Jeff Grimes wanted to bring an RVO type of offense to Waco. In case you don't know, RVO stands for reliable violent offense and that is exactly what the Bears had against BYU. Baylor racked up over 300 rushing yards against the Cougars as they just kept pounding the rock over and over again. Abram Smith led the way with 188 rushing yards and three touchdowns as he averaged seven yards a carry.
BYU had no answer for the Baylor rushing attack as they struggled to contain not only Abram Smith but Trestan Ebner as well. Give credit to the Baylor offensive line because they did an outstanding job paving lanes for their two good running backs. Baylor won the battle up front and when you can run the ball like they did on Saturday, wins are much easier to come by.
2. Welcome to the Big 12 BYU
I must give some credit to BYU despite the loss. Their fans showed up in McLane Stadium and made some noise until Baylor silenced it with their play. Two weeks ago, people were talking about the Cougars being a playoff team and after losing to Boise State last weekend, they got a taste of what life is like in the Big 12 is like on Saturday. The difference in this game was in the trenches. Baylor played physical and BYU just couldn't match that intensity up front. The Cougars will get a shot at revenge next year in Provo, but they better buckle up those chin straps because the Bears will be coming back with that powerful run game.
3. Can Baylor Win Nine or Ten Games This Year?
After the big win, the Bears are currently sitting at 6-1 on the year. After missing a bowl game last season, it took just seven games for Baylor to get bowl eligible in 2021. While that seemed like a step forward before the season, after seeing them play, can this team do more? I believe they can. Take a look at their remaining schedule. They have five games left against Texas, TCU, Oklahoma, Kansas State and Texas Tech. Call me crazy, but I could see them going 4-1 or 3-2 in their final five games of the year. If they do that then 9-3 or 10-2 doesn't seem unrealistic at all. That's a big step forward from 2020 and few people saw this team finishing higher than fifth in the Big 12.