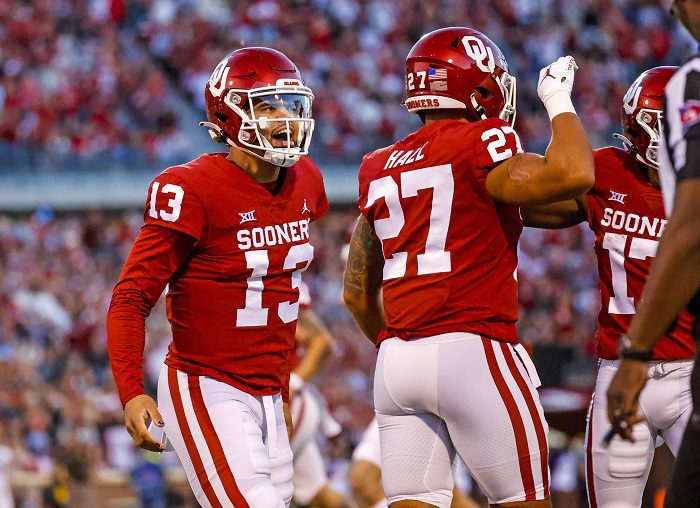 The biggest question entering this game was who would be playing quarterback – for Oklahoma and TCU.
TCU head coach Gary Patterson was massaging the facts regarding his starting QB Max Duggan in a bit of gamesmanship regarding an injury Duggan sustained in Lubbock in TCU's win over Texas Tech. Oklahoma head coach Lincoln Riley was shutting down media access in response to answers emerging via OU's student newspaper regarding whether Caleb Williams or Spenser Rattler would start following William's game-saving performance in the Red River Shootout Showdown.
At kickoff, the smoke was all much ado about nothing. Duggan and Williams started, just like we all knew they would.
Here are three thoughts on Oklahoma's win.
1. Oklahoma is Caleb Williams' Team
Williams' ability to run the ball adds a dimension to Oklahoma's offense that cannot be matched by Spencer Rattler. However, it's more than Williams ability to move the ball with his legs.
Williams has his team's confidence and energizes the offense in a way that Rattler does not seem capable – at least from this point of view, behind a laptop, with the game on the tube. From my seat on the sofa, Williams seems to have that Band of Brothers mojo that Rattler does not. But that's not all.
Perhaps, most importantly, Williams effectiveness has yet to be undermined by a lack of ball security. Williams' ball security through the air was perfect tonight with zero interceptions while completing 18 of 23 attempts for 295 yards and four touchdowns. He was equally secure on the ground while rushing for 66 yards and a touchdown on 9 attempts.
2. RB Kennedy Brooks Has Hit His Stride
After gaining just 140 yards through Oklahoma's first three games, Brooks has rushed for 461 yards over the last three. While that the majority of those yards came in a 217-yard performance against Texas, he's now rushed for at least 91 yards in three straight games.
Tonight, Brooks rushed for 153 yards and a touchdown on just 20 attempts (7.7 yards per). Nine of those 20 attempts came on Oklahoma's final drive of the game, when the Sooners' offensive line put the screws down on TCU's defense to put the game away. With Oklahoma's passing game blossoming under Williams' care and Williams adding to the running game, Brooks has found his place as Oklahoma's featured back.
Brooks is another piece of Oklahoma's team that is coming together as the Sooners head down the stretch. I suspect that Brooks would credit most of his recent success to the Oklahoma offensive line, which has looked night and day in the last three games, beginning at Kansas State, than it did in the first three, and that offensive line piece what makes Oklahoma really scary right now.
3. TCU QB Max Duggan is a Warrior
Just because Patterson was blowing smoke regarding whether Duggan would play, doesn't mean he wasn't injured. While TCU was overmatched when Oklahoma had the ball, TCU hung around with a brilliant performance from Duggan.
Duggan went completed 20 of 30 attempts for 346 yards and 4 touchdowns without an interception. He also added 45 yards rushing yards on 8 attempts. He did everything he could to win the game, but TCU's defense was not able to hold up its end of the bargain against a Sooners offense that is starting to hit on all cylinders.
While TCU is still looking for answers on defense, Duggan and the TCU offense have the Horned Frogs looking dangerous. Good luck to the Big 12 teams who face TCU, if Patterson can ever get the defense right the next few weeks.