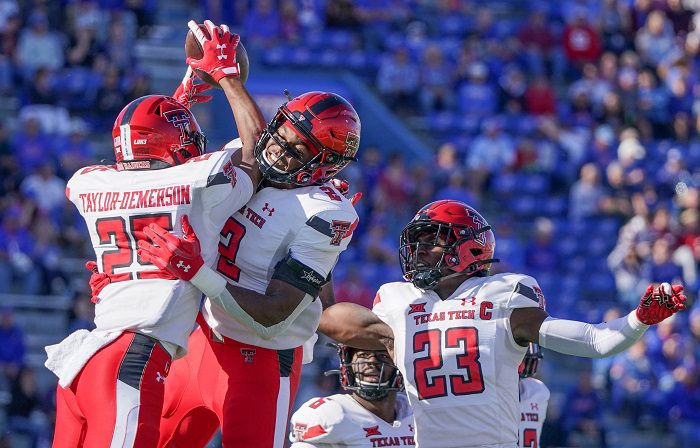 The Texas Tech Red Raiders went to Lawrence, Kansas to take on the Kansas Jayhawks on Saturday afternoon. These two teams had played close games the last two seasons, which each being decided by a field goal. But this one was a blowout from the start as the Red Raiders jumped out to an early lead and never looked back as they improved to 5-2 on the season, while Kansas fell to 1-5.
Here are three thoughts on Texas Tech's win.
1. Matt Wells Finally Blew Out Kansas
You hate to put it like that, but Matt Wells was 1-1 against Kansas in his two seasons in Lubbock, losing by a field goal in Lawrence two years ago, and winning by a field goal at home last season. This time, Tech did what the rest of the Big 12 generally does to KU: roll to a comfortable win and never look back. Tech was up 24-0 at halftime and the Red Raiders defense had held Kansas to less than 100 total yards of offense. For the game,
For Matt Wells, in a season where the Tech head coach needs to show progress in Year 3 and make a bowl game, this win was much needed, and doing it in convincing fashion was also big, especially coming off of last week's big loss to TCU.
2. Kansas is Still Searching for a Quarterback
Jason Bean, the North Texas transfer, hasn't been the answer under center for Lance Leipold. On Saturday, he finished 11/21 with 80 passing yards, zero touchdowns and one interception. On the ground, he only had five carries for 14 yards. It's hard to evaluate KU quarterbacks sometimes, but it's hard to see how Jason Bean is going to be the guy to help this team take its first step forward as a program.
While Miles Kendrick keeps getting some run, I wouldn't mind getting another look at Jalon Daniels, who played decently as a true freshman last season, along with other young quarterbacks like Conrad Hawley and Ben Easters, both who were three-star prospects coming out of high school.
Why not? Leipold is building this team for the future.
Erik Ezukanma Showing Signs of Life
Ezukanma has dealt with some injuries early this season, but if Tech is going to become bowl eligible and possibly make a little more noise in the Big 12, Ezukanma needs to be the guy to help make that happen at wide receiver. He's one of the most talented players at the position in the league and with Texas Tech down to their back up quarterback, getting a couple extra explosive plays from Ezukanma down the stretch of the season will go a long way to Texas Tech winning seven (or more?) games this season.