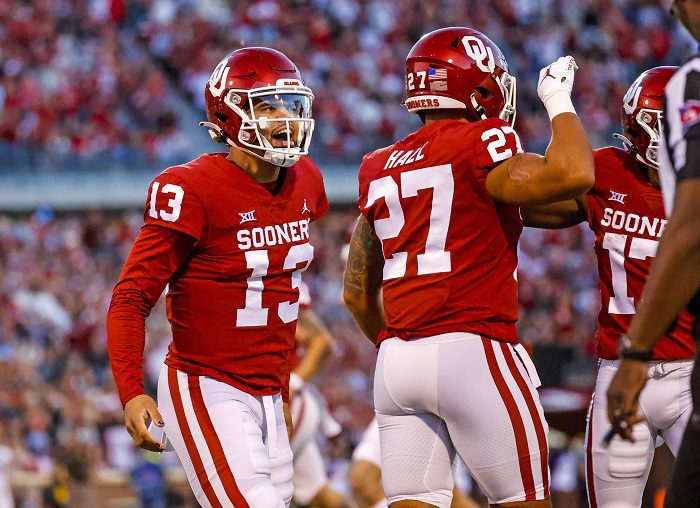 Week seven of the Big 12 football season is in the books. It was a big weekend filled with wins from Oklahoma State, Texas Tech, Baylor, Iowa State and Oklahoma. The league continues to be filled with plenty of surprises as the year goes on. While some teams had a rough Saturday, others made the most of their opportunities as they had key players step up.
Each week we will be picking the best offensive, defensive, and special teams performance in the Big 12 Conference, which I'm sure won't be at all controversial or debated by our readers. So, with Week seven in the books, let's get to it!
Offensive Player Of The Week: Oklahoma QB Caleb Williams
This was a tough pick because there were so many players worthy of this honor. TCU WR Quentin Johnston, Baylor RB Abram Smith and Iowa State RB Breece Hall all had great performances on Saturday but since I can only pick one, I went with Caleb Williams. He started his fist game for the Sooners, and it was a memorable one. Caleb went 18/23 as he threw for 295 and four touchdowns. But he did more than just throw the football well as he also rushed for 66 yards and a score bringing his touchdown total to five against TCU. Williams was a five-star prospect coming out of high school and against the Horned Frogs, he gave us a five-star performance.
Defensive Player Of The Week: Oklahoma State DB Jason Taylor
I almost went with Iowa State's Will McDonald IV, but I can't ignore what Jason Taylor did for his team on Saturday. Down 17-3 with the Longhorns knocking on the door to score, Jason jumped all over a Casey Thompson pass and took it 85-yards the other way for a score. That play completely changed the momentum of the game and instead of Texas going up 24-3, Jason's big play made it a 17-10 ballgame. You can make an argument that he was the reason the Cowboys jumped back in the game and won.
Special Teams Player Of The Week: Iowa State K Andrew Mevis
Iowa State has had their issues on special teams this season but against Kansas State on the road, Andrew Mevis had the golden leg. He went 4/4 on his field goals on Saturday as all four of his kicks were over 40-yards. We don't talk about kickers a bunch but when a kicker is able to have a performance like he did, it deserves some attention.