Baylor Bears
Big 12 Football Week Seven Quarterback Power Rankings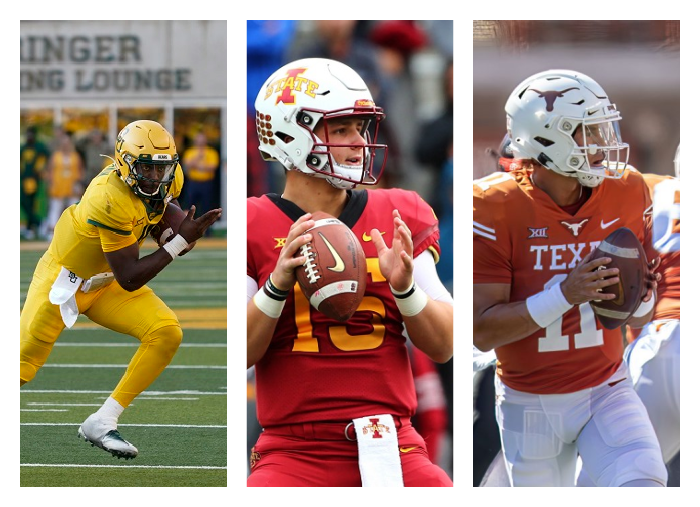 There is no position in all of sports that is more important than the quarterback. A good quarterback can help hide other areas of weakness on a team while bad ones can bring down even the best of teams. Either way, having good quarterback play is crucial for any team that hopes to make it all the way. Just like with team power rankings, I wanted to do a weekly quarterback power ranking after every weekend. Here you will find out who is trending up or down depending on their play on the field.
1. Oklahoma QB Caleb Williams (Last Week: #5)
After making his debut on the list last week in the top five, Caleb Williams had a great first start for the Sooners on Saturday. Against TCU, he went 18/23 for 295 yards and had five total touchdowns on the day. For a guy making his first start, he made it look easy as the offense moved up and down the field all game long. Out of all the quarterback performances I saw on Saturday, Caleb impressed me the most.
2. Iowa State QB Brock Purdy (Last Week: #2)
This is the third straight week I have Brock Purdy at number two. I checked the calendar, and it is Brocktober which means he is going to play well. While all the attention was on Breece Hall on Saturday against Kansas State, Brock played a clean game going 22/25 for 208 yards and a score. He did not have the most impressive numbers, but he was extremely efficient on Saturday and is continuing to play good football.
3. TCU QB Max Duggan (Last Week: #6)
It is not often that Max Duggan gets a bunch of opportunities to throw the football, but he got a chance to against Oklahoma. Duggan threw for nearly 350 yards and had four touchdown passes on Saturday. It was one of his best passing performances of his career and it was one of the few times I saw him really commit to throwing the football rather than running.
4. Baylor QB Gerry Bohanon (Last Week: #1)
After airing it out last week against West Virginia, Baylor had a different approach against BYU. The Bears ended up running the football a ton and with their success on the ground, Gerry did not have to do much with his arm. He went 18/28 for just 231 yards and a touchdown against the Cougars in their big win.
5. Texas Tech QB Henry Colombi (Last Week: #7)
He did not have to do much against a bad Kansas team, but he did not have a bad game going 14/20 for 124 yards and a score. Keep in mind, they played Kansas.
6. Kansas State QB Skylar Thomson (Last Week: #4)
Despite the loss, I don't think Skylar Thompson played that poorly against Iowa State. He finished the game with 206 passing yards and two touchdown passes. While he didn't have a performance like he did against Oklahoma, he still is one of the better quarterbacks in the Big 12.7.
7. Oklahoma State QB Spencer Sanders (Last Week: #8)
Spencer Sanders did not have a great game by any means but since his team won, I had to put him ahead of the final three players to close out this list. Sanders threw for just 178 yards and a score along with an interception.
8. Texas QB Casey Thompson (Last Week: #3)
For the second week in a row, the Texas offense has fallen off a cliff in the second half. In the last six drives of the game against Oklahoma State, the Longhorns had a total of just 14 yards. Casey struggled with his accuracy and threw a key pick six that let Oklahoma State back into the ballgame.
9. West Virginia QB Jarret Doege (Last Week: #9)
The Mountaineers had the week off and I left Jarret where he was last week on this list.
10. Kansas QB Jason Bean (Last Week: #10)
Do I really need to explain myself here?