Big 12 News
Bob Bowlsby: 'Expectation' That Four New Big 12 Members Will Join in 2023-24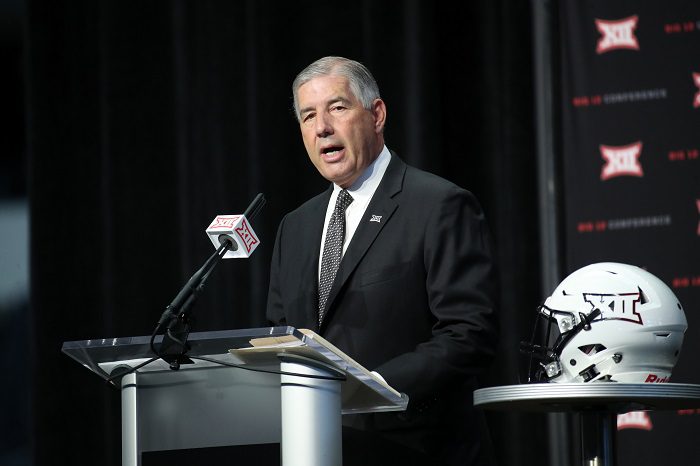 Big 12 Commissioner Bob Bowlsby told ESPN that he thinks the expectation is that all four new members will be with the league for the 2023-24 basketball season.
Bowlsby made the comment during ESPN's coverage of Big 12 Women's Tip-off in Kansas City on Tuesday.
BYU has already committed to joining the Big 12 for the 2023-24 athletic season. The Cougars are an independent in football and a member of the West Coast Conference in other sports.
Cincinnati, Houston and UCF were invited to join the conference from the American Athletic Conference. The AAC requires a 27-month notice and a $10 million buyout to leave the league. Based on when the three schools received the invitation in September, they would be unable to join the league until the 2024-25 athletic year. The News-Record in Cincinnati reported that other departure dates could be in play.
On Tuesday, Bowlsby noted that the league has an expectation that the three could join sooner, though he admitted there are many factors in play.
"Well we don't know just yet," Bowlsby said. "We know that BYU will be coming in in 2023 for the 2023-24 season and, and I think the expectation is that the others will try and do likewise. So we'll have all four of them for the 2023-24 basketball season. But they still have obligations to the American and they're going to have to extricate themselves from those prior to the time that they can make a commitment."
If all four teams were able to join for the 2023-24 athletic year, that would give the Big 12 Conference 14 members for two seasons before Oklahoma and Texas leave for the Southeastern Conference after the 2024-25 athletic season.
You can find Matthew Postins on Twitter @PostinsPostcard.