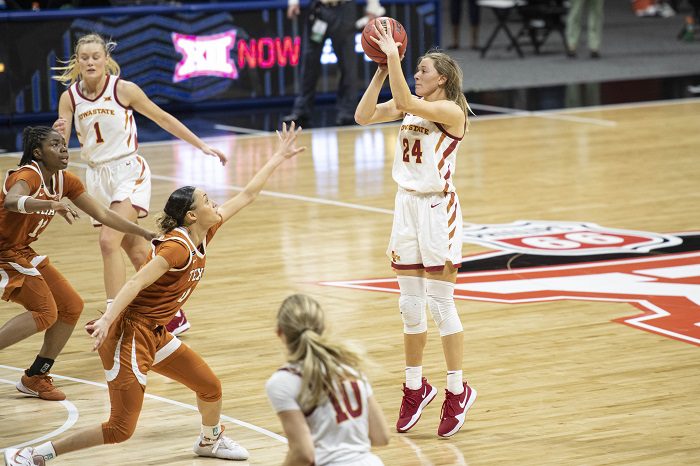 Here are four takeaways from Big 12 Women's Preseason Tip-off, held in Kansas City on Tuesday, as the women's basketball season approaches.
Texas and its Young Guns
Texas will be young. But it will also be talented.
Head coach Vic Schaefer brought in a Top 5 recruiting class for 2021 — guard Rori Harmon, forward Aaliyah Moore, guard Kyndall Hunter and forward LaTasha Lattimore.
No freshman has received more attention than Moore, who hails from Moore, Oklahoma, and joins the Longhorns after being named a two-time Gatorade Player of the Year for the state of Oklahoma. While a senior in high school she averaged 25.2 points, 11.6 rebounds and 2.2 blocked shots per game and was the nation's No. 5 recruit. The coaches also named her the All-Big 12 Preseason Freshman of the Year.
Harmon, meanwhile, was an All-Big 12 Preseason Honorable Mention selection and, like Moore, hasn't played a minute of college basketball. Also like Moore, Harmon was a McDonald's All-American, and at Cypress Creek High School in Houston, Texas, she averaged 18 points, 5.8 assists, 5.8 rebounds and 5.2 steals per game.
Harmon was named the 2021 Houston Chronicle All-Greater Houston Girls Basketball Co-Player of the Year. Who did she share that award with? Hunter, another member of Schaefer's recruiting class.
Lattimore was a late signing, as the Top 40 recruit joined the Longhorns in August.
Texas may only be No. 25 in the AP Top 25 preseason poll, but Schaefer has higher expectations.
"I'm really expecting a lot from those kids," Schaefer said, who said that he actually has more newcomers — between recruits and transfers — than returnees from last year's Elite Eight team.
Back to 'Normal'
Just about every coach and player at Tuesday's Big 12 Women's Tip-off talked about getting back to 'normal' after last year's COVID-19 influenced regular season. While COVID-19 is still a part of the landscape — and Big 12 commissioner Bob Bowlsby said on Tuesday that he hopes masks won't be a part of the Big 12 Tournament in March — there's a different sensibility during this offseason, and the coaches hope that spills over into the regular season.
TCU coach Raegan Pebley said that the Horned Frogs had no summer workouts and the program was shut down until three days before their regular-season opener due to COVID-19. Plus, her players couldn't really get together and enjoy the team-building they're used to in a normal season.
"I think this year what is really nice is that we've had that time to be able to coach skill, develop skill, add to the system, build the culture and the relationships," Pebley said. "Chemistry is great, but in this game you need synergy and you need to be able to see that chemistry produce on the court. That's synergy and we've been able to start to see that happen."
The Joens Sisters
Iowa State guard Ashley Joens is one of the best players in the Big 12 and, entering her senior season, she made the All-Big 12 Preseason Team, announced last week. And, for the second straight season, she'll get to play alongside her younger sister, Aubrey, who is a sophomore.
The pair are living together, and the older sister has made the delegation of duties within the home crystal clear.
"We now live together so sometimes I have to tell her to do the dishes," Ashley Joens said.
Ashley Joens averaged a school-record 24.2 points last season, along with 9.5 rebounds per game and a career-best 46.3 percent shooting from the floor. Along with earning Second-Team All-America honors from Sports Illustrated, she was the 2021 Cheryl Miller Award winner, given to the women's game's best small forward.
Aubrey appeared in 26 games last season, averaging five points and two rebounds per game.
For at least one more season, the pair get to live out their childhood dream of playing college basketball together.
"We get along really well, so we just kind of have that chemistry," Ashley Joens said. "I mean we've played together for like 20 years now, so it's a lot of fun and we're excited to keep playing together for the next year."
Kansas and its Foreign Flavor
The Kansas Jayhawks have a distinct amount of foreign talent on its roster entering this season, something head coach Brandon Schneider referenced on Tuesday. Among the countries represented on the roster this year are Macedonia, Croatia, Greece, Sweden, Denmark and Canada. Many of them speak multiple languages, and the players and coaches alike are learning along the way.
But there are other differences, as junior guard Holly Kersgieter has found out.
"The food," she said. "Some of the stuff they eat is just weird."
Like what?
"One night we were out and someone had mayonnaise with fries," Kersgieter said. "I've never seen anyone do that before."
Beyond the humor, the Jayhawks are figuring out the communication on the court.
"Whether they're from Kansas City or whether they're from Sibenik, Croatia, you're learning basketball language," Schneider said. "I think terminology always changes as we're bringing in players and, you know, right now we're just trying to get all on the same page in terms of the basketball terminology."
You can find Matthew Postins on Twitter @PostinsPostcard.
**Want to win a $20 gift card? Go sign up here and join our conversation! The best poster each week wins a gift card to your favorite establishment!**