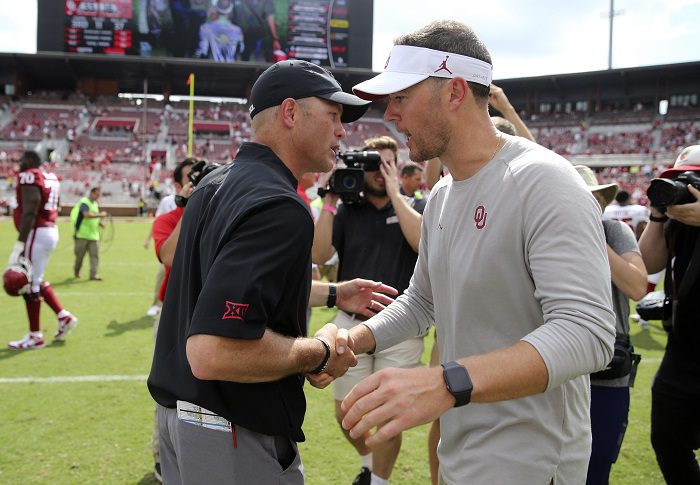 Welcome to the HCS Big 12 mailbag! This mailbag is for all you football junkies out there who root for a Big 12 school who not only have questions about your team, but other teams in the conference as well. So, join me, grab your favorite drink, and relax as I answer all your Big 12 questions. For those interested, I will send out a tweet (@Derekduke25) every Monday until 8 PM CT for you to send in your questions to be answered every Tuesday right here at Heartland College Sports.
I want to thank each one of you who submitted a question this week and for those reading, I am glad you could join me. I am doing this on a Monday night and of course it would not be a proper mailbag without a drink next to me. Tonight's drink is Evan Williams Bottled in Bond. Cheers!
@tracks182 asks: Is unranked Iowa State being favored over 8th ranked OSU the weirdest line of the season so far? Does Caleb Williams have a shot at the Heisman this year, or is the Big 12 sending someone else?
Duke: Right now, Iowa State is a seven-point favorite against a top ten team at home. Is that crazy? Maybe so but I don't disagree with it really either. I know the Cowboys are undefeated, but they have had plenty of close calls this season. I can confidently say that this will be Oklahoma State's toughest game so far this season and that Iowa State is more of a complete football team than Texas is. I don't know if the Cyclones win by seven, but I do think they give the Cowboys their first loss of the season after Saturday.
As for your second question, I think Bijan Robinson is still in the Heisman conversation but at some point, Caleb Williams will launch himself into the mix as well. So yes, if he continues to play at an elite level, he should be considered for the Heisman despite not playing earlier in the season. To me, there aren't any clear-cut favorites for the award right now so why not put Caleb in that conversation?
@T_Rex1991 asks: Will the Baylor Bears be able to overcome the spread vs the Bye Week Bandits?
Duke: Every Big 12 team outside of Kansas wins the bye week with ease so yes, Baylor will win the bye week. The Bears have been the biggest surprise team in the Big 12 so far. I did not think they would be 6-1 going into the Texas game on October 30th but here we are. Dave Aranda has done an outstanding job with this team, and I am excited to see them play Texas. I wanted to ask, even though Baylor has a bye week can people still tailgate at McLane Stadium? That would be pretty cool to sit out there and down some beers watching college football.
@RPTexan asks: Mr. Duke, what are your midseason thoughts on the job Sonny Cumbie is doing at Tech?
Duke: Robert, you can call me Derek. Whenever someone calls me Mr. Duke it makes me feel like an old man and I'm not ready to be an old man just yet. Let me enjoy my youth while I can. As for Sonny Cumbie, I think he doing an excellent job considering what he has to work with. Tyler Shough is still out, and he has made Henry Colombi a serviceable quarterback. Texas Tech is second in the Big 12 averaging 455.1 yards per game and are averaging over 35 points a game as well. They have played the easy portion of their schedule so far, so I am interested to see what they are able to do as their schedule gets tougher.
@WheelerHomeTeam asks: Does coach Kansas State HC Chris Klieman keep his job after this season?
Duke: I know many Kansas State fans are frustrated with the product on the field and I don't blame them one bit. The Wildcats have now lost eight consecutive Big 12 games dating back to last year. On Saturday against Iowa State, they did not look like a team who had two weeks to prepare for that game. With that said, I think Klieman has a longer leash than what people realize. He's under contract until 2026 and I don't see a scenario where he gets fired after this year no matter what happens.
@FireWellsTTU asks: Who Will Be Texas Tech's new Head Coach?
Duke: Judging by your Twitter name I would say that you are ready for Matt Wells to get out of Lubbock. I get it, the man has had some questionable decisions since arriving at Tech, but he is 5-2 this season. If he can win just one of his next five games and reach a bowl game, he will be safe and will be the coach again in 2022. But that is going to be tough since their schedule is extremely backloaded this year. Their best opportunity to get that sixth win is this weekend against Kansas State.