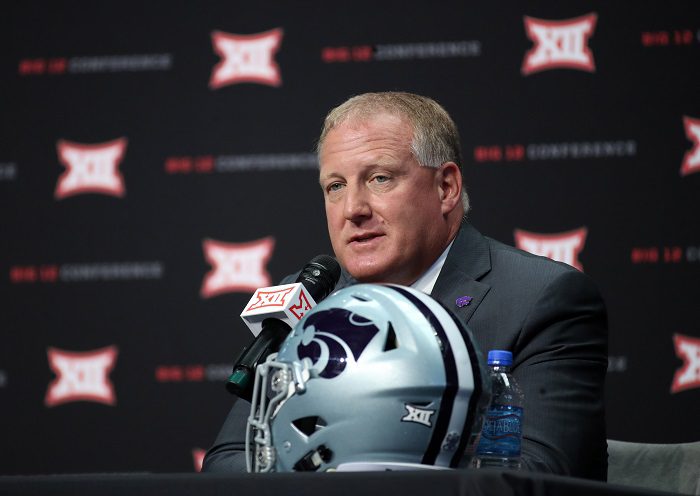 I started to see this quote from Chris Klieman asking the local media in Manhattan, Kansas to "be more positive" during his press conference on Tuesday and I didn't want to believe it. I wanted to think it was taken way out of context. But then I saw the entire clip for myself, courtesy of John Kurtz's Twitter account, and it wasn't.
The head coach of the Kansas State Wildcats specifically said, "Sometimes we all have a tendency to take it from a negative standpoint. I'm telling you guys, 18-22 year olds can't handle the negative side of things. I'm asking you guys, I'm asking for your help, we need to be more positive. I know we can play better. You know we can play better. But we've got to give these kids more positive things, because we've got a great locker room in there and our kids do care about each other and our kids love each other. Coaches that believe in these kids and we can't give up on them."
Here's the video of the statement.
First off, it's admirable that Coach Klieman believes he has a great locker room of guys who care about each other and obviously a coaching staff he cares deeply about. Also, what Chris Klieman asked was asked in a very nice way, but it was still entirely inappropriate.
It's clear he is very much misunderstanding what the relationship is, or is supposed to be, between the media and the subject that they cover.
Those who cover the Kansas State Wildcats aren't on the payroll of Kansas State University. They're paid by media entities, who have their own obligation to fairly analyze, critique and yes, when appropriate, praise, the individuals and teams that they cover.
That's their job. And there's no plea from Chris Klieman that can, or should, change that coverage.
This Kansas State team isn't playing good football, and it hasn't been for nearly a full calendar year. The team has lost eight Big 12 games in a row.
What's the old coaches cliche? "Control the controllable"? Coach Klieman may need a refresher on that one.
Does he have the right coaches in place to help his guys win Big 12 games? Does he have guys who can handle criticism of playing for a Power 5 program? Is he doing all he can to protect players who might take criticism a little harder? Has he talked about deactivating social media for some of those players who might need it? What other steps can be taken in the locker room or the hallways of the practice facility to accomplish what he's looking to accomplish?
Those are just some of the places I would begin, before I start asking those who cover my team, who I can't really control, to "be more positive".
And while we are being completely honest, Manhattan, Kansas media isn't exactly a meat grinder to begin with. That's in no way a knock on the guys who cover the team, I know many personally and they do a great job, but the plea from Klieman comes across as someone who is out of touch with what brutal media coverage actually looks and sounds like.
Unlike many Kansas State fans I've heard from lately, I still believe in Chris Klieman being the leader of the program. Their schedule was front loaded this season, and an 0-3 start was always more likely than some fans want to admit, but they have some very winnable games coming up. Yes, I want to see progress and improvement the rest of this season into 2022, while also seeing better recruiting, more depth, and you can also talk me into a key coaching change or two.
But the plea to the media to "be more positive" was inappropriate and, most importantly, should not be given a second of thought by the media that covers the team. Their job is to serve their own readers, listens and viewers, with facts and analysis that is fair. Whether that is positive or negative is determined in large part by the coaching staff and the players.
Control the controllable.