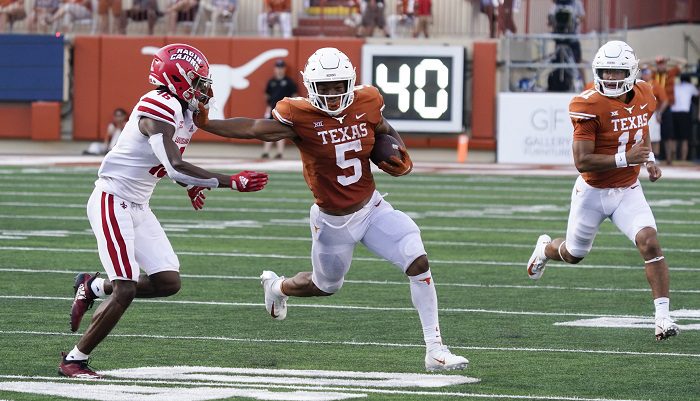 I can't believe that we are already halfway through with the college football season. Opening weekend felt like it was just the other day but time flies by when you are having fun watching college football.
Before the season started, media folks tried to throw out preseason list after preseason list pretending like they could predict the future. While some predictions turn out to be true, others crumble. Sometimes a certain player or team comes out of nowhere to shock us all and sometimes a team or player doesn't meet expectations. Both can happen in a season but before we get to the end of the year, I thought it would be fun to throw out some midseason awards.
Offensive Player of the Year: Texas RB Bijan Robinson
At this very moment, I would have to go with one of the running backs in the Big 12 and why not Bijan? He is the conference rushing leader with 924 yards and has ten rushing touchdowns on the year. Robinson also has three receiving touchdowns which is the most for any Big 12 running back. Bijan has carried the Texas offense on his back all season long and is worthy of an award. The question is, can he keep up the pace while other players emerge?
Defensive Player of the Year: Iowa State DL Will McDonald IV
I hate to be one to toot my own horn here, but I did pick Will McDonald IV to win this award back at Big 12 media days. He led the conference in sacks last year and he is doing the same right now with 5.5 sacks already this season. At times, he is impossible to block, and he should continue to get better as the year goes on.
Newcomer of the Year: Oklahoma State RB Jaylen Warren
I know this award may wind up in the hands of Oklahoma quarterback Caleb Williams but for now, I would go with Jaylen Warren. Coming into the season, nobody was talking about this man who was at Utah State a year ago. He has done an excellent job being the bell cow running back for the Oklahoma State offense as he is fourth in the conference in rushing yards with 704. Much like Bijan Robinson at Texas, Jaylen Warren is the offense for his team.
Coach of the Year: Baylor HC Dave Aranda
I would have no issue with someone arguing for Mike Gundy because I had a tough time deciding between him and Dave Aranda. The difference for me was nobody picked Baylor to do anything this year. Most people had the Bears finishing no higher than seventh in the Big 12 and right now they are on track to finish in the top three or four in the league. In just seven games, Baylor is already bowl eligible in year two for Aranda and I would not be shocked at all to see this team win nine or ten games.
Biggest Surprise Team: Baylor
Once again, I must go with Baylor. Nobody was talking about this team in the offseason and all they have done is win games with great defense and a good run game. Baylor is on track to win nine or even ten games this year and that is going to be quite the story considering where this team was at a year ago.
Most Disappointing Team: TCU
I picked the Horned Frogs to finish third in the Big 12 before the season started and I am dead wrong on that pick. I thought too highly of them in the summertime, but I did not expect them to be playing defense the way they are right now. TCU has the ninth ranked rush defense in the Big 12 as they are giving up over 200 yards a game on the ground. They are also giving up the second most points per game as well in the league. The offense has made some strides with their rushing attack and with the emerge of Max Duggan, but this defense has completely brought this team down this year. I did not see that coming.