Big 12 News
Bob Bowlsby Says Texas, Oklahoma Departure 'Personal Betrayal': Report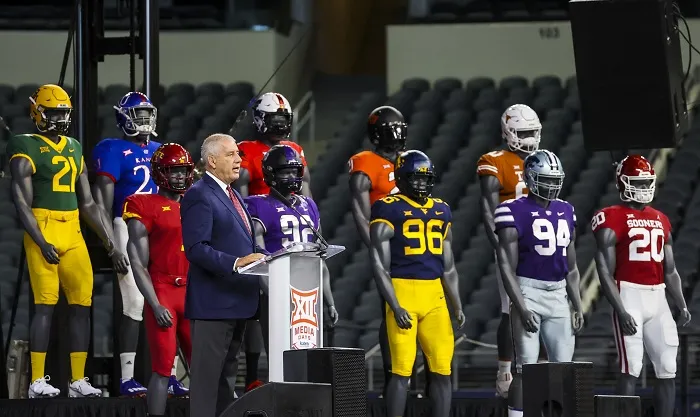 Big 12 Commissioner Bob Bowlsby told the Austin American-Statesman that he sees the decision by Oklahoma and Texas to walk away as a "personal betrayal."
Bowlsby was interviewed by the Stateman's Brian Davis during Big 12 Men's Basketball Media Day on Wednesday in Kansas City.
Bowlsby also spoke about how Big 12 realignment is coming together during an interview with ESPN. But he didn't make the comment quoted by the Statesman during that interview.
Bowlsby certainly had some choice words away from the camera, saying that "trust is at a relative low" between the Big 12 and those two schools.
"I've asked repeatedly (why they're leaving), and they never made us aware of any concerns in advance," Bowlsby told the Statesman. "When we've asked the question since then, we've gotten no response."
Later in the interview, Bowlsby took a direct shot at the Texas football program.
"They're thinking they're going to recruit better and they're going to get more money," Bowlsby said. "Anybody that thinks Texas' football problems have been a result of league affiliation are completely delusional."
The Big 12 commissioner did talk timeline when it comes to its changing membership. BYU has committed to joining the league for the 2023-24 athletic year. Bowlsby said on Tuesday, and reiterated on Wednesday, that there is hope the other three new members — Cincinnati, Houston and UCF — could join that year, too. But, if the three teams can't, they will join the league on July 1, 2024.
To this point, Texas and Oklahoma don't appear to have plans to leave before the current grant of media rights ends on June 30, 2025. That would mean at least one year with 14 teams in the conference.
"For a while, we'll be 14 members," Bowlsby told ESPN. "So Texas and Oklahoma have made the statement publicly, and our documents would indicate that they will be with us through June 30th of 2025. Until we see anything to the contrary, that's what we're going to assume."
That isn't to say the two programs won't try, and Bowlsby knows it.
"Well, I certainly would make the assumption that they would try and leave earlier than that," Bowlsby told ESPN. "We have agreements in terms of our rights, notice provisions in our bylaws, and we expect to exercise our prerogatives around those documents."
You can find Matthew Postins on Twitter @PostinsPostcard.
**Want to win a $20 gift card? Go sign up here and join our conversation! The best poster each week wins a gift card to your favorite establishment!**