Big 12 News
Bob Huggins: Major Conferences Should Split From NCAA Tournament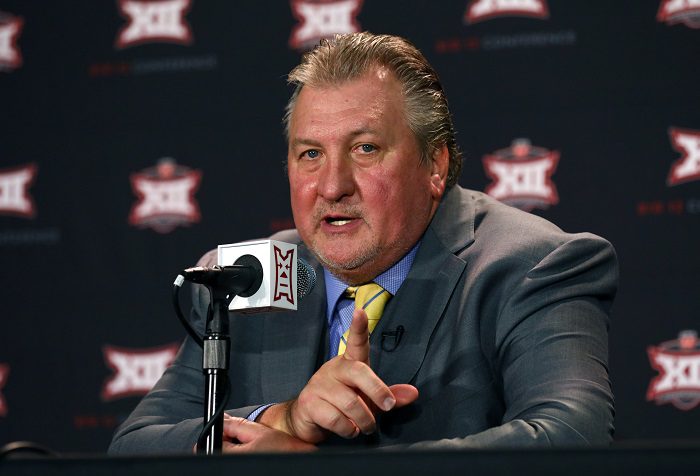 Bob Huggins was happy to talk about the idea that college basketball's major conferences should have its own postseason tournament during Big 12 Media Day on Wednesday.
The idea isn't a new one, but Huggins was the latest coach to give it voice in an article filed by ESPN.com from Kansas City.
The Mountaineers head coach approached the topic from two perspectives — revenue generation and equity when it comes to how the major conferences are handling the College Football Playoff, which may expand in the coming years to include more teams.
"They're doing it in football," Huggins told ESPN. "Why wouldn't they do it? The presidents and athletic directors that have all the juice, why wouldn't they do it? Makes no sense why they wouldn't do it. I think it's more 'Why wouldn't they?' than 'Why would they?' And then, the other people, they can have their own tournament."
By the 'other people,' Huggins meant the mid-major and low-major conference teams.
The high-major conferences in college basketball, generally, are considered the ACC, the Big 12, the Big Ten, the Pac-12 and the SEC, along with the basketball-only Big East.
The NCAA Tournament, or 'March Madness' is undoubtedly the NCAA's most popular event. It is also the NCAA's primary revenue driver for its members and its own organizational costs. The NCAA and Turner Sports have an eight-year, $8.8 billion extension through 2032.
But, when it comes to football, the NCAA has no control over the television rights of its member conferences or the CFP and, thus, receives little revenue.
Huggins sees a spin-off 'major conference' tournament as a way to generate, and control, more revenue through basketball.
But the fact that the NCAA relies on the Tournament so much for its own revenue generation makes Huggins' suggestion a major hurdle. But in the changing landscape of college sports, it may not be insurmountable, especially as television negotiations for the major conferences, and the CFP, are coming in the next couple of years.
Heartland College Sports Big 12 Basketball Preview
Roster Analysis: Baylor | Iowa State | Kansas | Kansas State | Oklahoma | Oklahoma State | TCU | Texas | Texas Tech | West Virginia
Impact Players: Freshmen | Transfers | Breakthrough Players
Top 25 Returning Players: No. 25 Jonathan Tchamwa Tchatchoua| No. 24 Christian Braun | No. 23 Rondel Walker | No. 22 Umoja Gibson | No. 21 Matthew Alexander-Moncrieffe | No. 20 Nijel Pack | No. 19: Marcus Santos-Silva | No. 18 Mike McGuirl| No. 17 Jalen Bridges | No. 16 Kalib Boone | No. 15 Kevin McCullar | No. 14 Isaac Likekele | No. 13 Adam Flagler | No. 12 Jalen Coleman-Lands
Coaching: Hiring Grades | Coaches by Category
You can find Matthew Postins on Twitter @PostinsPostcard.