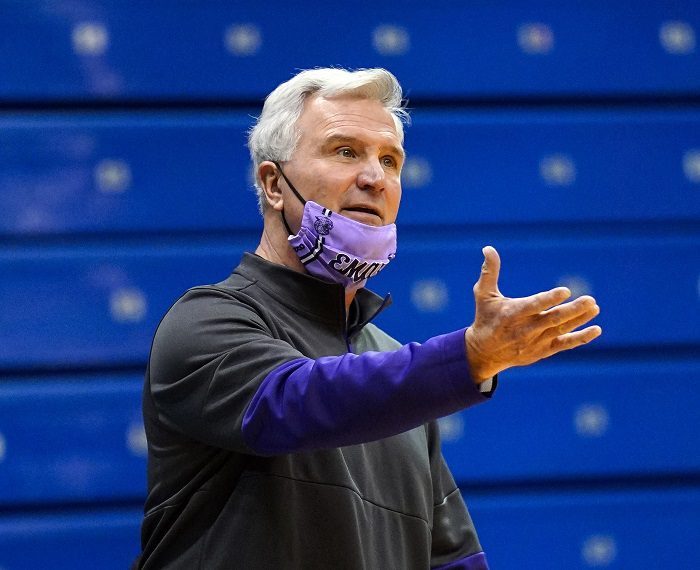 Bruce Weber of Kansas State identified experience and shooting when he looked for talent in the transfer portal after last season.
The Wildcats head coach believes he accomplished that with Mark Smith, Markquis Nowell, Ishmael Massoud and Jordan Brooks.
"We added experience and shooting. That was our main goal," Weber said on Wednesday at Big 12 Media Day.
Weber pointed directly at Smith, a former guard at Missouri. Last season, Smith averaged 9.7 points on 37.2 percent shooting (80-of-215), including 31.5 percent (40-of-127) from 3-point range, with 3.2 rebounds, 1 assist and 1 steal per game.
Weber said that Kansas State recruited Smith coming out of high school, when he went to Illinois, and recruited him again when he decided to transfer to Missouri.
Nowell only played 15 games last season before he opted out. But he lead Arkansas-Little Rock with 14.3 points per game.
Weber appreciates that both have years of college basketball under their belts and that they've brought that experience to Manhattan.
"I couldn't be more pleased with all of these guys, in how they fit it," Weber said. "I didn't know for sure. With older players, you ever know how they'll fit. We needed leadership because we're young as total group. They've been great."
The Wildcats are coming off a 9-20 season, the second under-.500 season for the Wildcats under Weber. The Wildcats did win three of their final four regular-season games, including a win over Oklahoma, which reached the NCAA Tournament. In the Big 12 Tournament, Kansas State won its opener, 71-50, over TCU, and then pushed Baylor before losing, 74-68.
K-State is bolstered by the return of super-senior Mike McGuirl, who had a breakout campaign for the Wildcats. Weber also threw his lot in with young talent, and the emergence of point guard Nijel Pack led the way for a group that included forward Davion Bradford and Selton Miguel.
None of Kansas State's players made the All-Big 12 Preseason team. The coaches selected the Wildcats No. 9 in the Big 12 Preseason Poll.
The Wildcats open the regular season at home on Nov. 10 against Florida A&M. 
Heartland College Sports Big 12 Basketball Preview
Roster Analysis: Baylor | Iowa State | Kansas | Kansas State | Oklahoma | Oklahoma State | TCU | Texas | Texas Tech | West Virginia
Impact Players: Freshmen | Transfers | Breakthrough Players
Top 25 Returning Players: No. 25 Jonathan Tchamwa Tchatchoua| No. 24 Christian Braun | No. 23 Rondel Walker | No. 22 Umoja Gibson | No. 21 Matthew Alexander-Moncrieffe | No. 20 Nijel Pack | No. 19: Marcus Santos-Silva | No. 18 Mike McGuirl| No. 17 Jalen Bridges | No. 16 Kalib Boone | No. 15 Kevin McCullar | No. 14 Isaac Likekele | No. 13 Adam Flagler | No. 12 Jalen Coleman-Lands | No. 11 Sean McNeil | No. 10 Taz Sherman
Coaching: Hiring Grades | Coaches by Category
You can find Matthew Postins on Twitter @PostinsPostcard.
**Want to win a $20 gift card? Go sign up here and join our conversation! The best poster each week wins a gift card to your favorite establishment!**