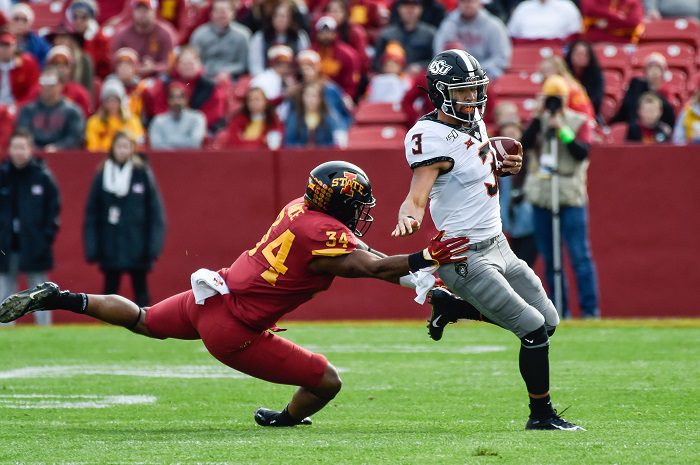 Here is everything you need to know about the upcoming Big 12 battle in Ames in our Oklahoma State vs. Iowa State preview and prediction.
Game Info
2:30 PM CST, Saturday, October 23, 2021, Jack Trice Stadium, Ames, IA
TV: Fox
Radio: Cyclone Radio Network/Cowboy Radio Network
Records: Iowa State 4-2 (2-1 Big 12); Oklahoma State 6-0 (3-0 Big 12)
Rankings: Iowa State received 14 points in the AP Poll, effectively 31st, and 38 points in the Coaches Poll, effectively 26th. Oklahoma State is ranked 8th in the AP and 9th in the Coaches.
Last week: Iowa State defeated Kansas State 33-20; Oklahoma State defeated #25 Texas 32-24.
Spread: Iowa State -7
Fun Fact: Oklahoma State has won the last four meetings in Ames. ISU last defeated OSU in Ames on November 18, 2011, in double overtime, 37-31, in a game that saw ISU clinch a bowl berth and spoil OSU's undefeated season and dreams of playing in the BCS National Championship game.
Key Players
Oklahoma State
RB Jaylen Warren
The engine in the Oklahoma State offense is Warren, who has rushed the ball 147 times on 195 snaps. To put it another way, when Warren has been handed the ball on over 75% of the plays he's participated in. A remarkable statistic that puts into perspective how critical he is to the Cowboys' offense.
Going back to the game at Boise State, when he emerged as the featured back, Warren has rushed for 659 yards in the last four games, 164.74 yards per game, with his lowest production coming against K-State with 123 yards and his best against Boise with 218 yards. It is no coincidence that Warren's emergence coincided with the OSU's offense finding its groove.
Iowa State has the best rushing defense in the league, allowing just 2.84 yards per carry. However, Warren simply does not give up on plays and has gained 435 of his 703 total rushing yards on the season after contact. For Oklahoma State's offense to work, Warren must continue to fight for those extra yards and be the warhorse that carries the Cowboys.
QB Spencer Sanders
Always a wild card entering any game, Sanders can be brilliant at times and a liability at others. Sanders' pass efficiency has improved since the non-conference slate ended, but he is still completing just 60.7% of his passes against conference foes. On the season he's thrown just six touchdowns to five interceptions; however, he has also rushed for 216 yards and three more touchdowns.
That dual-threat ability is what makes Sanders dangerous behind center and works to Warren's advantage as defenders must honor the QB run game. Moreover, while Sander may not be the most efficient passer in the league, 58 of his 75 completions (77.3%) have gone for either a first down or a touchdown, so he absolutely is effective.
The way Iowa State defends the run makes it critical for Oklahoma State that Sanders have a good game, limit mistakes, and maintain ball security. Sanders can be frustrating for fans because he can be reckless at times and push the ball downfield when it would be wiser to just throw it away, but he can also do magic at times. For the Cowboys to win, Sanders needs to put more magic than mistakes on the field.
LB Malcolm Rodriguez
As the team's leading tackler, Rodriguez will be key to slowing down Breece Hall and the Iowa State rushing attack. While Iowa State has the best run defense in the Big 12, Oklahoma State is right behind the Cyclones allowing just 2.99 yards per rush and 98.8 yards a game, and much of Oklahoma State's success defending the run is due to the play of Rodriguez as he has produced 28 drive-ending stops on the season.
Fresh off a game against Texas and Bijan Robinson, Rodriguez must lock and load again to corral another of the Big 12's elite running backs. How successful he is will go a long way to determining Oklahoma State's fate on Saturday.
Iowa State
RB Breece Hall
Hall's name is synonymous with Iowa State's offense, and for good reason. He is averaging 5.5 yards per carry while rushing for 739 yards, 10 touchdowns, and 41 first downs on the season, and he's found the endzone twice in each of the past four games.
Hall is even more of a workhorse than Warren as he has been handed the ball on 134 of his 146 snaps on the season: he's carried the ball nearly 92% of the time he has been on the field. Hall is picking up an average of 3.01 yards per carry after contact, and 403 of his 739 yards this season have come after being hit: that's 54.5%.
Oklahoma State defends the run extremely well, but a back that can break tackles can have success. Bijan Robinson had 6.4 yards per carry and two touchdowns on the ground against the Cowboys last week. Iowa State will need Hall to have a similar performance.
QB Brock Purdy
Iowa State needs Purdy to maintain ball security and avoid sacks. Oklahoma State's pass defense is not as strong as its run defense, but it is rising as it showed up last week against Texas, intercepting Casey Thompson twice and limiting him to 179 yards and a 55.5 completion percentage. Even after that performance, Thompson is one of the most efficient passers in the Big 12 – only Caleb Williams (in a very small sample size) has been more efficient.
Oklahoma State leads the Big 12 with 19 sacks, more than three per game. Purdy's mobility will be a major asset facing the Cowboys' pass rush. He needs to make good decisions when forced out of the pocket by scrambling for positive yardage, finding TE Charlie Kolar, or simply throwing the ball away.
If Purdy can avoid sacks and not allow the Cowboys to force him into bad throws, he will have his chances to make the gambling Cowboys pay. Hall and Iowa State's defense should be able to do the rest.
LB Mike Rose
As discussed above, Jaylen Warren is the engine that makes Oklahoma State's offense hum. Rose, as the Cyclone's defensive leader and leading tackler, needs to make Warren his special project.
Since Warren emerged as OSU's featured back, no one has really been able to slow him as he has rushed for at least 123 yards in each of the last four games. However, as anyone who can remember back to the first and second weeks of the season knows, the Oklahoma State offense looks pretty sluggish when Warren isn't carrying the load.
Obviously, containing Warren is not all on one player, but Rose needs to provide the spark by defeating blockers and either making tackles himself or forcing Warren into the teeth of the defense. The battle between Rose and Warren will largely define the shape of the game.
Key Storylines
Oklahoma State
At 6-0 with wins over 6-1 Baylor and 4-2 Texas, the Cowboys can smell a Big 12 title game appearance in the air like a prairie rain riding in on a cool breeze. There's a lot of football yet to be played, but the biggest hurdle remaining before Bedlam is Iowa State. Win this game, and an appearance in the Big 12 Championship game will take on an air inevitability. Lose, and the Cowboys may need to win Bedlam to reach the title game as Iowa State will hold the tiebreaker. Ames is a tough place to play, and the Cowboys, despite being ranked 8th, are the underdogs by a touchdown. ESPN's FPI gives OSU just a 21.8% chance of winning. Now is the time for the Cowboys to put that chip on their shoulder and make a statement.
Iowa State
After a rough start to the season, the Cyclones seem to be hitting their stride and may be peaking at just the right time. October has been good to Iowa State in the past. Another good October and the Cyclones will be on track for a second consecutive Big 12 Championship appearance. But the biggest game of this October is this one against 8th ranked Oklahoma State. With homefield advantage and a ton of momentum, Iowa State has the chance to put their early-season woes behind them and focus on getting back to Arlington by making a huge statement against an undefeated conference foe.
Prediction: Iowa State 24, Oklahoma State 23
Two evenly matched teams meet in Ames, and the home team edges past the visitors. While Vegas and the FPI feel strongly that ISU will win, Oklahoma State has proven that it's not going down in any game without a fight. I expect OSU to keep it close in a punishing game between two teams that play great defense and love to run the ball. In the end, however, give the crowd at Jack Trice the game ball because they will be the difference.