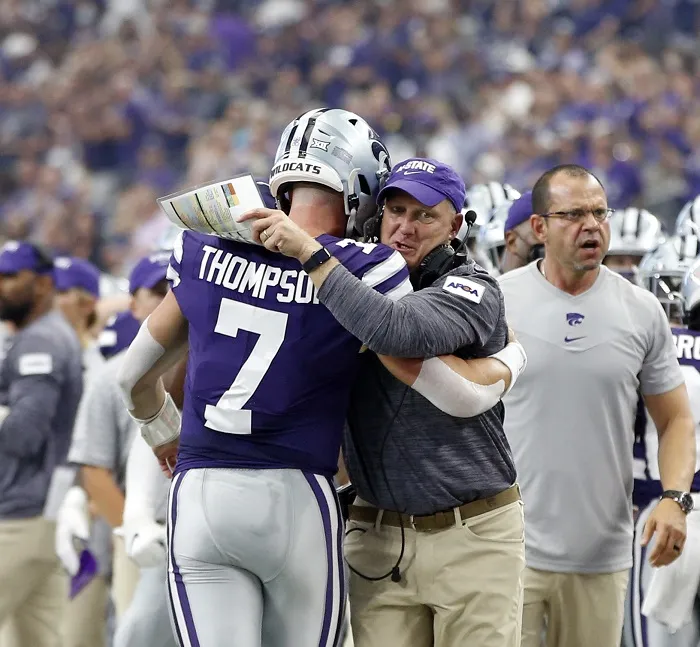 As I watched K-State losing to Iowa State by twenty points in the third quarter on Saturday, I got increasingly frustrated and angry. I text my friends during the game and vent to them, and they do the same to me. It's an exercise in futility, but I guess it makes us feel better. While I didn't necessarily expect K-State to win the game, I did expect them to be more competitive than they were. 
There are a lot of things wrong with the Kansas State football team that need fixing. A lot. I was optimistic after the Wildcats started 3-0 on the season, but three straight losses have me worried about the rest of the season and whether or not they can get things turned around in a positive direction. At kickoff against Texas Tech on Saturday, it will be 364 days since K-State has won a conference football game. Yikes!
If I were to write this column immediately after the game, I would be hard-pressed to write about any positives. But after sleeping on it, I did find some positives for K-State that could be signs they will find success the rest of the way. The question I have this week is: do the positives outweigh the negatives? Here are three reasons for optimism and three reasons for pessimism for the future of K-State football in 2021 and beyond.
Three reasons for optimism
1. The most difficult games are behind them
K-State's three losses have been to three of the top four teams in the Big 12 standings. They have played and lost to Oklahoma, Oklahoma State, and Iowa State. Now the schedule lightens up a bit, but can the Wildcats take advantage of that? Texas Tech, TCU, Kansas, and West Virginia are the next four games with Baylor and Texas to end the season. If they can find a way to reel off four wins in a row, we will all feel a lot better about this team.
2. The running game is performing well
Going into the Iowa State game, Iowa State had the 10th best rush defense in the country, giving up only 90 yards per game. K-State performed pretty well in the running game, rushing for 136 yards against the Cyclones. Deuce Vaughn ran for 99 yards on 18 carries, averaging 5.5 yards per rush, and Joe Ervin had eight carries for 48 yards, averaging six yards per carry. The Wildcats rushed for 62 yards against Oklahoma State and 100 yards against Oklahoma, so the running game is trending in the right direction.
3. Skylar Thompson
Despite one interception that you could argue was not his fault, Skylar Thompson played well against the Cyclones. He completed 15 of 23 passes for 206 yards and two touchdowns and added a rushing touchdown. If he can stay injury-free and continue to play well, K-State has a shot to win the next four games on the schedule.
Three reasons for pessimism
1. The defense can't get off the field
K-State's defense didn't force a punt against Oklahoma and only forced Iowa State to punt twice. In the last three games, they have allowed 481 yards, 392 yards, and 418 yards, respectively. That's not good enough to get it done going forward. Injuries on the defensive side have been an issue, but even though that has negatively affected the defense, it can't be used as an excuse. They have to get better.
2. Making a bowl game will be tough
I mentioned that the next four games are winnable, but I think the final two games against Baylor and Texas are likely losses. That leaves little margin for error to get to six wins and become bowl eligible. I think they will have to win three of the next four games to make a bowl game. Even if they become bowl eligible, I think a "good" bowl game is off the table at this point unless something odd happens and they run the table, but I don't see that happening.
3. Recruiting is not going well
It doesn't take a brain surgeon to realize that K-State must upgrade the talent on the roster if they want to compete near the top of the Big 12 in the next few years. I was curious how K-State's recruiting ranked related to other programs in the league and nationally, so I hopped on over to the 247Sports composite team recruiting rankings. Alabama, Penn State, Georgia, Texas, and Ohio State are currently the top five. No shocker there. So I started to scroll. And scroll. And scroll. After the first 50, there is a "Load More" button. I clicked that. And scrolled. And scrolled some more. I finally found K-State at number 71. They are ranked right after Louisiana (not Louisiana State) and right ahead of Toledo. That is good enough to rank number eight in the Big 12, ahead of Texas Tech (number 80) and Kansas (number 95). Ranking number 71 in the country in recruiting is not going to get it done at Kansas State. Not only does this coaching staff need to do a better job coaching, but they need to get much better at recruiting. If this poor recruiting continues, it's going to be a long couple of years for K-State football fans.