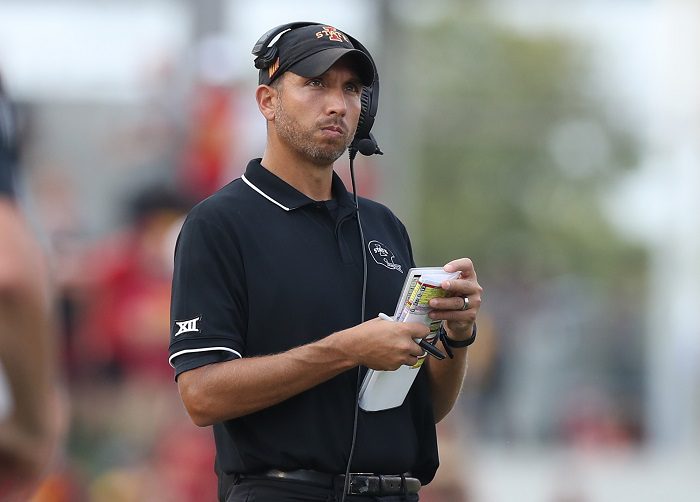 Saturday night the Cyclones did something they haven't done since 2004: They beat Kansas State in Manhattan. The last time that happened, Bret Meyer and Todd Blythe were the dominating quarterback-wide receiver tandem for ISU. This time around the dominant quarterback-wide receiver tandem was Brock Purdy and Breece Hall. 
Hall opened up the game with a 75-yard touchdown run for the first play from scrimmage. He didn't stop after that either. Hall ended the night running for 197 yards and 2 scores on 30 carries. At one point, Hall was up over 200 yards but a couple of negative runs at the end of the game pushed him back behind the mark. With that said, the 197-yard day was still a career high for the Junior tailback. Purdy also had his best game of the 2021 campaign. If you are only looking at the box score you'd probably disagree, however, watching the game, the level of command he brought into Bill Snyder Family Stadium was unlike anything we've seen this year. The first ISU possession of the 2nd half he led an 18-play, 93-yard drive that took over 10 minutes of game time. Oh yeah, it ended on a 11-yard touchdown pass to Sean Shaw Jr. Purdy finished the game 22-25 for 208 yards and a touchdown. Most important, no turnovers from the senior quarterback. 
So What Now?
So what does this mean now for the Cyclones going forward in the Big 12? From what we've seen from the rest of the Big 12, you better believe the Cyclones are right back in the conversation to compete down in Arlington at the end of the year. Caleb Williams certainly has the Sooners back on track to get back to the Big 12 Championship game. So who's gonna play them? Right now Oklahoma State is also undefeated like the Sooners, but they certainly don't look nearly as promising. Their biggest win this year was an 11-point victory over K-State. They also only beat Missouri State by a touchdown in their season opener. What the Cowboys have going for them is the fact that their schedule after this weekend's game in Ames lightens up. Their toughest game will be a home game against the Sooners in the season finale. 
The Baylor Bears are certainly the Big 12's surprise team. Dave Aranda has that squad playing really good football down in Waco. Baylor lost to Oklahoma State, but beat Iowa State. They also get to host both Texas AND Oklahoma. Lastly, they do have a date in Manhattan against K-State. While K-State doesn't totally look up to snuff, they are never an easy out. 
Finally, as the season progresses on, Texas is starting to look more and more like Tom Herman's Longhorns. New head man, Steve Sarkisian, had fooled all of us for a while there, until the last couple of weeks. Over the last two weekends Texas has had two second-half meltdowns that have ended up in losses to the Oklahoma schools. On top of that, they've got Baylor on the road next weekend and have to play the Cyclones up north in Ames in early November. Texas doesn't usually handle the cold very well. 
So what does all of this mean for Iowa State? Just like everyone else, it won't be an easy road going forward. However, they've already played Baylor, who other than Oklahoma, is the only other school right now we might be able to say is better than Iowa State. After all, Baylor did beat them. ISU has a very favorable schedule going forward outside of their date down in Norman near the end of the season. Although the last time they played there they were a two-point conversion away from leaving there with a win. Right now, Iowa State is playing the brand of football everyone expected them to play all year long. T
he rest of the Big 12 needs to be on notice because after their usual slow start, Matt Campbell has his boys humming.