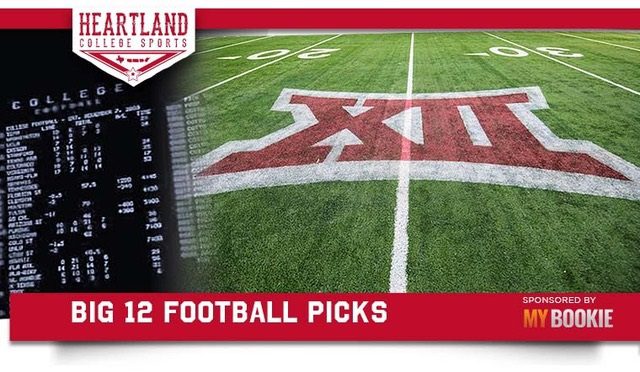 Well it's a new season of college football and that means a fresh slate for my Big 12 football picks against the spread. As they have been for several years running, our friends at MyBookie.com are the sponsors of the picks, and with our promo code "BIG12" you get to DOUBLE your first deposit, no questions asked! Support them to support us at Heartland College Sports and get your picks in.
Our Week 7 picks went 4-1, so we are 18-19-1 on the season, and now it's on to Week 8 with five games to pick.
Kansas vs. Oklahoma
Anytime you have a spread this big, it has to be based on feel. And for me, I'm feeling Caleb Williams and the Oklahoma Sooners right now. How can you not? OU has looked like a different team with Williams leading the way on offense. Now they get to go to Lawrence and build up Williams' mojo in his first true road start of his career. Can you ask for more? Oklahoma will easily score 50+, while the defense keeps KU to two scores. I will buy 1/2 a point just to be safe.
The Pick: Oklahoma -38
Texas Tech vs. Kansas State
This is a tale of two teams with very different schedules thus far. Kansas State has already played both Oklahoma teams and Iowa State, while Tech has already faced West Virginia and Kansas, while they got blown out against TCU and Texas, two middle-of-the-pack teams in the league. Given that Tech's schedule has been softer and they're still ranked 7th in the Big 12 in rushing defense, I believe K-State is going to have its way on the ground and be able to pick up a much-needed win in Lubbock. Especially given the kind of week that Chris Klieman and his staff have had, they need this one.
The Pick: Kansas State +1
Iowa State vs. Oklahoma State
These are the two best defenses in the Big 12 statistically. Iowa State is first against the rush, Oklahoma State is second. Iowa State is first against the pass, Oklahoma State is third. And maybe this is a total sucker bet, given it makes no sense to me, but I still can't help but be all over Oklahoma State as a touchdown underdog. Yes, it looks like Iowa State is starting to turn the corner, but this Cowboys defense should be able to keep them in this game. Plus, while Matt Campbell is 15-2 in October dating back to 2017, his two losses are to … Oklahoma State.
The Pick: Oklahoma State +7
TCU vs. West Virginia
The Horned Frogs have lost three of four and are sitting at .500 on the season as Gary Patterson looks straight down the barrel of another mediocre season. Patterson can't lose at home to West Virginia or the boos might really start coming out around Fort Worth. The good news is his offense has been really good, while it's the defense that is struggling. I have much more faith in Patterson fixing the defense during the season than the offense. Plus for his sake, it's also good news that WVU doesn't come to town with much of an offense anyway. I believe TCU bounces back and the difference could be third downs: TCU ranks first in the Big 12 in third down conversions, while WVU ranks eighth.
The Pick: TCU -4.5