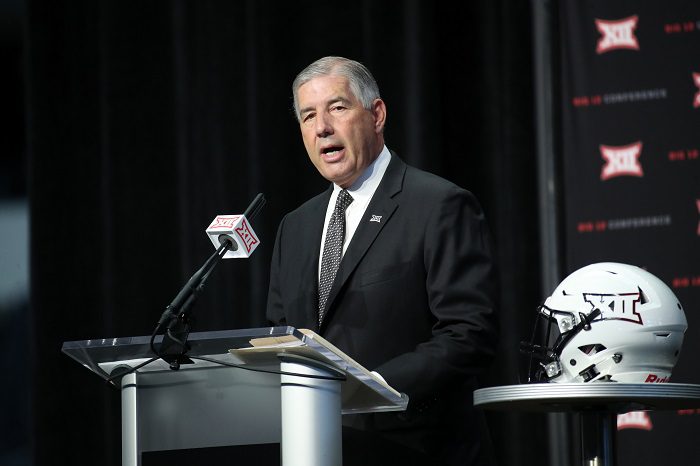 If you weren't sure if Bob Bowlsby was unhappy with Texas and Oklahoma, the Longhorns' beat writer helped make that crystal clear to everyone on Wednesday in Kansas City.
Usually, I'm at Big 12 Media Day. But I had a conflict this year and couldn't make it. So I watched on ESPN. Bowlsby was diplomatic, as he always seems to be, when he talks with ESPN or any other media outlet.
But, get him alone with the Austin American-Stateman's Brian Davis, and, well 'Big Game Bob' seemed quite happy to shoot his shot. Or shots.
Davis asked if Bowlsby was 'pissed' about all of this, the Longhorns and the Sooners baling on the Big 12. Bowlsby actually USED the word.
Well, what he actually did was REPEAT the word — "Being, to use your term pissed off about it…" But he still used it. But he also used two words that got everyone's attention.
"Personal betrayal."
Let's make no mistake. Bowlsby may not want to use the word 'pissed.' But that's exactly what he is right now, and he has every right to be. Bowlsby's anger for the conference's current flagship schools is very real.
And you know what? I'm here for ALL OF IT.
Many folks levied criticism at Bowlsby after Oklahoma and Texas announced they were leaving for the SEC in July, as if he didn't do enough to keep the two schools from leaving. The announcement took everyone by surprise. Do you know why? It's because the Sooners and Longhorns spent six months talking with the SEC and didn't tell anyone.
Bowlsby told Davis that both Oklahoma and Texas had not expressed any concerns about the conference before the news broke.
What was Bowlsby supposed to do? Go knock on the doors of Texas President Jay Hartzell and Oklahoma President Joe Harroz Jr. each day and ask, 'Hey, are you guys leaving for the SEC today?' No, because as Bowlsby has mentioned on many occasions the past few months, you have to trust your membership. In fact, when he announced that BYU, Cincinnati, Houston and UCF were joining the league, he answered one question with the words, "It's nice to work with people you can trust."
Geez, I wonder who he was talking about?
Make no mistake — what OU and Texas did to the Big 12 was the equivalent of what the Colts did to the city of Baltimore back in the early 1980s. The only thing missing was the Mayflower truck driving away from the team facility in the dead of night.
Bowlsby told ESPN that he has two expectations when it comes to OU and Texas. First, he expects them to honor the media grant of rights that ends in 2025 (the word he actually used was "assumes"). Second, he expects the two schools to try and leave early.
Why use the word "assume?" Well, honestly, it doesn't sound like there's much talking going on between Bowlsby and the two schools right now. For instance, Davis asked Bowlsby if either of the two schools have told him why they made the move. I mean, even if your girlfriend breaks up with you via text, at least she texts, right?
"Haven't the vaguest idea," he told Davis. "To this day, they've given us no answers to that question. Either one."
The Big 12, Oklahoma and Texas have to find a way to work together the next four years because, well, the one thing that was supposed to KEEP this conference from breaking up is the one thing that is KEEPING this now-dysfunctional marriage together — the media grant of rights. This married couple is staying together for the 'kids,' and unfortunately the kids are freshmen in high school.
Bowlsby told Davis that trust is at a "relative low." Of course it is. The Sooners and Longhorns cheated on the league, and with the SEC at that. I mean, the Pac-12? Ok, maybe that could be forgiven eventually. But the SEC? C'mon, that's like Rocky hooking up with Drago's girlfriend in 'Rocky IV.' Oh, wait, that actually happened in real life, didn't it?
I've been covering the Big 12 in some form for some media entity for nearly a decade. Some have called Bowlsby stuffy and academic. I think people THINK that because he was the athletic director at Stanford before coming to the Big 12. I hate to break it to you, but Bowlsby has a state school education like most of us, and one at a Division II football school at that — Minnesota State-Moorhead.
I've actually always thought of him as measured and calculated. If it's criticism, he uses soft language. He wraps it up in a soliloquy. He's masterful at saying a lot but REALLY saying just enough. It's a skill conference commissioners need these days.
Which is what made the rest of Davis' article super enjoyable for me. Sure, if an Oklahoma reporter like the Oklahoman's Berry Tramel had been asking the questions, I'm sure Bowlsby would have had some choice words directed at the Sooners. But, it was Davis and the Longhorns, so Bowlsby decided to shoot his shot.
When asked whether Oklahoma and Texas may not be aware that it appears easier to get into the College Football Playoff through the Big 12 than through the SEC, Bowlsby replied:
"That's not my responsibility to explain that to them. They've got 50 years of experience. They ought to be able to figure that out for themselves."
That was fun, though I'm not sure where he's getting the "50 years of experience." But this is sports so let's not get caught up in the math.
But then Bowlsby showed his teeth. You know Texas has been just a little mediocre in football since losing to Alabama in the 2010 BCS national championship game, right?
"They're thinking they're going to recruit better and they're going to get more money. Anybody that thinks Texas' football problems have been a result of league affiliation are completely delusional."
What do you think? Big-eyed emoji or flame emoji? Or both?
And, then there's the schedule question. Davis noted that Texas fans have expressed frustration about some Big 12 matchups such as Kansas. Bowlsby's response?
"Well, here comes Vanderbilt."
Burn. Sorry, Vandy, that was a little uncool of him. Nashville's a great town.
But THIS is the 'Big Game Bob' the Big 12 needs right now. I don't think anyone actually calls him that. But it would be cool if they did. Because for the past few months, that's how Bowlsby has been acting, at least in his own measured way.
The rest of the membership needs Bowlsby to continue to call the flagships out on this because their move was nothing less than dishonest. Texas and Oklahoma likely don't care what anyone thinks at this point, but the perception is important to the remaining members, the new members coming in and the rest of the power conferences that may want to try and poach from the Big 12.
They need to know that Bowlsby is ready for a fight. They need to know that Bowlsby is going to stay the course and stick up for the league's future.
They need to know that Bowlsby is pissed. And, if necessary, he needs to remind them occasionally.
And maybe that was the point. Savvy communicators know WHEN to send a message and they know HOW to send that message. Bowlsby chose the biggest megaphone he could find, one that he knew would not only get back to one of the conference's largest fan bases, but a megaphone that he knew everyone would hear and read.
Davis got an exclusive.
But Bowlsby got his point across.
From this point forward, mess with 'Big Game Bob' at your own peril.
You can find Matthew Postins on Twitter @PostinsPostcard.
**Want to win a $20 gift card? Go sign up here and join our conversation! The best poster each week wins a gift card to your favorite establishment!**