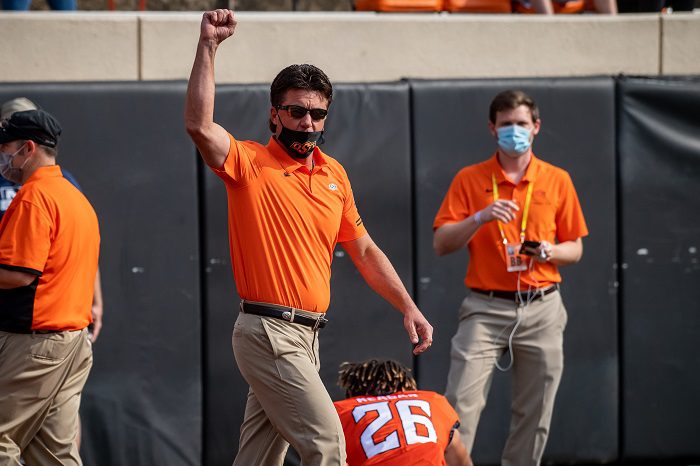 Another week, another matchup in which Oklahoma State is the underdog leading into Saturday. How many top-25 teams do the Cowboys have to beat before the "experts" have some faith in Mike Gundy's squad?
Despite the Cowboys traveling to Ames with an undefeated record and one of the nation's top resumes, unranked Iowa State (4-2, 2-1) is currently favored to beat No. 8 OSU by a touchdown.
ESPN's Football Power Index also has the Cyclones as 78.2% likely to pull out the win. This is truly baffling, as I don't think I've ever seen an unranked team favored by this much against a top-10 opponent. Especially because Oklahoma State beat one of the teams Iowa State lost to, that being Baylor. OSU won 24-14 when the Bears came to Stillwater, ISU fell 31-29 in Waco.
The Cowboys were picked by bettors to lose in three of their last four games, and they have come out on top each time. They were 3.5-point underdogs against Boise State and Texas, as well as early dogs in the week leading up to Baylor.
Oklahoma State's resume should speak for itself. With three AP top-25 wins under his belt, Mike Gundy's Cowboys have scratched and clawed for their No. 8 ranking. The Pokes defeated No. 25 Kansas State, No. 21 Baylor and No. 25 Texas all in consecutive weeks, as well as narrowly taking down Boise State at Albertsons Stadium in week three, who went on to upset No. 10 BYU in Provo.
The incomprehensible seven-point line is fine by me as a Pokes' fan. It will just create bulletin board material for the players, who have gotten used to the rest of college football counting them out. It's just very odd given Oklahoma State's previously mentioned resume.
Who knows, maybe after two early losses the Cyclones are starting to ramp it up and maybe they spoil OSU's undefeated season, but based off of what we have seen thus far from both teams, I see no fathomable reason to have Iowa State favored by a whole touchdown. Do better (bettor?), Vegas.