Big 12 News
Bob Bowlsby on OU, Texas Leaving for the SEC: 'It Makes No Sense'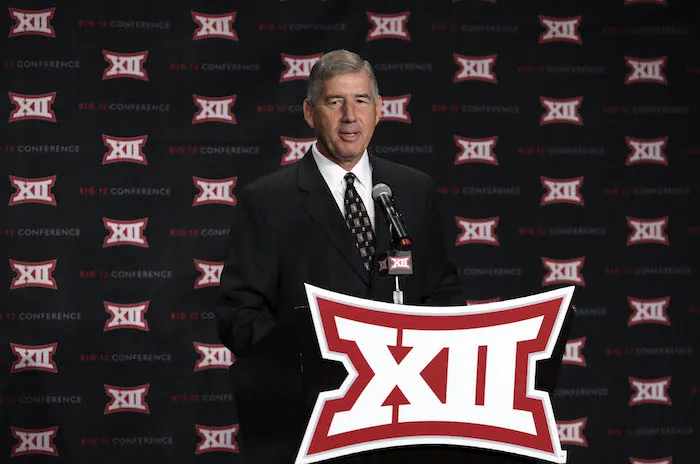 Big 12 Commissioner Bob Bowlsby has been quite vocal over the last few days. Big 12 basketball media days took place this past week in Kansas City and Bowlsby was happy to talk with lots of media folks and spend his time taking digs at Oklahoma and Texas, who are departing the conference for the SEC.
In a conversation with Dennis Dodd of CBS Sports, Bowlsby talked about the departure of the two anchors of the league, and said, "Their chances [to advance to the College Football Playoff] are better coming through the Big 12. That's a silly part of it. It's not very much money [difference], and competitively, they've got a better path [in the Big 12]. It makes no sense."
There's no question that Oklahoma would not have won six SEC titles in a row. Heck, it's possible they may not have won any SEC titles the last six seasons. As for the money, that's debatable, as OU staying in the Big 12, had Texas still bolted, may have costed the Sooners millions ever year.
As for Texas, money is rarely an object for the Longhorns, and if they remained the anchor of the Big 12, the money would have probably been close to their liking. As for on the field, given the fact that Texas is going through more than a decade of mediocrity, it's hard to see how that at all improves in the SEC.
Bowlsby went on to tell Dodd, "If it's not about the money and it's not and not about competitiveness, what's it about? I haven't gotten any answers about that."
Texas is making over $50 million per year between the conference payout and the Longhorn Network, while OU is reportedly close to that number.
Bowlsby has also talked in the last week about feeling "personal betrayal" by Oklahoma and Texas. He added that "trust is at a relative low" between the Big 12 and those two schools.
"I've asked repeatedly (why they're leaving), and they never made us aware of any concerns in advance," Bowlsby told the Austin American-Statesman. "When we've asked the question since then, we've gotten no response."
Later in the interview, Bowlsby took a direct shot at the Texas football program.
"They're thinking they're going to recruit better and they're going to get more money," Bowlsby said. "Anybody that thinks Texas' football problems have been a result of league affiliation are completely delusional."
Clearly, Bob Bowlsby is going on the offensive and is willing to give the media any sound byte they want that makes the next couple of seasons very uncomfortable for some folks in Norman and Austin.