Trending Now
BYU vs. Washington State: Preview and Prediction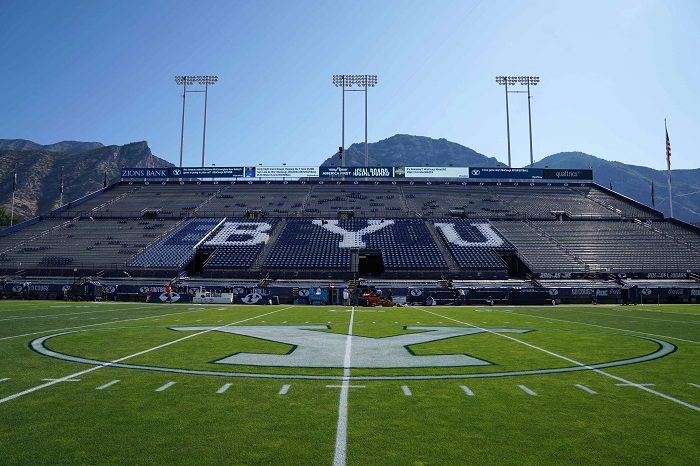 Here is everything you need to know about the Power Five matchup featuring future Big 12 member BYU and Washington State.
Game Info
2:30 p.m. CDT/1:30 p.m. MDT, Saturday, Oct. 23, 2021, Martin Stadium, Pullman, Wash.
TV: FS1 (Cory Provus, Mark Helfich)
Away Radio: BYU Sports Network, Sirius XM 143, BYU Radio, BYUCougars App, KSL 1160 AM in Provo (Greg Wrubell, Riley Nelson, Mitchell Juergens)
Home Radio: Washington State Sports Network (Matt Chazanow, Alex Brink, Jessamn McIntyre)
BYU Head Coach: Kalani Sitake (Other than 2020, 32-27 in 5 seasons, same overall)
Washington State Acting Head Coach: Jake Dickert (First Game as Head Coach)
Series History: BYU leads 3-1. This is the first meeting at Washington State.
Opening Line: BYU -2
Over/Under: 55 1/2
Moneyline: BYU -180/Washington State +160
Fun Facts: This will be the second consecutive game where BYU plays a Washington State coach making his head coaching debut with the program. BYU graduate Mike Leach made his Washington State debut at BYU in 2012. BYU easily dispatched Washington State 30-6. Jake Dickert will make his head coaching debut against BYU Saturday.
Key Players
BYU (5-2, L 38-24 AT BAYLOR)
QB Jaren Hall
He has posted back-to-back 300 yard games. With Washington State recently firing five coaches, including their head coach, look for Hall to have a career day. This will be especially true if the communication on the Washington State sidelines is out of sorts.
LB Ben Bywater
Bywater leads BYU in tackles. He is just a freshman, but is playing an important role on a stout defense. When I say stout, I specifically mean against Pac 12 teams. No Pac 12 team has hit the 20-point mark against BYU this season. However, Bywater has yet to create a turnover. Look for him to create his first turnover against an offense that will likely be confused and lackadaisical after their coach was fired over a vaccine mandate.
WASHINGTON STATE (4-3, W 34-31 VS. STANFORD)
QB Jayden de Laura
The sophomore from Hawaii has three times as many touchdown passes as he does interceptions. His pass completion percentage is over 62.5 percent. He's recorded 1,476 yards on 117 completions. When Nick Rolovich was the head coach, he liked to throw the ball a lot. The offensive schemes likely will have little change. The execution is what might take a hit though. Leadership is crucial in this time for a team that saw its head coach get fired after three consecutive victories.
LB Jahad Woods
Woods is the Pac-12's active leader in tackles. He has 364 which places him at third for most among active FBS players. He was ejected in the first half against Stanford for targeting. Washington State will need him to stay in this game if they want a chance to slow down BYU.
KEY STORYLINES
BYU
The Cougars have had their most success against the Pac-12 this season. BYU started the year off against three Pac-12 teams and defeated all three by double digits. Now, BYU takes on its fourth Pac-12 team and is looking to continue to make the statement that it could win the Pac-12 had they been added. BYU will join the Big 12 Conference, likely in 2023. Not currently being affiliated with a Group of Five Conference, we can go ahead and say BYU is a Power Five team.
WASHINGTON STATE
This will be the first game since Washington State fired previous Head Coach Nick Rolovich for refusing to be vaccinated. Rolovich was looking to be exempted for religious reasons. The Cougars are currently on a three-game win streak and controlled their own destiny to a division championship. All of it may be down the gutter now, including a trip to a bowl game. How will Washington State fare the rest of the season? It won't be easy.
Prediction: BYU 55 Washington State 10
You don't just execute after losing five of your coaches, especially when one of them is the head coach. If you are in Vegas, go ahead and bet the farm on BYU to cover. This would have been an excellent game that BYU probably would have won. Now, there's got to be nothing but deflation in Pullman. It's a season thrown down the drain. BYU wins, and they win easily.