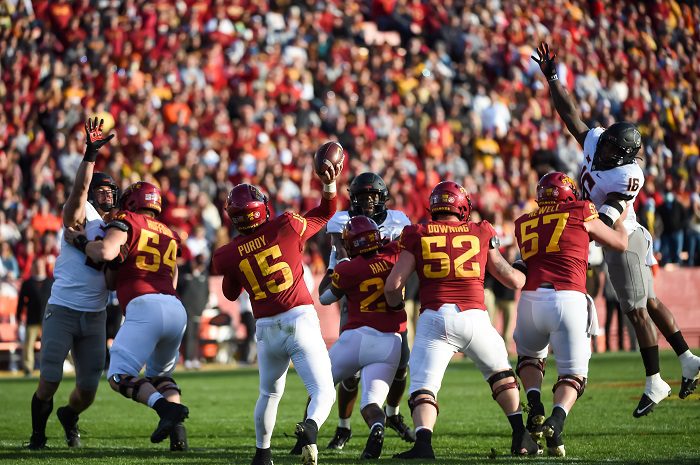 Week 8 of the Big 12 Football season is in the books, and boy are there tons of storylines coming out of the four games on Saturday. Kansas nearly pulled off an upset for the ages, while Iowa State and Oklahoma State played a classic, Kansas State had a big comeback and West Virginia finally got back in the win column.
So while there's plenty to recap after Saturday's action, here are my top five takeaways from Week 8 in the Big 12 Conference.
1. Brocktober Remains Real
Just in case you weren't sure, Brocktober is alive and well, as the Cyclones improved to 16-2 dating back to 2017 in the month of October after beating Oklahoma State 24-21 on Saturday. Quarterback Brock Purdy had his best game of the season, finishing 27/33 for 307 yards, with two touchdowns to zero interceptions. As our Derek Duke noted, here's a look at how Purdy has been playing this month.
That's incredible, especially when you compare it to the month of September, when he threw four touchdowns to four interceptions in four games (and a 2-2 record for ISU). The Cyclones are 3-1 in Big 12 play, tied for second in the league with Oklahoma State and Baylor, and it sure feels like they're hitting their stride, just as they always do this time of year under Matt Campbell.
2. The Kind of Loss That Heats Up Matt Wells' Seat
Matt Wells and the Texas Tech Red Raiders came into Saturday's game against Kansas State with a 5-2 record and it sure looked like that was going to improve to 6-2. Tech jumped out to a 14-0 and then 21-7 lead over Kansas State in the first half, but the lead was blown as Tech ended up losing at home to the Wildcats 25-24. In the second half, the Red Raiders had a total of 86 yards of offense. Meantime, they started off the game with three touchdowns on their first four drives, with two of those two going for 75 yards each. Yes, the K-State defense started to bottle up the Red Raiders in a way they didn't in the first half, but the way Tech was unable to move the ball and couldn't adjust properly is on Matt Wells, Sonny Cumbie and this coaching staff as much as anyone.
Tech is still 5-3 overall (2-3 in Big 12 play), but they need to win one of their next four games to reach a bowl game, and they'll be underdogs in each one of these games against Oklahoma, Iowa State, Oklahoma State and Baylor. If Tech stumbles down the stretch and finishes 5-7, the seat will really heat up under Wells and we can all look back to the second half against Kansas state as the trigger point for it.
3. Alarm Bells Should Be Going Off in Fort Worth
Some of us, and I'll include myself, thought that TCU could be a dark horse team in the Big 12 Conference this season. That is turning out to be anything but the case, as TCU will be fighting for bowl eligibility this season. The Horned Frogs fell to 3-4 on the season and 1-3 in the Big 12 after losing to West Virginia 29-17 on Saturday at home.
With the loss, TCU is now 13-18 in their last 31 Big 12 games. And what makes this season that much more frustrating for the TCU faithful is that the team isn't playing Gary Patterson football. The defense is a mess, they lost the turnover battle on Saturday 3-0 and they had more penalties than their opponent.
TCU is looking at a fourth-straight mediocre season, despite the fact that they've recruited in recent seasons, on average, the third-best in the league behind Oklahoma and Texas.
It's hard to come to any other conclusion than yes, there are problems in Fort Worth.
4. Give Kansas Props
Saturday was a dreary, cold, sleepy morning in Lawrence, Kansas. KU was hosting Oklahoma for an 11:00 a.m. kick off in game that the Jayhawks could have just rolled over in and called it a day. They were 38-point underdogs to the six-time defending Big 12 champs coming in with their new stud true freshman quarterback who had captivated the college football world the last seven quarters.
Well, Kansas said not so fast. The Jayhawks held the Sooners scoreless in the first half and took a 10-0 lead into the locker room. I have no idea what the odds were, or even you could even get odds, on KU holding OU scoreless in the first half, but if they existed and you bet them, I hope you're somewhere enjoying your private island.
However, the Sooners came back for a 35-23 win and KU lost again. But this can be a program-building game for Lance Leipold. These guys were playing their tails off for their head coach on Saturday and that should bode well for KU the rest of the season and into the offseason.
I know there was controversy at the end of this one (more on that coming up), but I'm tipping my hat to Kansas this week for their fight and grit on Saturday afternoon.
5. Bad Weekend for Big 12 Refs
Big 12 officials had a forgettable day on Saturday. Where do we start? Well, we should begin in Lawrence, where the now infamous "hand off" from Kennedy Brooks to Caleb Williams has caused great confusion.
With the game down to the wire in the fourth quarter, OU was leading 28-23 with the ball around midfield. Lincoln Riley decided to keep the ball in the hands of his true freshman QB and went for it on a 4th and 1. The play call was a hand off to Kennedy Brooks, who looked like he was clearly stopped shy of the first down marker, but then out of no where, Williams tore the ball out of his teammates hands and ran for a first down.
The Big 12 confirmed after the game that it was a legal hand off. But as NBC rules analyst Terry McAulay pointed out after the game, the play should have been dead before the "hand off", and he said it wasn't even technically a hand off so those rules should not apply. You can read more about what Terry said here.
Then, in the Oklahoma State at Iowa State game, there was the worst unsportsmanlike conduct penalty against Xavier Hutchinson I've ever seen that took a touchdown off the board.
Thankfully for Iowa State, they still scored on the drive, but imagine if they didn't and possibly lost the game over that? Yikes.
And then to end the game, the Cowboys had a turnover on downs that required a measurement from the officials. But the spot on the final Oklahoma State play of the game was questionable. And possibly more importantly, this was the best angle we could get in 2021? Jeff Bezos is sending himself and his buddies to space, but can't get a closer view than this?
Given what was at stake in this one, it sure would've been nice to see if the refs got it right, or find out with certainty if they got it wrong, as many Oklahoma State fans have suggested. We'll never know and have to live with the call as it stands.