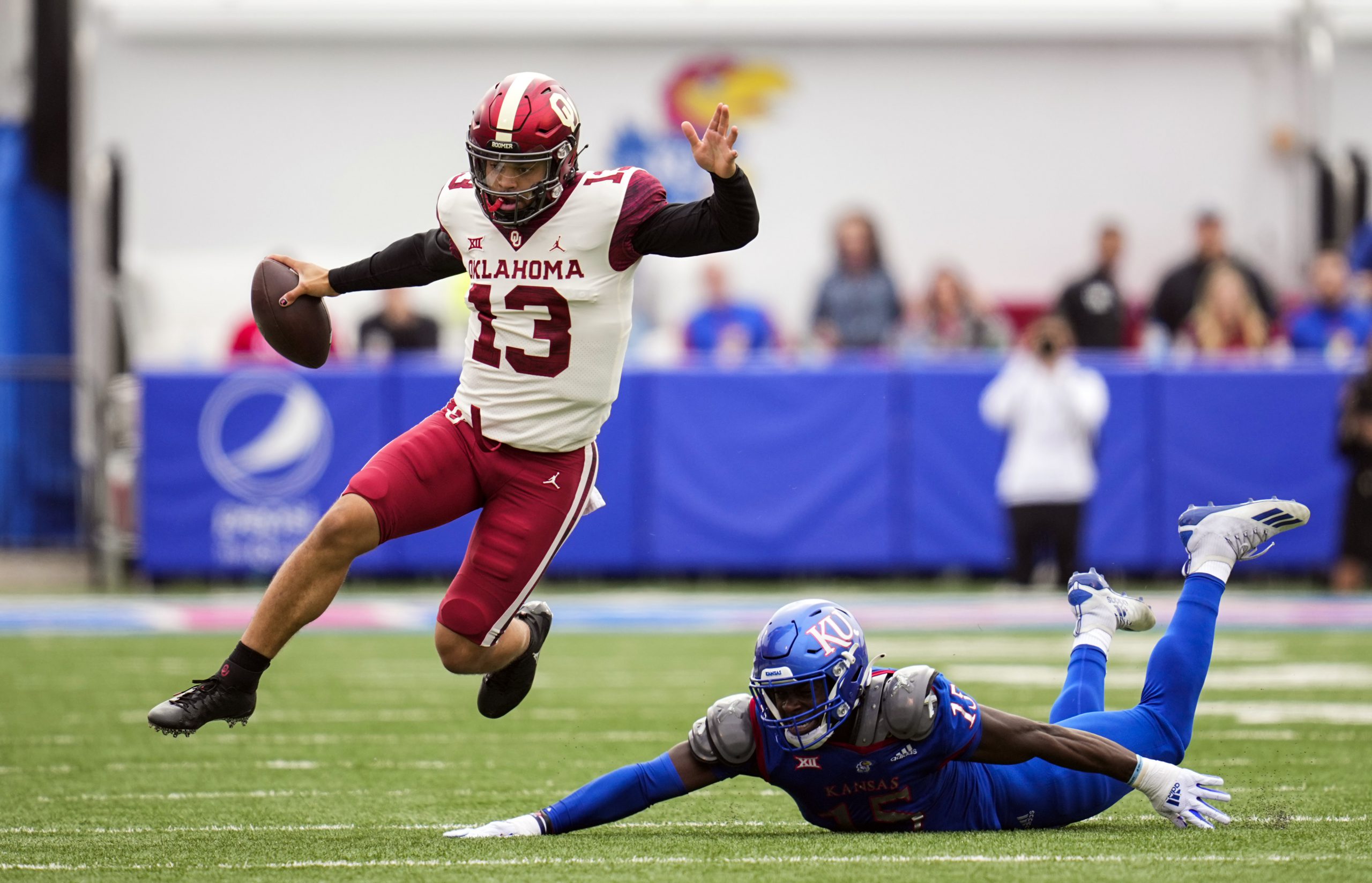 Every week we do a roundtable here at Heartland College Sports for our game of the week. Going into this weekend, nobody picked the Oklahoma/Kansas game and why would they?
Oklahoma came into Lawrence as a 38-point favorite and instead of them blowing Kansas out, it turned into a four-quarter fist fight. Kansas had nothing to lose in this game and despite their positive performance today, the Sooners ended up escaping with the victory.
There was plenty to take away from this game on both sides and here are my four thoughts from Oklahoma's win over Kansas.
1. A First Half of Firsts
When Pete assigned this game to me, I wasn't expecting much. I figured this one would be over by halftime, and I could move on with my day to the next game but that's not what happened. What happened is that Kansas showed up in the first half and Oklahoma looked like they never got off the bus.
After two quarters of football, the Jayhawks had a 10-0 lead over the Sooners. It was the first time Kansas had a lead against a top five team since 2014. It was also their largest lead against an FBS team this season and to top it off, it was the first time they had a ten-point lead against a top five opponent since the 2008 Orange Bowl.
Unfortunately for Oklahoma, it was also a historic first half but for all the wrong reasons. They went scoreless in the first half for the first time since 2014 and had their largest deficit against Kansas since 2013.
Kansas outplayed Oklahoma in every phase of the game in the first half. They outgained Oklahoma 195 to 78 and held the ball for a whopping 22 minutes in the first half. Meanwhile Oklahoma did next to nothing and had eight penalties in the first half putting up a big fat zero on scoreboard.
2. Will the Oklahoma Defense Wake Up?
Before the season started all we could talk about is how good this defense could be for the Sooners. For years, the defense was the missing piece for this program to win a national title. While they made strides under Alex Grinch in 2019 and 2020, it seems like they have taken a step back this season despite having multiple All-Big 12 selections on this side of the ball. Oklahoma was dominated in the first half as they let the Kansas offense do whatever they wanted and had no answer to stop it. Tackling was once again an issue and while I know they have some injuries, there should be no excuses when you play a team like Kansas this late in the year.32.
3. The Caleb Williams Play of the Game
I praised Caleb Williams for his performance against Texas and his first start against TCU last weekend. He had some freshman moments at times in this game but when his team needed to convert on a crucial fourth down, he ended up making a great heads up play to help seal the victory.
Despite all the negatives in the first half, Caleb helped lead his team to score 35 points in the second half.
4. The Kansas Effort
Normally, I only do three takeaways, but I had to add an extra one due to the way Kansas played today. They had nothing to lose and played three good quarters of football before losing their grip on the game in the final quarter. Lance Leipold still has a ton of work to do in Lawrence, but I will tip my cap to this football team's performance against a top five team.