Trending Now
Three Thoughts on BYU's 21-19 Win Over Washington State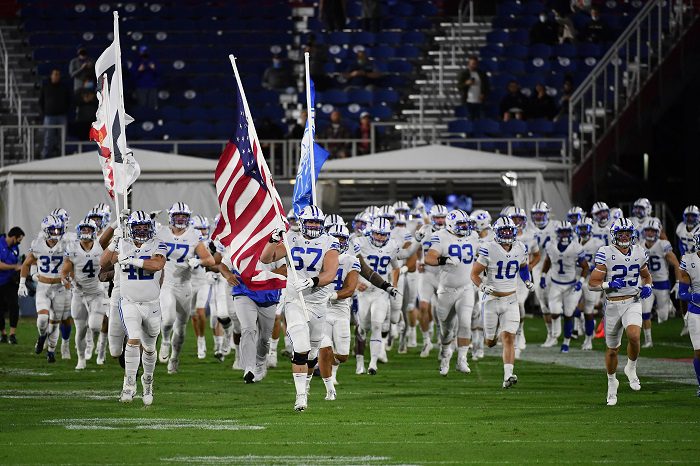 After back-to-back losses, BYU went back to the drawing board and played the Pac-12. This time, it was a road game. Washington State was without their head coach, but you wouldn't know it by the way they played. Las Vegas opened their line a BYU to be favored by two on the road. That's exactly what the result was with a BYU 21-19 victory. With the victory, BYU is now bowl eligible. The Cougars will return home to host former head coach Bronco Mendenhall and the Virginia Cavaliers.
1. Washington State came to play.
By the numbers, Las Vegas opened this line at BYU being favored by two points. This game played out as if there weren't any emotions added. The numbers ended up being correct. Give Washington State credit. Jake Dickert did a solid job in his first week as acting head coach. A missed PAT was pretty much the difference as it forced Washington State to go for two when it normally shouldn't have. The score does not indicate that BYU played bad or close to competition. This is exactly how it was supposed to be. That being said, one must wonder what if Nick Rolovich was the head coach. It's clear he has done well with the program in his first season. Don't be surprised if Georgia Tech, Texas Tech, or even Arizona go after Rolovich.
2. BYU could win the Pac-12.
The Cougars are 4-0 against the Pac-12 this season. BYU is better than any team in the Pac-12. Stanford already defeated Oregon. Washington State and Arizona State defeated Stanford. If BYU was in the North Division, I see them in the Pac-12 Championship Game. UCLA lost at home to Arizona State by 19 points. BYU defeated Arizona State by 10 points. USC has already fired their coach. It's clear to me that BYU would win the South Division. If BYU can win both divisions, then BYU would win the conference. BYU is better than the Pac-12. Yes, they lost at home to Boise State. I think Boise State is better than the Pac-12. 
3. Tyler Allgeier is tough
The statistics are one thing to talk about. The games aren't played on paper though. Allgeier was physical throughout the game. During a touchdown run, he threw his bicep up into a defender. There was no way he was going to be denied the end zone. When BYU was trying to wrap up the game, he was violent in his runs. This is a football player. He's just a sophomore, so he's going to grow. It reminds me of a scene in The Guardian, which is set in U.S. Coast Guard training. Ashton Kutcher plays a champion swimmer, and he's clearly the fastest person in the pool. During the first day of A-Camp, Kevin Costner's character is told about the high school swim accolades Kutcher's character achieved. Costner's response is "What if another swimmer had cut into your lane? For the love of God, you could've been killed." Allgeier doesn't care if someone cuts into his lane. They're going to pay a price for doing so.