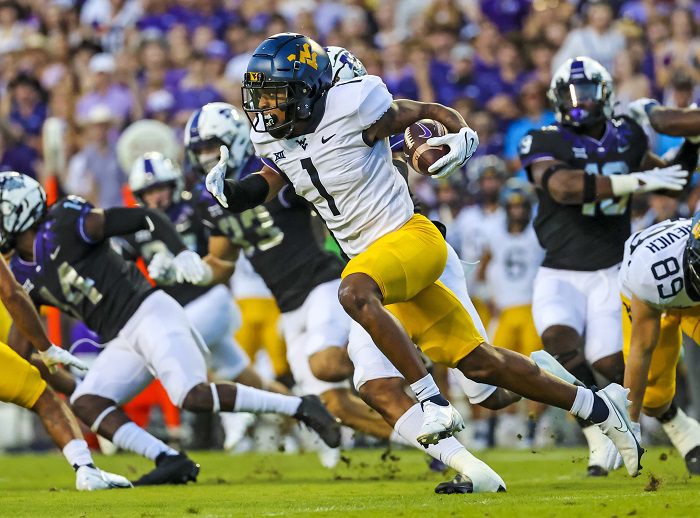 Two teams searching for answers and momentum entered this game hoping to steer clear of the rocks threatening to sink seasons that began with promise and high expectations.
TCU's odyssey to Week 8 had shockingly been defined by an albatross of a porous defense cursing an explosive offense to fight in vain. WVU's ship had been taking on water steadily as the offensive line failed to clear lanes in the running game and give QB Jarret Doege adequate protection from opposing pass rushes.
The game promised to be a match of strength on strength and weakness on weakness. But only if West Virginia showed up as the Mountaineers seemed to lack fire in losses to Texas Tech and Baylor.
West Virginia did show up, however, and played with tremendous spirit despite giving up a touchdown on the opening kickoff to TCU's Darius Davis. Here are three thoughts on West Virginia's win 29-17 at TCU.
1. West Virginia's Defense is Dangerous Again
Despite giving up 393 yards to TCU, the Mountaineers defense was able to put the clamps on one of the most explosive offenses in the Big 12 by containing the run and creating turnovers. WVU picked off TCU QB Max Duggan twice and forced a critical 4th quarter fumble. Winning the turnover battle 3-0 will lead to a lot of victories.
Just as critical as the turnovers was the way WVU contained the TCU rushing attack, limiting the Frogs to 149 yards on 34 carries. TCU'S featured running back, Zach Evans, was held to just 3.4 yards, less than half of his season average entering the game of 7.9 yards per carry. Perhaps the play most emblematic of WVU's containment of the TCU run game was the one that all but sealed the game when Evans was dropped by Josh Chandler-Semedo for a five-yard loss on 4th down and 2.
With the run game slowed, the Mountaineers were able to throw Duggan off his game, holding him to just 16 of 26 passing for 244 yards and touchdown. It was the best defensive performance against the Horned Frogs all season.
2. The Mountaineers Have Life
After two dispirited efforts in losses to Texas Tech and Baylor, West Virginia (3-4, 1-3) showed pride and fire tonight while winning its first road game of the season. The offensive line, which had struggled all season, produced its best game of the season, giving Doege time to complete 21 of 28 passes to eight different receivers for 257 yards. Meanwhile, the O-line also managed to clear running lanes, paving the way for RB Leddie Brown's best game of the season with 111 yards and 3 touchdowns.
After TCU scored on the opening kickoff, it would have been easy for a team that lacked confidence and fire to just fade away, but WVU responded by roaring to life. The Mountaineers showed that they haven't given up on the season and will be a danger to every team they face from here on.
3. TCU's Bowl Chances Take a Huge Hit
At 3-4, 1-3, the Horned Frogs have lost four of their last five and are in serious jeopardy of missing a bowl game. In a season in which many thought TCU could compete for a Big 12 championship, it's difficult to see how the 2021 campaign can end in anything but a disappointment. Missing a bowl game, however, would be beyond disappointing and seem like a massive failure for TCU head coach Gary Patterson and the Horned Frogs.
The Horned Frogs are likely to be favored in only two more games, at the most: at Kansas State (4-3, 1-3) next weekend and versus Kansas (1-6, 0-4) in Week 12. The remaining schedule is versus #20 Baylor (6-1, 2-1), at #8 Oklahoma State (6-1, 2-1), and at Iowa State (5-2, 3-1) to close the season.
Unless TCU can turn its play around on defense, it won't get to six wins and a bowl game.