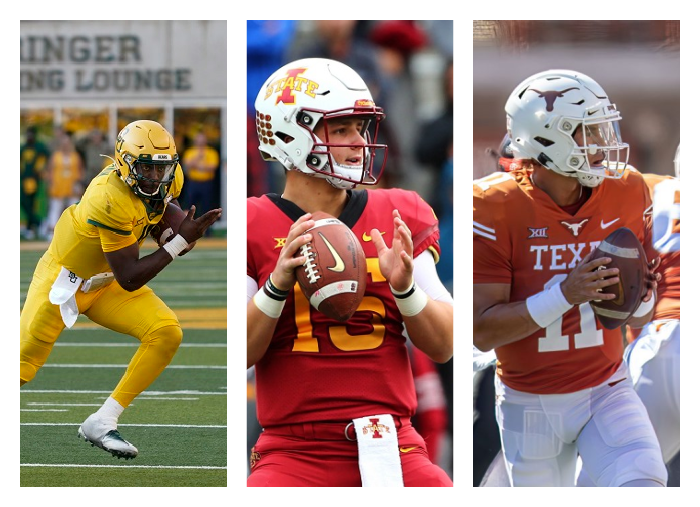 There is no position in all of sports that is more important than the quarterback. A good quarterback can help hide other areas of weakness on a team while bad ones can bring down even the best of teams. Either way, having good quarterback play is crucial for any team that hopes to make it all the way. Just like with team power rankings, I wanted to do a weekly quarterback power ranking after every weekend. Here you will find out who is trending up or down depending on their play on the field. 
1. Iowa State QB Brock Purdy (Last Week: #2) 
Brock Purdy has been playing at an elite level over the last few games. On Saturday he had yet again another great performance going 27/33 for 307 yards and 2 touchdown passes against a good Oklahoma State defense in a 24-21 win. Purdy has been high on this list for weeks now and today he gets the number one spot. In his last three games, Brock Purdy has thrown for 760 yards, 7 touchdown passes and has completed 82.3% of his passes while not turning the ball over once. Nobody is playing better football than him right now.
2. Oklahoma State QB Spencer Sanders (Last Week: #7) 
Spencer has had an up-and-down year but he showed me something on Saturday against a solid Iowa State defense. The Cyclones forced Spencer Sanders to throw the football and surprisingly he did not turn the football over and managed to throw 3 touchdown passes. I thought it was maybe his best game as a passer in an Oklahoma State uniform.  
3. Kansas State QB Skylar Thompson (Last Week: #6) 
It's not often that I compliment Skylar's passing abilities, but he deserves some credit for the way he led his team in Lubbock on Saturday. Kansas State got down early and with the help of Thompson's performance, the Wildcats managed to escape with a big win over the Red Raiders. Skylar went 24/30 for 296 yards and a score against Texas Tech.  
4. Baylor QB Gerry Bohanon (Last Week: #4) 
Baylor had a bye week on Saturday and with Gerry finishing in my top five last week, I didn't think he deserved to get pushed down on the list.  
5. Oklahoma QB Caleb Williams (Last Week: #1) 
Despite the no-show in the first half against Kansas, I thought Caleb Williams made some key plays in the second half of that game. The Sooners scored 35 in the second half after going scoreless in the first two quarters. He went 15/20 for just 178 yards and a touchdown but that fourth down play where he took the football from his running back to get a first down was one of the smartest plays I have ever seen.
6. Kansas QB Jason Bean (Last Week: #10) 
For the first time this season, Jason Bean is not last on the list. He didn't do anything crazy, but I thought he managed the game extremely well against Oklahoma. He was efficient, completing 17 of his 23 pass attempts and he didn't turn the football over. The Sooners had trouble every time he rolled out of the pocket and kudos to Jason for a well-played game.  
7. West Virginia QB Jarret Doege (Last Week: #9) 
For one of the few times this season, I thought Jarret Doege helped his football team. Usually, he is one of the main factors in West Virginia's struggles, but against TCU, he cleaned up his act. He went 21/28 for 257 yards and most importantly, he did not turn the football over. He relied on the run game and his defense which helped him manage the game well. 
8. Texas QB Casey Thompson (Last Week: #8) 
Texas had a bye week so Casey will be left where he was last at the number eight spot.  
9. TCU QB Max Duggan (Last Week: #3) 
Saturday was a rough night for Max Duggan. After a great performance against Oklahoma the previous week, he turned the ball over twice against West Virginia and struggled to get the offense going. The offense managed to score just ten points against West Virginia due to the fact that seven of the 17 points TCU scored came from a kick return.
10. Texas Tech QB Henry Colombi (Last Week: #5) 
Saturday's game against Kansas State started out great for Texas Tech. They jumped out to a 14-0 lead and even led by 14 at halftime. But the offense took a nose dive in the second half as they got shutout. Colombi complete just 10 of his 17 pass attempts as he threw for just 148 yards and had an interception as well.