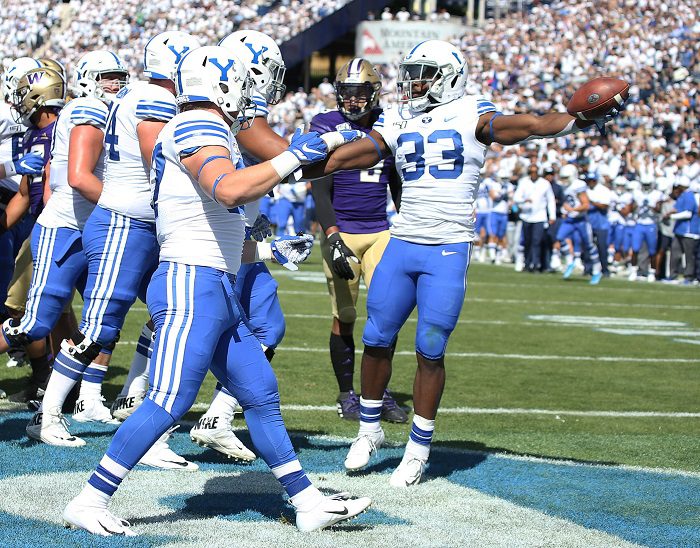 BYU is back in the AP Top 25.
The private school located in Provo, Utah gained 44 votes, up 23 from one week ago. BYU dropped out of the rankings after a two-game losing streak. It was a long fall for BYU to drop out after being No.19 the week prior.
The Cougars are currently 6-2, including 4-0 against the Pac-12. BYU's only losses have come at the hands of teams currently with winning records. After starting out 5-0 and earning a No.10 ranking in the poll, BYU suffered a 26-17 setback at home against Boise State on a Friday night. This was followed by a 38-24 loss at Baylor.
BYU snapped its two-game skid with a 21-19 victory at Washington State, snapping a three-game win streak for the Pac-12 team. Earlier this season, BYU defeated three teams from the Pac-12 South Division. The Cougars will travel to USC Nov. 27 for the final showdown against a Pac-12 team. A victory over the Trojans would give BYU a 4-0 record against the Pac-12 South, leaving only UCLA and Colorado to have not fallen victim at the hands of a team this season the Pac-12 snubbed from membership. With a 2-5 record and a 35-13 loss at Arizona State, there is strong evidence Colorado would lose if it played BYU. As for UCLA, Arizona State defeated the Bruins 42-23 at the Rose Bowl. This suggests that BYU would handle UCLA easily, thus providing evidence that BYU would likely win the Pac-12 South had they been provided an invitation to the conference.
BYU accepted an invitation to join the Big 12 Conference Sept. 10 along with three schools from the American Athletic Conference. The only Pac-12 school ranked ahead of BYU in the AP Poll is No.7 Oregon. The Ducks lost at Stanford 34-31 in overtime Oct. 2. Stanford is 3-4 this year having lost 28-10 at Arizona State and 34-31 at Washington State. This provides evidence that BYU would also be a strong candidate to win the Pac-12 North.
BYU received 42 votes, leaving them to be two spots out of the USA Today Sports AFCA Coaches Poll. The Cougars return this week to LaVell Edwards Stadium for two final home games. BYU will host Virginia 8:15 p.m. MDT Saturday. The game will feature the return of former BYU Head Coach Bronco Mendenhall, who is now in charge of the Cavaliers.