Big 12 News
Jeff Traylor, Sonny Dykes Top Candidates for Texas Tech Football Opening: Report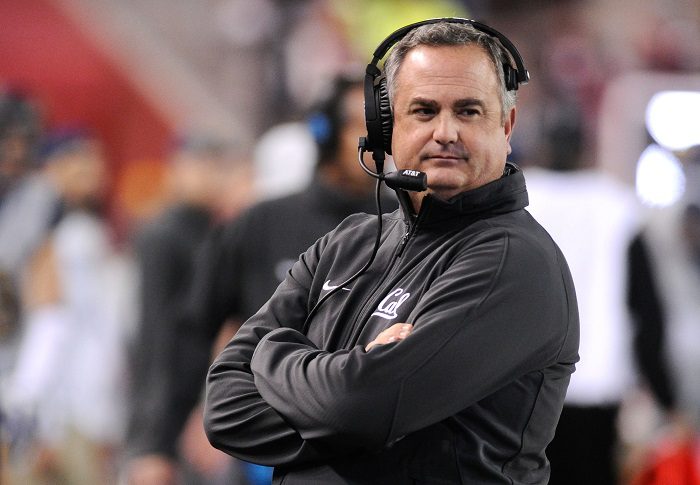 The Texas Tech Red Raiders fired head football coach Matt Wells on Monday. Wells was let go after Saturday's 25-24 loss to Kansas State, which saw the Wildcats come back from 14-0 down to beat Texas Tech in Lubbock.
But now the question turns to who AD Kirby Hocutt will look to as a replacement. Well according to CBS Sports' Dennis Dodd, the front runners for the job include UTSA's Jeff Traylor and SMU's Sonny Dykes. Other names on the list include former Tech QB and current USC offensive coordinator Graham Harrell, Arkansas offensive coordinator Kendal Briles, Ole Miss offensive coordinator Jeff Lebby, Nevada head coach Jay Norvell, Lousiana head coach Billy Napier, Baylor assistant Joey McGuire, UIW coach and former Tech player and assistant Eric Morris, and current interim head coach Sonny Cumbie.
That's a broad list of candidates. One name that did not make Dodd's cut was Art Briles, even though his son, and son-in-law (Lebby) did make the list. Hocutt did address the possibility of Briles being an option, to which he said on Monday, "I don't want to speculate on candidates. I don't want to talk about individuals today. I think that would be very divisive and problematic, and not something we'd talk about at this time."
After a lengthy high school career, Briles got his college coaching break at Texas Tech where he was the running backs coach from 2000 to 2002 under Mike Leach. He then left to become the head coach of the Houston Cougars from 2002 to 2007, which then led to him taking the Baylor job starting with the 2008 season.
There were reports last year that influential people at Tech wanted Wells out after Year 2 in favor of Briles, but obviously that never came to fruition. But it appears as if that same group is at it again, but at least for now, the people in charge of the hiring have not seriously considered him.
But whoever gets the job is in charge of trying to bring Texas Tech football back to a place it hasn't been in well over a decade since the Mike Leach era. The fact that there isn't one obvious candidate tells me that Kirby Hocutt has his hands full in trying to determine the best fit for his program. And for Hocutt, it's a critically important hire for him and things didn't work out with Kliff Kingsbury and Matt Wells.