Big 12 News
Sonny Dykes Refuses to Address Texas Tech Job With Media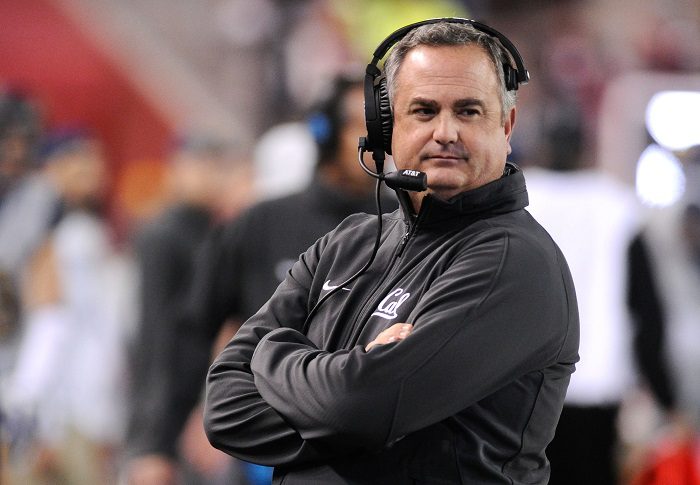 Since Matt Wells has been fired, one of the names being talked about as a replacement at Texas Tech is current SMU head coach Sonny Dykes. He is the son of long-time Tech head coach Spike Dykes and spent time on the Texas Tech staff nearly 20 years ago.
But when asked about his interest in the opening on Tuesday, or if he had been contacted by Texas Tech, Sonny, as expected, didn't want to talk about it, saying, "Look, we're focused on getting ready for Houston, and I'm not ever going to talk about other jobs. I just don't think it's fair to anybody. Look, our guys are excited to play, we're focused to play, we know how big of a game this is for our program, and no one's worried about anything than playing well on Saturday night."
Sonny has built SMU into a conference championship contender in the American Athletic Conference, racking up a 24-6 record over the past three seasons and reaching 10 wins for the first time since 1983.
According to CBS Sports' Dennis Dodd, the front runners for the job include Dykes and UTSA head coach Jeff Traylor. Meantime, other names on Tech's list include former Tech QB and current USC offensive coordinator Graham Harrell, Arkansas offensive coordinator Kendal Briles, Ole Miss offensive coordinator Jeff Lebby, Nevada head coach Jay Norvell, Lousiana head coach Billy Napier, Baylor assistant Joey McGuire, UIW coach and former Tech player and assistant Eric Morris, and current interim head coach Sonny Cumbie.
That's a broad list of candidates. One name that did not make Dodd's cut was Art Briles, even though his son, and son-in-law (Lebby) did make the list. Hocutt did address the possibility of Briles being an option, to which he said on Monday, "I don't want to speculate on candidates. I don't want to talk about individuals today. I think that would be very divisive and problematic, and not something we'd talk about at this time."
But whoever gets the job is in charge of trying to bring Texas Tech football back to a place it hasn't been in well over a decade since the Mike Leach era. The fact that there isn't one obvious candidate tells me that Kirby Hocutt has his hands full in trying to determine the best fit for his program. And for Hocutt, it's a critically important hire for him and things didn't work out with Kliff Kingsbury and Matt Wells.