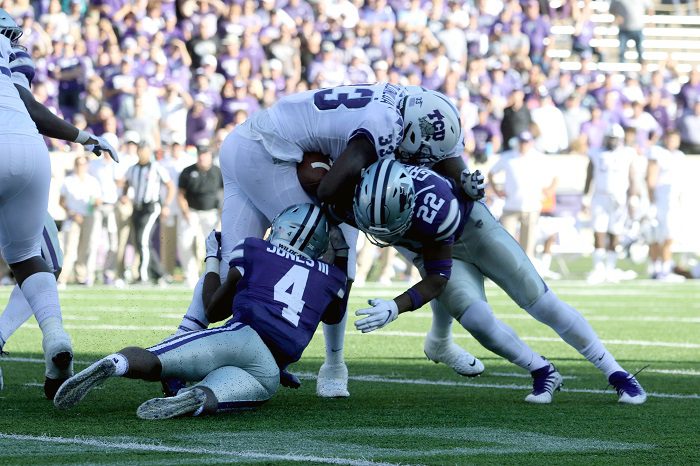 Here is everything you need to know about the TCU Horned Frogs and the Kansas State Wildcats in our TCU vs. Kansas State preview.
Game Info
2:30 p.m. Central Time, Saturday, Oct. 30, 2021, Bill Snyder Family Stadium, Manhattan, Kansas
TV: ESPNU
Radio: TCU: Horned Frogs Radio Network; Kansas State: K-State Sports Network
Records: TCU: 3-4 (1-3 in Big 12); Kansas State: 4-3 (1-3 in Big 12).
Ranking: TCU: None; Kansas State: None.
Last week: TCU: lost to West Virginia, 29-17; Kansas State: beat Texas Tech, 25-24
Fun fact: The Kansas State-TCU series is deadlocked at 7-7 going into Saturday's game. Nine of those matchups have taken place since TCU joined the Big 12 in 2012. The others? The two teams played a four-year series from 1983-86, when Kansas State was in the Big 8 and TCU was in the Southwest Conference. But the first meeting? You have to go back to Nov. 30, 1922, in Manhattan, when the Wildcats handled the Horned Frogs, 45-0. It's the only shutout in the series.
Key players
TCU
QB Max Duggan: TCU's media notes make a point each week to compare Duggan's numbers to that of TCU legend Andy Dalton, for the sole reason that the pair have red hair. Now, Duggan's passing numbers are quite comparable to Dalton's through 29 games. But, we know that's not how TCU fans measure Dalton's impact on the program. Right now, TCU has lost four of its last five games, all with Duggan at the controls. Earlier this week head coach Gary Patterson said the Horned Frogs need to make more use of Duggan as a runner. So keep watch of that on Saturday. And that's something Duggan is skilled at. He rushed for 526 yards last season, and he has only rushed for 258 yards and two touchdowns so far this season.
WR Quentin Johnston: He's coming off a five-catch, 113-yard game against West Virginia last weekend. The second-highest rated recruit Patterson has ever lured to Lubbock already has a new career high receptions (24, after catching 22 passes last season) and touchdown receptions (five, after catching two last season). He needs just 20 yards to surpass his career high in receiving yardage in a season. The Horned Frogs have some issues right now, but Johnston is not one of them. If anything, he could use the ball more often.
DE Ochaun Mathis: The potential NFL draft pick is doing all he can to get to the quarterback, but it hasn't been easy for the TCU pass rush as a whole. Mathis leads the team in sacks with three, though he had two of those two weeks ago against Oklahoma. He also has 31 tackles, four tackles for loss, three quarterback hurries and two pass break-ups. The Horned Frogs could use more pressure from Mathis, and the rest of the group, against Kansas State.
Kansas State
QB Skylar Thompson: It seems like Thompson has been around forever, and his career numbers back that up. He's the first player in Kansas State history to throw for at least 6,000 yards and rush for at least 1,000 yards in his career. He also has 25 rushing touchdowns for his career. Knock him down, and he gets back up, and he usually leads his team to good things. Like last week against Texas Tech. Thompson went 24-of-30 for 296 yards and a touchdown as he led the Wildcats to a come-from-behind win.
MLB Daniel Green: Green had six tackles in the win over Texas Tech, and he leads the Wildcats in tackles this season. And he's done it missing two full halves of football due to targeting calls. The junior has 40 tackles, with 3 1/2 tackles for loss and one sack. He now has 112 career tackles, with 12 1/2 tackles for loss and 5 1/2 sacks. He's the heartbeat of this defense right now.
FS Russ Yeast: The transfer from Louisville is coming off a big game against Texas Tech, in which he had an interception and two tackles. He's been highly productive throughout his college career, but this season in Manhattan he has 25 tackles and two interceptions. He's an underrated free-ranging safety who can make plays with his hands and his hits.
Key storylines
TCU
As mentioned above, the Horned Frogs have lost four of their last five games, and the Horned Frogs are staring at the possibility of not being bowl eligible. That makes the remaining schedule important. The loss to West Virginia hurts for that reason, along with the fact that the Horned Frogs just didn't play well. Beating Kansas State is basically necessary for the Horned Frogs to get to six wins, with games against Baylor, Oklahoma State, Kansas and Iowa State remaining. That means trying new things. Patterson admitted that the Horned Frogs need more rushing from their quarterback and didn't rule out using another of his quarterbacks to get it. Defensively, J.D. Spielman announced his retirement from football due to injury, further depleting a Horned Frogs defense that has been uncharacteristically leaky the past few games. The Horned Frogs need more energy defensively. They have just nine sacks and have created just seven turnovers this season.
Kansas State
The Wildcats got former Texas Tech head coach Matt Wells fired. Well, not directly. But the Wildcats' comeback win over the Red Raiders in Lubbock may have been the final straw for the athletic department. Now, the Wildcats need two more wins to reach a bowl game. That win also snapped a three-game losing streak for the Wildcats, one that had head coach Chris Klieman asking the media to be more positive. Well, the win over Tech certainly helps. Plus, looking ahead, the Wildcats have a few winnable games. The Wildcat offense begins and ends with finding a way to step Deuce Vaughn, who continues to be productive and elusive as a runner and receiver against Big 12 defenses.
Prediction: Kansas State 33, TCU 27
The Horned Frogs aren't in a good place right now, and while Patterson, a Kansas native, is quite comfortable in the Sunflower State, the Wildcats look like a slightly better team right now. Plus, the game is in Manhattan, so give the Wildcats the edge.
You can find Matthew Postins on Twitter @PostinsPostcard.
**Want to win a $20 gift card? Go sign up here and join our conversation! The best poster each week wins a gift card to your favorite establishment!**