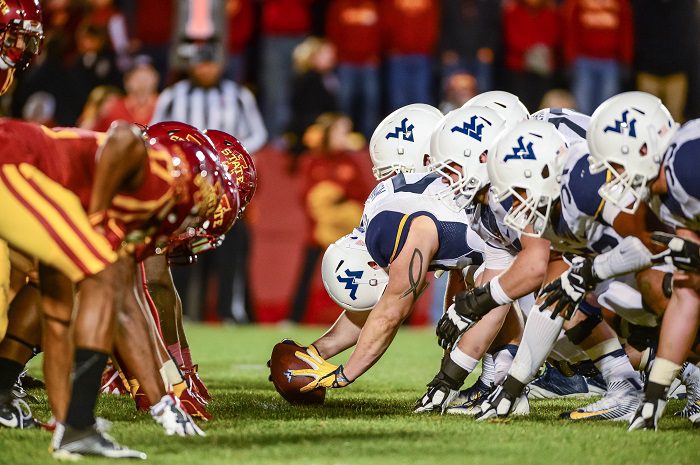 Here is everything you need to know about the upcoming Big 12 battle in Morgantown in our West Virginia vs Iowa State preview and prediction.
Game Info
2:00 PM EST, Saturday, October 30, 2021, Milan Puskar Stadium, Morgantown, WV
TV: Big 12 Now|ESPN+
Radio: WVU broadcast: JackFM101.com; ISU broadcast: KSIBRadio.com
Records: West Virginia 3-4 (1-3 Big 12); Iowa State 5-2 (3-1 Big 12)
Rankings: WVU – none; Iowa State – AP #22, Coaches #23
Last week: WVU defeated TCU, 29-17; Iowa State defeated Oklahoma State, 24-21
Spread: Iowa State -7
Fun Fact: West Virginia has not scored more than 14 points against the Cyclones in the teams' last three meetings – all three were ISU victories.
KEY PLAYERS
WEST VIRGINIA
RB LEDDIE BROWN
After being held to 57 yards or less in three consecutive Big 12 games, the Senior from Philly got loose for 111 yards and three touchdowns against TCU last week. It was his highest rushing total since rumbling for 161 yards and a touchdown against VA Tech in Week 3, and it was the most complete game of the season as his pass blocking was also significant in the win.  
Brown is about to find the sledding a lot rougher against Iowa State's defense, which is 15th nationally and second in the Big 12 with only 99 rushing yards allowed per game and 2.91 yards per rushing attempt. Oklahoma, Texas Tech, and Baylor all held Brown to 3.7 yards per carry or less, so reproducing what he did against TCU's porous defense will not be easy. However, if WVU is to have a chance in this game, Brown must be effective on first down and third and short.
LT BRANDON YATES
Yates has had a rough season. His blindside assignment is tough but critical, and he has been beaten badly at times, allowing opposing defenses to create havoc in the way of sacks, hurries, and turnovers. Yates' run blocking has been below average as well, and he and the rest of the offensive line are largely to blame for WVU's struggles to move the ball on the ground this season.
The entire WVU offensive line has struggled this season, but as the left tackle, Yates is supposed to be the best blocker on the field. For WVU to have a chance against Iowa State's defense, Yates must have his best game of the season. He needs to nail the door shut on QB Jarret Doege's blindside and create space in the run game.
If Yates can be effective in run and pass blocking, Brown and Doege will have room to work and apply pressure on the Iowa State defense. Yates doesn't have to be perfect, but he must be better or it will be a long afternoon for the WVU offense.
IOWA STATE
RB Breece Hall
West Virginia's rush defense is solid, allowing just 3.16 yards per carry and 108.4 per game. After averaging just 3.3 yards per carry against Oklahoma State last week, Hall needs to bounce back and force WVU to load up the box to contain him. Considering how well QB Brock Purdy is playing now, Hall doesn't need to have a huge day for Iowa State to be successful – he just needs to do enough to keep the WVU defense worried about his ability to make big plays.  
QB Brock Purdy
Purdy is having an October to remember so far, and his chances of ending the month with a huge game should be good against a WVU defense that is struggling to defend the pass.
The Mountaineers allow opponents over 8 yards per pass attempt and surrender just under 248 passing yards per game. With Hall garnering a lot of attention from a stingy run defense, the play-action pass and RPO plays should be very effective if Purdy can continue to find the open man and deliver darts.
KEY STORYLINES
WEST VIRGINIA
After going through a slump to begin Big 12 play, the Mountaineers roared out of their bye week with a dominant performance against TCU. The defense only surrendered 10 points to the Horned Frogs' explosive offense, and while WVU did allow a TCU kick return TD, it was arguable the Mountaineers' best overall performance of the season – and it may have been a season-saving performance if WVU can get to a bowl game. Getting to six wins is still doable if unlikely with home games remaining against ISU, Oklahoma State, and Texas to go along with road trips to K-State and KU. A win over the Cyclones would dramatically improve WVU's odds of finding a spot in the postseason.
IOWA STATE
After knocking off Oklahoma State, the Cyclones are Big 12 Championship game contenders, but with a loss to Baylor to open Big 12 play, a dangerous Texas team coming to Ames next week, and a trip to Norman to face the Sooners coming in late November, ISU can't afford to slip-up in Morgantown. ISU began the season with very lofty expectations, and a loss in Morgantown almost certainly will mean that none of those expectations will be met. The Cyclones are rolling, however, and if they can keep their foot on the gas, they'll have another season worth remembering.
PREDICTION: IOWA STATE 28, WEST VIRGINIA 14
Morgantown is one of the toughest places to play in the Big 12, and West Virginia has new life after the win at TCU, but WVU's problems along the offensive line will surface again against a nasty Iowa State defense. The Cyclones are clicking on offense now, and with WVU unable to sustain drives, the Mountaineers' defense will be worn down and sliced up by Purdy who is arguably playing the best ball of his entire career at Iowa State right now.